To be staged over two days on 17-18 May at ExCeL London, GEO Business will put the spotlight on geospatial innovation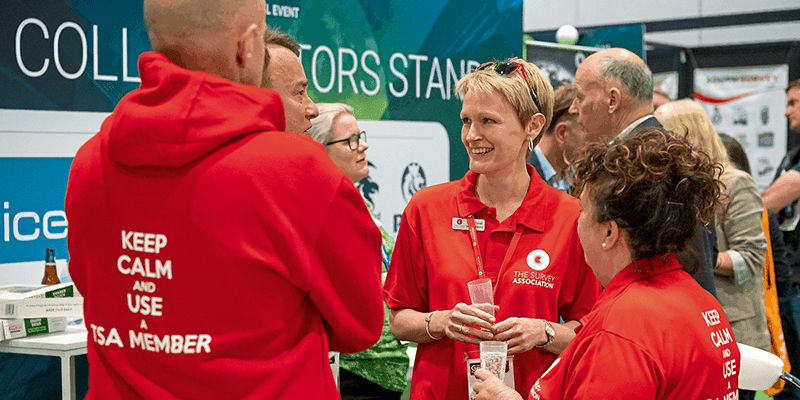 Around 3,500 geospatial professionals will come together to discover and debate the latest technological advancements and best practices in the field.
The event features an exhibition of over 120 leading brands and cutting-edge start-ups showcasing the newest tech, tools and solutions for geospatial. And an education programme made up of 120+ sessions across six stages, covering exciting new trends, informative case studies and pressing industry issues.
Visitors will have the chance to hear from geospatial experts, participate in engaging discussions and workshops, discover the latest products and connect with other forward-thinking professionals.
The whole geo ecosystem in one place
The exhibition at GEO Business is a one-stop-shop for finding the latest solutions for capturing, processing, analysing and presenting geospatial information.
The tech on display will include 3D visualisation; aerial mapping; BIM; GIS/GNSS; laser scanning and LiDAR; machine learning and AI; mobile mapping; photogrammetry; point clouds; reality capture; remote sensing; robotics and automation; Simultaneous Localisation and Mapping (SLAM); UAVs; augmented reality (AR) and virtual reality (VR); and more.
Among the leading equipment manufacturers, software companies and service providers exhibiting are Aetha, Certainty 3D (TopoDOT), Esri UK, Geolantis.360, GeoMax International, Geosense, GeoSLAM, Hexagon, L3Harris Geospatial, Microgeo, NavVis, Ordnance Survey of Northern Ireland, Reduct nv, RIEGL, Screening Eagle Technologies (Proceq), Senceive, Spyrosoft, TopCon Positioning, and UCL.
New interactive show features
This year you'll have the chance to get hands on with the latest scanning and surveying technology at the new Demo Zone. This brand-new space will feature a mock construction site and presentation area, where exhibitors will host live hour-long sessions demonstrating their tech.
You'll also see launches of the latest products, including HP's new SitePrint, a new robotic solution that automates the construction site layout process. Save your spot for a demo at: reinvent.hp.com/DigitalConstructionWeek
At the new Start Up Zone, you can meet the newest names in geospatial. Including aurivus, a new AI tool that makes scan-to-BIM faster, and Basetime, an innovative engineering and geodetic consultancy company revolutionising the collection of high-precision geodetic data.
Visit the Education Zone to meet education providers working to nurture the geospatial professionals of tomorrow, including Newcastle University, UCL, AGI Early Careers Network, and Get Kids Into Survey.
Over 60 hours of free content
GEO Business also features a CPD-accredited programme, offering 200 sessions across six stages. Be inspired and informed by a wide range of talks and panels, designed to keep you at the cutting-edge of geospatial technology.
The show features six stages that focus on some of the key applications of geospatial. Including infrastructure, transport, utilities and energy, land and natural resource management, the built environment and more.
Choose from 120+ free-to-attend talks, workshops and demos delivered by expert speakers from across the profession. Get actionable insights, data-driven knowledge and practical advice from thought-leaders in the field. And top up your CPD points along the way.
See the full programme at www.geobusinessshow.com/programme.
Register for your free ticket
Event Director Ollie Hughes says: "We've worked hard to ensure this year's show will offer you even more vital opportunities for learning, networking, and exploring the latest trends and innovations.
"Our aim at GEO Business is to provide a platform for the community to come together to exchange ideas, share best practices, showcase the latest tools and techniques, and ultimately enable the profession to reach its full potential.
"So if you haven't already, add it to your calendar and sign up for your free ticket via the website.
"From all the team – we can't wait to welcome you to GEO Business on 17-18 May."
To register for a free trade ticket, please visit www.geobusinessshow.com.