Early June saw the UK's largest commercial space industry event pulling out all the stops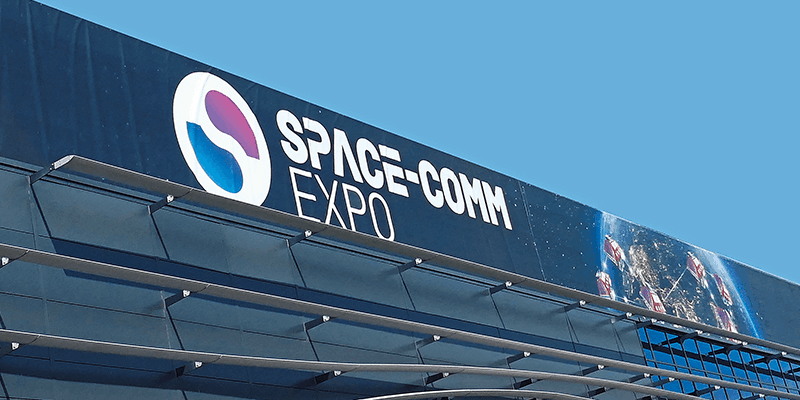 The high-octane buzz of the Farnborough Air Show may have been missing, but this did nothing to diminish the third annual iteration of Space-Comm Expo, staged over two days at Farnborough's International Exhibition & Conference Centre.
Organised by Hub Exhibitions in partnership with Farnborough International, the event attracted 3,500 visitors from home and abroad for a non-stop conference programme and an exhibition that hosted 150 organisations and businesses from 17 countries. Those participating included the UK Space Agency, UKspace, Civil Aviation Authority, BAE Systems, MDA, Honeywell, Northrup Grumman, Dassault Systèmes, Rolls-Royce and SSTL, among other leading brands. Sponsorship for the event was provided by ADS, CGI, MAXAR and BlackSky, to name but some.
The opening keynotes, compèred by TV science presenter, Dallas Cambell, emphasised the vitality of Britain's space industry – one that consistently outpaces other sectors of the economy and which now has an annual turnover of £17.5 billion.
Kevin Craven, CEO of ADS, the UK aerospace, security and defence trade association, was one of many to point to the sector's achievements: contributing £7 billion in added-value to the UK economy, directly supporting 48,000 jobs, and exporting goods and services worth £5.9 billion. He believed that its global role in space would be reinforced with the roll-out of the UK's ambitious National Space Strategy.
George Freeman MP, the Minister of State for science, research and innovation made a video link appearance from Ottawa where he was busy signing-off a £24 million package of science and technology agreements between the UK and Canada and discussing further opportunities for collaboration, not least in space. He stressed not only its economic importance, but its value as a scientific testbed and pointed to the government's recently-announced £50 million Space Clusters and Infrastructure Fund to support cutting-edge R&D facilities across the nation.3
He was followed by David Morris MP who took to the rostrum to update conference on his evolving role as the government's 'Space Champion'. He accepted that maintaining Britain's global reach as a space power required continuing support and investment in education, IP rights, patents and inventiveness. For this reason, he was now working with industry and academia to build the skills base that will underpin its future.
An example of UK inventiveness came later in the day when Chris Newlands, the mercurial founder and CEO of Glasgow-based Space 2 Consumer (S2C) and recently-appointed Co-Chair for the UK&I Forum of the Open Geospatial Consortium (OGC) gave a thought-provoking presentation entitled 'Satellite imagery … but not as you know it'. In this, he tantalised his audience with the vision of a world where the mass-market adoption of real-time Earth imagery from thousands of satellites offered exciting societal, climate-focused and commercial opportunities.
It was just one of a number of presentations that addressed topics of interest to readers of this magazine such as the potential of virtual digital twins in space-related design and operational activities, the uses of GNSS and cubesats for infrastructure monitoring, the evolution of low-cost and navigation use redundant MEMS IMU products, and the commercialisation and democratisation of Earth Observation data.
More information on this year's event can be found at https://www.space-comm.co.uk/; Next year's Space-Comm Expo will be held 6-7 March 2024, again at the Farnborough International Exhibition & Conference Centre.