With more than £6 billion earmarked for UK military space-related activities over the coming decade, and with a newly-formed joint services space command to oversee them, turning words into action took front and centre stage at this year's Defence Space 2022 Conference.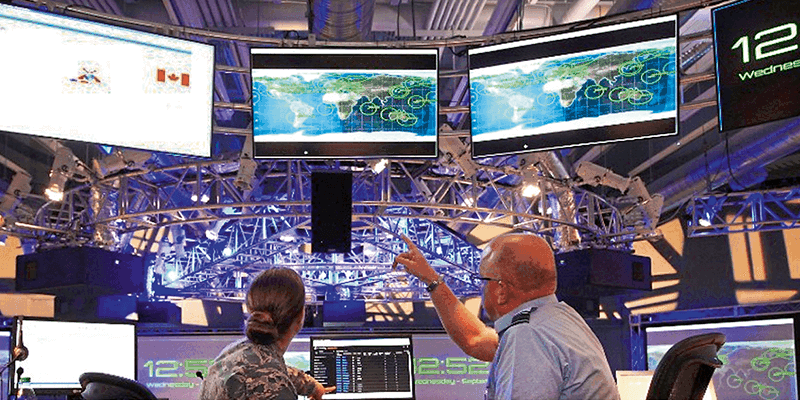 This was certainly the takeaway from the opening keynotes of this hybrid event, hosted over two days in mid-May at the Institution of Engineering & Technology in London and livestreamed to a global audience. First up was Air Vice-Marshal Harv Smyth, Director Space at the MoD Space Directorate, who explored what he regarded as the strategic imperative to 'reboot' our use of space-derived information in support of military operations.
Cohesive and ambitious
That imperative had, he said, been pursued over the past two years with an increasingly cohesive and ambitious programme. He pointed to the publication of the UK Defence Space Strategy in February of this year and, a month later, the achievement of an initial operational capability for UK Space Command. A contract for the first in a series of MINERVA Intelligence, Surveillance, Target Acquisition and Reconnaissance (ISTAR) satellites had been placed and its launch scheduled for next year.
MINERVA will form the digital backbone of what, over the coming decade, will be a much larger £968m multi-satellite, multi-spectral global surveillance and intelligence system. In Smyth's words, it will deliver "Real-time intelligence at what we call the speed of relevance, exploiting AI and ML on-orbit, and pushing product directly to decision-makers at every level."
There were challenges aplenty, with space becoming an increasingly contested and complex domain, but Smyth emphasised that standing still was not an option. "We need to be on this fast-moving train or risk being left standing at the last-generation station."
Ticket to ride
Ensuring that Britain has a ticket to ride is its development of a sovereign satellite launch capability. And it was Jeremy Quin, Minister of State for Defence Procurement, who took to the stage to announce that Spaceport Cornwall will make its debut launch this year by lofting a pair of Prometheus-2 satellites into Low Earth Orbit.
The shoebox-sized cubesats will provide a test platform for monitoring RF signals including GPS, and boast a sophisticated imaging capability. For Quin, their importance is far-reaching. "This mission is about examination, experimentation, exploration. There is much we need to learn, and we know that Prometheus-2 will provide sparks to illuminate our future in space." It was, he added, "Another giant step forward in our surge to become a space power."
Designed by Airbus Defence and Space and built by In-Space Missions in Hampshire, Prometheus-2 is a collaboration between the UK Ministry of Defence and international partners, including the US National Reconnaissance Office (NRO).
The ongoing conflict in Ukraine was a recurring theme of the conference and, here, the minister paid tribute to the resilience and determination of the Ukrainian people, noting that that their resolve has been assisted by the resilience and utility of space assets, both civil and military. And on this note, Quin acknowledged that space is no longer the sole preserve of governments. "Today's space enterprise is about collaboration, bringing together the unique skills and intellectual heft of our supply base." In addressing some of the key issues arising from the conflict in Ukraine, his hope was that the conference would ultimately help shape our space future.
Working together
Anglo-US collaboration is always high on the agenda of such proceedings, and it was General James H Dickinson, Commander US Space Command, who came to the rostrum to highlight the importance of international partnerships. He was struck by the mission statement contained in the UK Defence Space Strategy – 'to make space safe, secure and sustainable for all generations' – and said this complemented US Space Command's stated objective of 'deterring conflict from beginning or extending into space.'
Yet the reality of space as an increasingly competitive, contested and congested environment had to be recognised, said Dickinson, along with the fact that our space systems are potential targets He singled out China and Russia as posing the most immediate and serious threats, not least through their active anti-satellite (ASAT) and hypersonic missile programmes. It was, he said, the role of US Space Command to deter such threats and, if necessary, protect and defend its spaceborne assets.
Of equal importance, said Dickinson, was the collective ability of allied nations to develop best practices, adopt common standards and set out norms for responsible behaviour in space. And here, he applauded the UK's lead in pushing for a UN resolution calling for international norms, rules and principles for responsible behaviour in space. It was a move supported by US Vice-President Kamala Harris, along with a commitment not to conduct direct-ascent ASAT testing.
'Live' from Odesa
In the final presentation of the opening plenary, a warm welcome was accorded to Volodymyr Usov, former Chairman of the State Space Agency of Ukraine who, between air raid warnings, addressed the conference 'live' from Odesa.
Having thanked Ukraine's allies for their support in the current conflict, he went on to review the nation's long tradition of space-based activities, having delivered some 230 spacecraft and managed 150 successful launches for a score of countries over the past 20 years.
Even so, Usov admitted that Ukraine was ill-prepared for the invasion. It lacked its own remote sensing and communications satellite constellations; nor did it enjoy autonomous access to space. Moves have been made to reduce its reliance on just a few space-related state enterprises, and the rapid roll-out of Elon Musk's Starlink service to replace or augment war-damaged communications infrastructure had demonstrated just what can be achieved by private enterprise.
High resolution optical imagery supplied by MAXAR and radar imagery from ICEYE have, said Usov, been a game-changer, both for all-weather intelligence-gathering and for documenting war crimes. Looking to the near future, he believed that Ukraine should follow Britain's lead by developing facilities for rapid vertical and horizontal satellite launches from its own territory. It was also aspiring to be a trusted global supplier of launch infrastructure and vehicles and, in this context, has recently agreed deals with Italy and the U.S for the Vega and Antares programmes respectively.
Further details of this event, organised by the Air & Space Power Association and supported by strategic industry partners Northrop Grumman, Viasat and Airbus, can be found at https://airpower.org.uk/