Scottish local government creates masses of data in providing public services. Thanks to the Improvement Service Spatial Hub, much of this data is now being shared and, for the first time, being made readily available so that it can be fully accessed and utilised. Ron Wilkinson takes up the story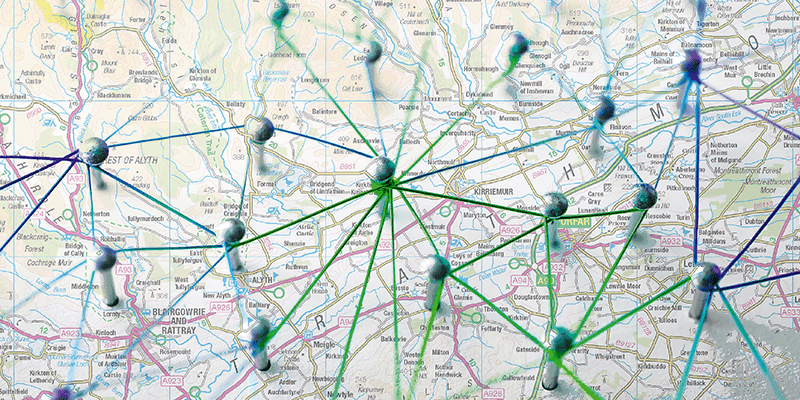 As the name suggests, the Spatial Hub primarily focusses on data underpinned by a location element. However, due to the value of this geospatial information and the various sources of intellectual property inherited into the data, access to a lot of the geospatial information in the public sector is often restricted. This includes Scottish local authority geospatial information licensed through Public Sector Geospatial Agreement, which until now has largely been accessible only to members of the public sector.
However, in June 2023, the Improvement Service (IS) launched open access to the Spatial Hub under open government licence terms. By doing so, the Improvement Service delivered a ground-breaking change to the national data publication process and delivered best value when it comes to the public resources that go into maintaining these valuable government assets.
Spatial Hub datasets cover everything from environment and pollution, energy, health and care services to community and society, planning, roads and transport plus many more. The Spatial Hub enables these key government themes to be available as national datasets.
Origins
Established in 2005 as the national improvement organisation for local government in Scotland, the Improvement Service was set up to deliver improvement support that would help councils to provide effective community leadership, strong local governance and deliver high quality, efficient local services. Under that remit, the organisation proved to be the ideal location to develop the Spatial Hub on behalf of Scottish local government.
Within the Improvement Service sits the Spatial Information Service, a team comprising technical and specialist geospatial professionals. The team is responsible for developing and maintaining several spatial data services on behalf of Scottish local government and is responsible for the conceptual model and technical infrastructure than underpin the Spatial Hub.
The Model
Conceived in 2015, the Spatial Hub sought to replicate the blueprint and success of the One Scotland Gazetteer – Scotland's national address and street register, by bringing important and valuable local government data together to make it more useful, accessible and beneficial to the entire data community.
This approach requires the Improvement Service to work with all 32 Scottish local authorities on a daily basis to harvest the information. For the One Scotland Gazetteer, the data supply is automated, and approximately 700 data validation checks are run on every piece of information received. Similarly, for the Spatial Hub, a robust data assurance process is performed on all data supplied. When you consider that this encompasses approximately 50 different datasets supplied by 32 local authorities, it represents a lot of data processing and validation.
Spatial Hub datasets are constantly updated and are accessed through a state-of-the-art online platform which makes searching for, the downloading of, data a simple process.
Technology
The Spatial Hub takes advantage of several open-source technologies to provide a flexible and adaptable platform. At its heart is an open data catalogue technology – CKAN. This is the website. It is a well-used open data catalogue that allows uploads and downloads of data, displays data about the data (metadata) and provides APIs for all sorts of integrations both internally and externally. For example, the Spatial Hub integrates with the Scottish Spatial Data Infrastructure1 and data.gov.uk so that the data is much more easily found.
To deliver the actual data, the Spatial Hub uses another platform – GeoServer. This software provides a well-known API standard and provides users with direct access for their own applications and analyses. Users who use this API rather than a one-off download they always have access to the Spatial Hub's most up-to-date data.
Given that the Spatial Hub deals with data submissions from 32 local authorities with few agreed data schemas or data standards, the platform has developed many custom data pipelines and custom applications. These allows the Improvement Service to review and map submitted data to a national standard, then merge the submissions to combined national datasets. Python scripts, PostGIS databases and FME pipelines are amongst the technologies used.
As the Spatial Hub was developed in house, there are always new improvements and customisations ongoing. The Team is always keen to engage with partners and data submitters to make sure the service is delivering for its users.
Opening up
Until recently, Spatial Hub datasets were only available to public sector organisations and academics. However, support from the Scottish Government has allowed the Improvement Service to make this information available to everyone. This is the first time in the UK that such a significant geospatial data resource has been made available as open data; open for anyone to access, use and share as they see fit.
These datasets can be used in a variety of ways by a range of organisations and individuals. For example, local designations for nature, biodiversity and landscape are all vital environmental sources of information and form key elements of the planning process in Scotland, while school catchment data, which shows the geographies relating to the enrolment of each local authority school, is often of keen interest to anyone wishing to buy a home. The availability of these Spatial Hub datasets not only saves members of the public or organisations time, effort and money, it also helps to standardise and maintain the quality of the data used across a wide variety of sectors.
In addition to the significant benefits to those parties who can now access the data free of charge, local authorities benefit through a considerable saving of resource in developing their own data sharing solutions. They also benefit through increased standardisation of much of the data and expert guidance relating to best practice for data management.
Summary
The value of the Spatial Hub is the wealth and quality of information held. The Service pulls data from all Scottish local authorities, along with national parks and utility companies. Such a considerable information flow has been the result of many years of successful collaboration with key partners – notably, Scottish local authorities, but also aided by support from the Scottish Government and Ordnance Survey.
The consequence is a resource that provides a single point of access to quality-assured Scottish local authority data, in a consistent format.
1 https://www.spatialdata.gov.sc...

Ron Wilkinson is the Spatial Information Services Programme Manager with The Improvement Service, with its headquarters in Livingston. For more information, please visit https://data.spatialhub.scot/