The explosion in Beirut last August was a human and economic tragedy. The slow recovery process started with assessing the damage. Eloise Mitchell reports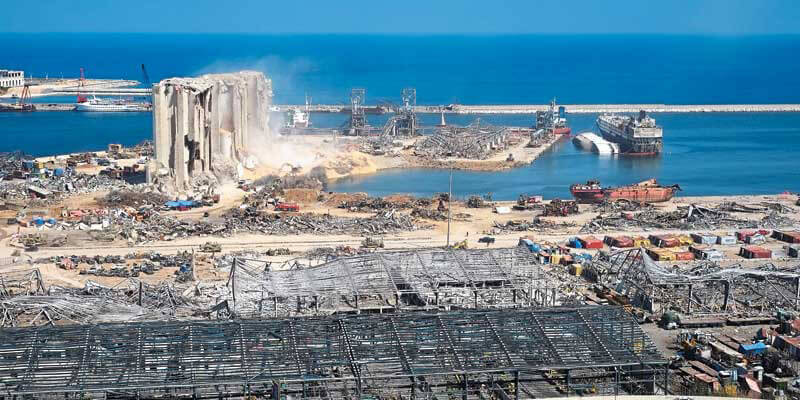 On 4 August 2020, the capital of Lebanon was shaken by a huge explosion: 2,750 tonnes of ammonium nitrate in storage in Beirut's port ignited, blowing up with a shock wave that heavily damaged buildings within a 5km radius and devastated the city. A total of 220 people lost their lives, 5,000 more were injured, and around 300,000 of the city's inhabitants were left homeless. In a period when Lebanon was already facing a refugee crisis, economic pressure and Covid-19, the explosion was a disaster that horrified not just Lebanon but the whole world.
Augment is a small Luxembourg-based company with employee roots in Lebanon. When the Beirut explosion happened, the Augment team knew they had to go to help. Augment specialises in digital facility management through the creation of as-built models of facilities enriched with facilities management information called Augment Information Models (AIM). They went to Beirut, hoping to take whatever skills they had to help in the recovery. Once on-site, they got in touch with the initiative Basecamp, which was offering services ranging from food provisions to rubble collection provided by volunteers, NGOs, and residents. Augment wanted to help with the recovery by providing knowledge by gathering data and presenting it by working with several organisations. The team were put in touch with Pix4D, a software development company based in Lausanne, Switzerland, which recommended they use cloud-based photogrammetry software to process data that could easily be shared either as a dense point cloud, 3D textured mesh, orthomosaic or DSM.
Planning the mission
Videos of the blast circulated online, with before and after satellite images showing major destruction. Although the warehouse containing the ammonium nitrate was in the port of Beirut, so half the blast went out to sea rather than inland, a 140m crater was excavated at the blast site and a large ship was thrown across the port. At Beirut International Airport, 9km away, windows shattered. The damage seemed overwhelming and immeasurable.
An open-access, up-to-date map of the blast area and surrounding damage would be crucial to NGOs, authorities and medical teams trying to mobilise across the city.
UAV mapping was a clear option for image acquisition – UAVs can access and see streets covered in debris and rubble without risking people or equipment. This means it is not only safer but faster, too. Working with manned aircraft was not considered as it would require more complicated logistics, such as coordinating with air traffic controllers. This could have distracted or delayed the arrival of emergency supplies or equipment from other flights, which would have been an unnecessary disruption.
Augment was assisted by Geospatial Minds – drawn to the urgency of the cause, the pilots from Geospatial Minds flew in with two days' notice from Dubai, bringing with them the senseFly eBee X with the SODA 3D camera. The eBee X is a fixed-wing UAV, so has a much longer flight time than a rotary alternative; this is necessary for surveying a larger area, where longer flights are more efficient and allow for a bigger range of data to be collected per flight. Additionally, the images captured by the eBee X would be precisely georeferenced through post-processed kinematic (PPK) technology.
The Pix4D team provided advice about using fixed-wing UAVs to reduce the need for ground control points (GCPs). Taking the time to lay out GCPs on a project of this scale would lose some of the time-saving benefits of working with UAVs and require significant coordination within the data collection team. Pix4D also conferred with Geospatial Mind's pilots to fly double grid missions with a tilted camera to be able to reconstruct the sides of buildings in 3D. This was necessary to assess the damage to building fronts, windows and other structures. To ensure facades are clearly visible, the angle of the camera on such flights should be slightly oblique, ideally between 10 and 35°. When more detail is required, this data can be consolidated with terrestrial data but was not needed this time.
Flying over a disaster
A total of six flights were carried out, gathering 4,304 images with a resolution of 20MP. The pilots accumulated a total flight time of four hours, rendering a dataset of 35GB. To use this information effectively, the team divided the data into 13 districts to match the layout of Beirut. These 13 data groups were carefully compiled, where the imagery from directly above the terrain was automatically added before being consolidated with imagery from the surrounding flights to include any overlap.
The images were PPK corrected after the flight using eMotion, as this meant data with high absolute accuracy was used for processing and could be integrated into mapping survey results. The data was uploaded to Pix4Dcloud for processing and didn't need to be downloaded afterwards, meaning Augment could share the data online rather than with large file transfers. Using specific, comprehensive flight plans meant data collection was successful and enough information was collected.
Working in the cloud
Following the missions, the data needed to be processed correctly or it would not render any useful information. The whole project was processed on Pix4Dcloud. A cloud-based platform, Pix4Dcloud alleviates the need for users to have powerful processing hardware. As Augment was working in the field, with unpredictable conditions, this was a big help.
Additionally, Pix4Dcloud provides accurate results for users that can easily be measured and annotated online. This is ideal for sharing data where multiple organisations have an interest in the results. The annotations can highlight findings and comments for other teams, sharing information easily and online. The sharing settings can also be controlled – if Augment wanted to restrict access to the data, they could do so, or make it open-access as they currently have. Not only that, but there are a range of outputs produced with Pix4Dcloud – a dense point cloud, 3D textured mesh, orthomosaic and DSM – that can be shared with relevant organisations and used for different purposes in the recovery process.
The software enables close analysis. Pix4Dcloud's virtual inspector feature means that a user can click on a specific point when in 3D view. Clicking on the point shows the raw imagery captured for that point, which means Augment can study the specific details of that spot from multiple angles or viewpoints, whether it is road damage or a building facade.
Finally, Pix4Dcloud also has a timeline view, where previous maps can be uploaded and compared with the current damage. Further data collection can be processed and added to the project, so a clear progression of before, after, and recovery can be seen and compared with specific dates and times to track progress.
The politics behind an open-source disaster site map
The team needed to get authorisation to fly from the Lebanese Armed Forces' Forward Emergency Room (FER). UAVs are usually banned for civilian use in Beirut, but an exception was made for this mission. Once FER had provided the licences, Augment could work with GeoSpatial Minds. Live Love Beirut coordinated a training session for all involved and helped Augment network with other organisations, whilst Pix4D provided support and information about getting the best out of Pix4Dcloud.
The four hours of flights covered 2.88km2 of land across the city. With support and training freely provided, the people on the ground quickly picked up how to turn their UAV-collected data into 3D maps. Being protected from commercial usage, the 3D model and point cloud files were created under Creative Commons licences.
By breaking down the map into the 13 smaller datasets, different areas of the city could easily be assigned to or shared with different NGOs working in the recovery effort via the Pix4Dcloud sharing link. This meant other organisations could access the data for the specific area or street they were looking at rather than locate it on a huge map.
Augment obtained an open data agreement from the Lebanese Armed Forces on behalf of the government. This was necessary because of the comprehensive nature of the data collected and the special authorisation required to fly the UAVs.
Moving forward and using disaster maps
Augment presented their map and findings in December 2020 in a presentation still available on their website. The Pix4Dcloud map is available as an open-source map online.
The range of applications for outputs of this project is varied, both for immediate projects as well as future work. A few examples include: blast modelling, emergency reconstruction, damage assessment (in Lebanon or remotely), automated structural damage assessment, potential flood risk monitoring, urban planning, infrastructure impact and planning, multi actor coordination, 3D layered information logging, viewpoint analysis and calculation of solar potential for roofs
This successful use of photogrammetry, combined with the efforts of the organisations Augment worked with has produced a meaningful resource that can be part of the immense task of moving Beirut forward after this catastrophe.
Eloise Mitchell is a content marketing specialist at Pix4D (www.pix4d.com)