The geospatial community gathers again at INTERGEO 2021 in Hannover, 21-23 September. And for those who cannot be there in person, the Expo and Conference will be streamed digitally. We asked INTERGEO Project Manager, Daniel Katzer, how all this is being achieved and what visitors can anticipate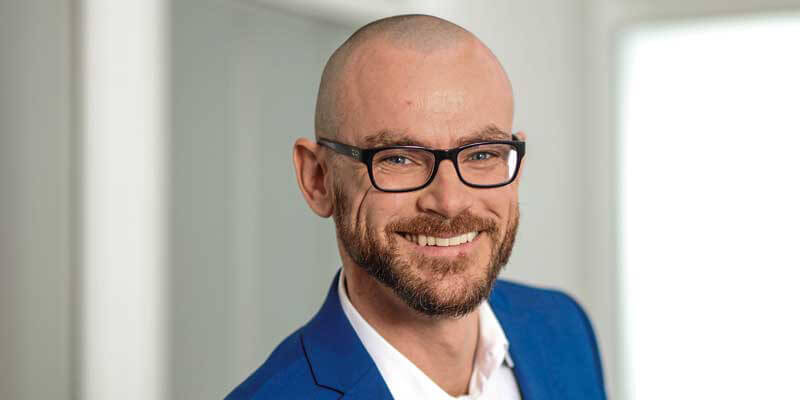 Geo: You have been the contact person for INTERGEO exhibitors for years. You organise the trade fair, plan and allocate stands and look after the well-being of customers. The last INTERGEO was a purely digital event. This year it will be held live again and in parallel on the web. How are the exhibitors reacting?
Daniel Katzer (DK): We definitely detect a sense of optimism! Last year was challenging for the entire industry, and yet the event achieved good results despite the pandemic. Now, everyone is looking ahead, eager for personal exchanges and hands-on experiences. While welcoming the return on the in-person gathering, digital offers additional opportunites and, this year, we will again be streaming the event to all those who cannot be in Hanover! That is a huge opportunity. From 2022 at the latest, a new era will begin with people meeting-up more casually, but with digital remaining as an effective alternative.
Geo: For exhibitors, the hybrid INTERGEO offers a double opportunity, but it also means more work for them. How are you supporting them in this context?
DK: Many have spent the past year preparing for the digital event based on the help and support we provided for the virtual INTERGEO 2020. This year, the two worlds will come together and, for us, hybrid means using our expertise to look after customers whether in the physical or virtual space: helping with stand design, setting the technical parameters for on-site visibility, maintaining and presenting their presence on the web, and acting as the interface between both worlds.
Geo: What are this year's trends in terms of content?
DK: As always, the importance of the event is in bringing future-looking topics and technologies to the public. Climate change and urbanisation are just two areas in which our industry is actively shaping change. In terms of content, the focus will be on technology trends such as Artificial Intelligence, digitalisation in all its facets, and smart sensor technology to mention just three.
Geo: What methods do you use to spread the messages?
DK: We employ a variety of channels and, as communication never sleeps, we are in action 365 days a year, creating new mechanisms and establishing new formats such as expert talks that bring INTERGEO topics to the wider public.
Geo: Where do you personally see the advantages of the hybrid event?
DK: Flexibility for participants is a big plus. INTERGEO 2020 showed that the global geo-community could actively come together virtually. This year, everyone, everywhere, is again invited! Of course, we are happy to see 'geospatialists' meeting again in one place. Yet all content will be available and functionally connected in both worlds.
For more information, please visit https://www.intergeo.de/en/new...