Don't miss the UK's largest geospatial event designed for everyone involved in the gathering, storing, processing and delivery of geospatial information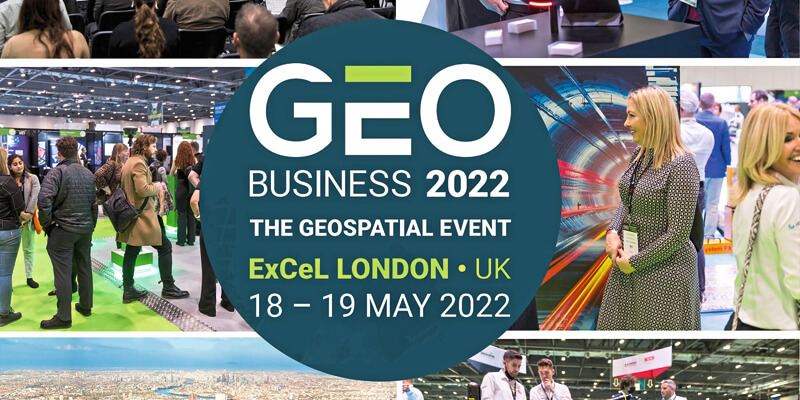 Wednesday 18 May marks the return of GEO Business. The two-day event is a must-attend for anyone who wants to learn how to unlock the power of location data and geospatial technology.
"There are so many reasons to attend the show on 18-19 May 2022 at ExCeL London," says Event Director, Ollie Hughes. "Visitors will get hands-on with the latest geospatial innovations. Plus, they'll hear from the profession's brightest minds and get up to speed with the key trends in the theatres."
Here's some of the exciting new highlights you can expect at GEO Business this year.
Hear from the Geospatial Commission
The Government's Geospatial Commission will be sharing their expertise and insights about the UK's geospatial strategy and the best use of geospatial data. Meet them in-person at their dedicated pavilion and hear directly from them in a range of inspiring talks across the programme.
The Geospatial Commission will also host a series of exclusive Main Stage presentations, exploring geospatial strategy, decarbonisation and the future of transport.
Learn from inspiring speakers
The education programme at GEO Business is packed with 60+ hours of free-to-attend content delivered by expert speakers from across the geospatial profession.
Among the exciting sessions taking place are The Infrastructure Mapping Application – Transforming infrastructure delivery in London with Helen Markides, Infrastructure Data and Innovation Lead at Greater London Authority. Simon Chester, Communication Manager at the Open Geospatial Consortium (OGC) will present The metaverse is geospatial, the metaverse is open, while Donna Lyndsay, Innovation Lead at Ordnance Survey will share how it is using its expertise in location to support initiatives in Geospatial and the sustainability challenge.
See ground-breaking technology
As well as the content-packed programme, GEO Business features a range of interactive demos. Experience ground-breaking technology in action live on the show floor, with a series of live demonstrations featuring the Leica BLK ARC autonomous laser scanning module for robots combined with Spot from Boston Dynamics.
Over at the stands, visitors can test out their drone pilot skills at stand B11 with Aetha and Vantage UAV, get a look at the latest USVs for hydrographic survey from Seafloor Systems at stand GC10, or head over to stand GF41 to see how easy it is to capture and process data with GeoSLAM.
At the Trimble/KOREC stand (GC52) they'll showcase their latest tech, including the Trimble X7 3D Laser Scanner, R12i GNSS and S-Series Robotic Total Stations, and the Trimble MX50 Mobile Mapping System along with a range of Mixed and Augmented Reality solutions. RIEGL will have the latest LiDAR technology and systems on show at stand GC40, including the VQ-840-G topo-bathymetric airborne laser scanner, their robotic solution for railroad surveying applications, the new RIEGL VMR, and much more. That's only a taster of the companies who'll be at GEO Business this year.
Register for your FREE ticket today
GEO Business takes place at ExCeL London from 18-19 May 2022. For more information and to register for a free ticket, please visit www.geobusinessshow.com.
Speakers and session titles are subject to change. Visit www.geobusinessshow.com to see the most up to date programme.