Combining IoT, 3D city models, indoor location, smart devices, dynamic routing and more, using only open standards and commercially available hardware, brings safety benefits for cities of all sizes, says Simon Chester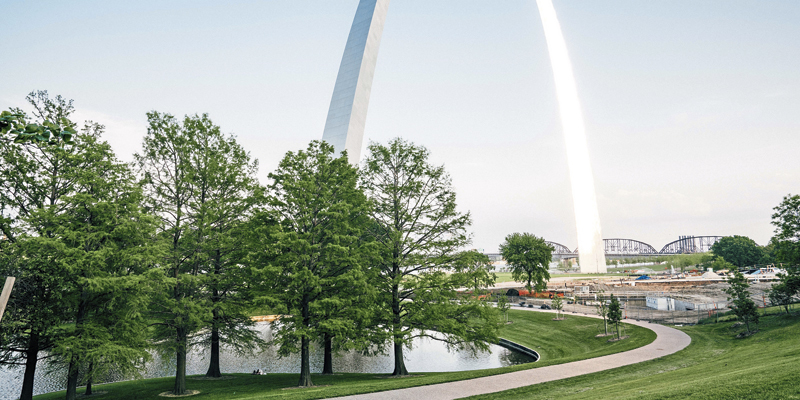 After years of work, the OGC's Smart City Interoperability Reference Architecture (SCIRA) project is nearing completion. OGC staff and members have researched, designed and tested a reference architecture, SCIRA, to be used as an interoperable framework for Smart Cities that integrates commercial, proprietary IoT sensors for use in public safety applications. Cities can use the guides, reports and technical documents developed during the SCIRA project to prioritise their Smart City technology procurement in a cost-effective and future-proof way.

The final stage of the project – the SCIRA pilot – aimed to demonstrate and refine the SCIRA architecture by implementing and testing it in functional, 'real world' applications across the city of St Louis MO in the United States. Its intended outcomes were to enhance overall public safety, streamline efficient, effective operations across all city departments, and validate the SCIRA architecture for adoption by future Smart City efforts.
The pilot concluded with on-site exercises and a demonstration event on January 16. During the pilot, participants researched, designed and tested the SCIRA architecture as a framework for the standards-based integration of 3D city models with inexpensive web-connected sensors – from smartphones and watches to video feeds and flood sensors – in support of public safety and risk resilience.
One of the core approaches was to enable event-driven responses to sensor observations. From warning authorities that a river is at risk of flooding and alerting a commander that a first responder's heart rate is approaching a critical level to pushing out notifications of road closures to first responders' navigation apps for rerouting and even tracking firefighters in buildings, SCIRA provided the information necessary to 'wire together' and configure common components to provide an event-driven information flow that resulted in actual situation awareness for responders.
A reusable example
The pilot established a reusable example of SCIRA-based deployment by demonstrating real-world capabilities during a severe (hypothetical) storm hitting the city and causing floods, fires, and traffic accidents.
The storm scenario consisted of five smaller scenarios occurring chronologically:
River monitoring
In this scenario, the City of St Louis monitors the changing flow of the River des Peres during an incoming storm, anticipating any threat of flooding and taking preparatory action, while also preparing potential responses.
Flash flooding
The storm arrives and causes flash flooding in and around downtown St Louis. Many streets are no longer passable and need to be blocked off. The scenario demonstrated how the city can detect where flash flooding is occurring, as well as its severity, and then close the flooded streets.
Assistance to vulnerable population
The flash flooding has created a life and safety risk for vulnerable populations. This scenario demonstrated how the health department can detect and verify the existence of vulnerable individuals and conduct outreach to get them to safety.
Building fire
Flooding in the basement of the downtown T-REX building has caused a short in the electrical system and started a fire. Fire, police and ambulance services need to combat the fire and ensure safe and total evacuation of the building. The scenario demonstrated dynamic routing of emergency vehicles to avoid flooded roads and the tracking of first responders indoors without the aid of GPS.
Vehicle accident
A speeding vehicle hits a patch of standing water, hydroplanes and collides with a fire hydrant, knocking it over. Police, water, streets and ambulance services need to respond to the incident, render assistance, deal with the damaged fire hydrant and clear the accident – all within the greater context of a flash flood.
Systems development
To support these scenarios, participants developed six systems, each created using existing standards to link together readily available hardware and software in novel ways.
SmartHub system
This connected personal sensors (such as cameras, smartphones and the heart-rate monitors in Apple Watches) with incident scene and emergency operations centre information resources using OpenSensorHub and the OGC Sensor Web Enablement and SensorThings API.
Command Communication System
This provided a common operating picture and tasking between first responders, incident commanders, city personnel and city leaders. It included a 3D dashboard app that used OGC 3D Tiles, Khronos Group's gITF and other standards to visualise 2D and 3D geospatial data, sensor feeds, incident reports and analytics, and provide decision support tools alongside a mechanism for incident management.
Indoor Navigation System
This enabled first responders to navigate inside buildings using Bluetooth Low Energy beacons in the absence of GPS reception, while also being tracked by their commander on the 3D dashboard.
Street Navigation System
Advanced street navigation, accessible from the 3D dashboard, dynamically took into account road closures pushed from the road sensing system (below) and other incidents.
Flood Sensing System
This provided predicted and actual flood inundation regions and street blockages to the 3D dashboard with input from AI sensors and mobile reporting.
Road Sensing System
This reviewed road conditions and traffic awareness for traffic monitoring and provided input into response or evacuation routing.
A successful demonstration
The SCIRA pilot successfully demonstrated commercial IoT technologies and standards-based information services coming together to improve the operations and awareness of first responders, emergency managers, and other city officials. More broadly, the project has created an interoperable information framework and integrated municipal services design patterns, making it possible for all sorts of commercial IoT sensors to work together towards smarter and safer cities.
Simon Chester is communication manager at the Open Geospatial Consortium (www.ogc.org)