Staged over two days in mid-May at London's ExCeL Centre, the co-located GEO Business Show and Digital Construction Week (DCW) attracted a record attendance. Our photo roundup captures a flavour of what has fast become a truly international gathering. Photos: GeoConnexion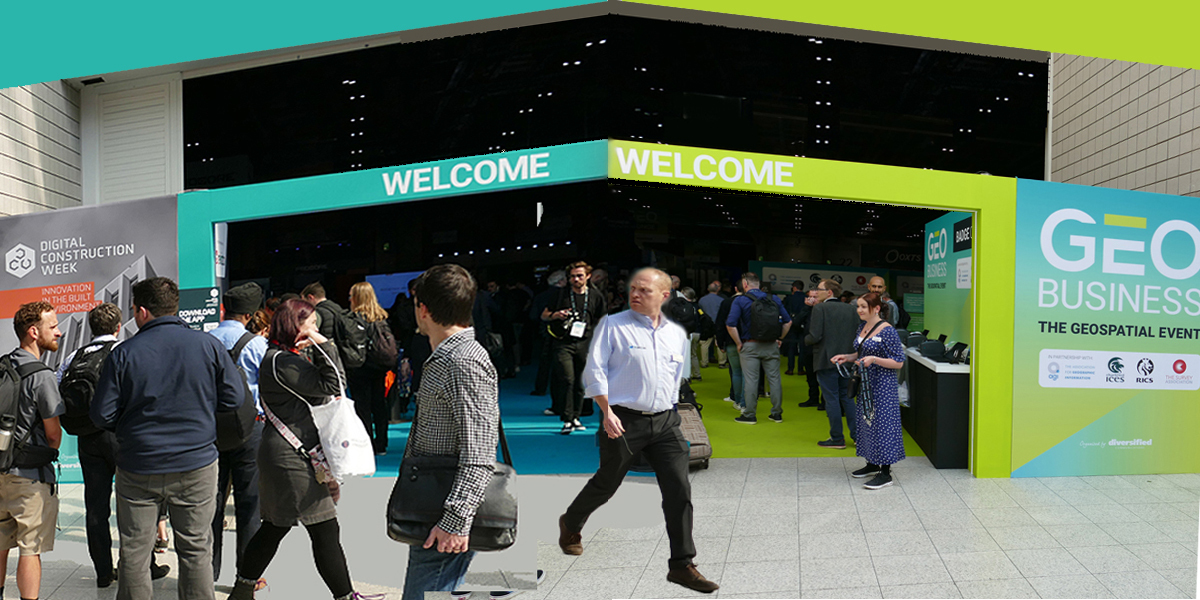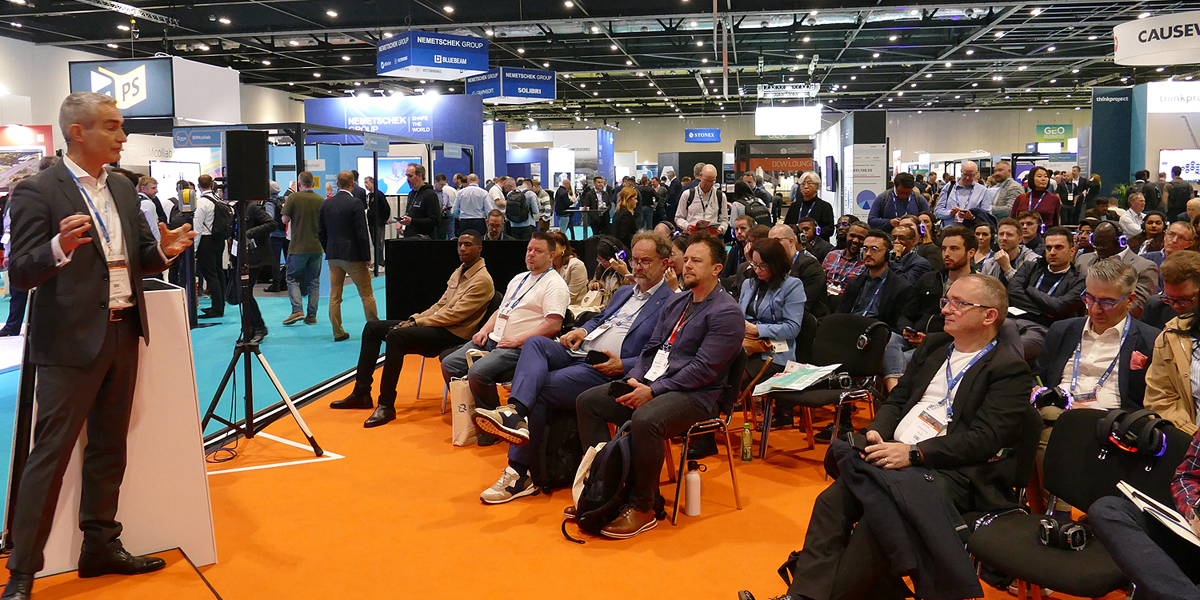 It was standing room only for many of the presentations on offer from more than 150 speakers at 13 themed stages, hubs and theatres located across the showfloor. New for 2023 at GEO Business were four new theatres (Built Environment, Land & Natural Resources, Infrastructure, and Surveying & Mapping), while an Asset Management stage was a new feature at DCW.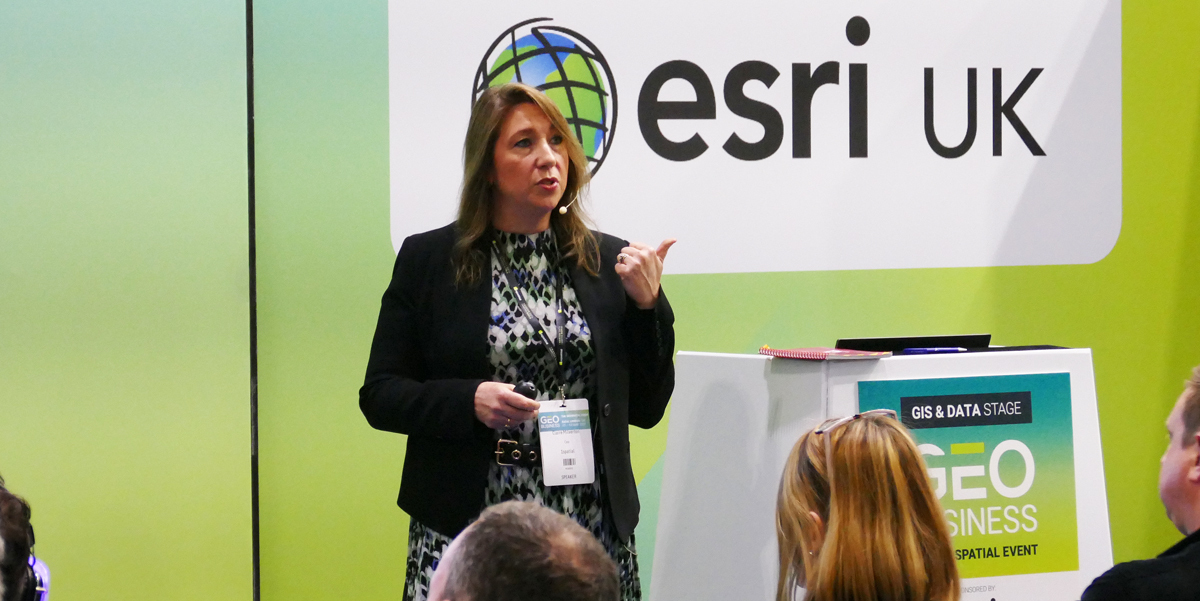 1Spatial CEO Claire Milverton gave a GIS and Data Stage presentation on how effective data management can create significantly more value than the sum of the parts. This was demonstrated with a real-life case study that explored how rules-based data management had reduced the delivery of services from several weeks to a matter of minutes and for a fraction of the cost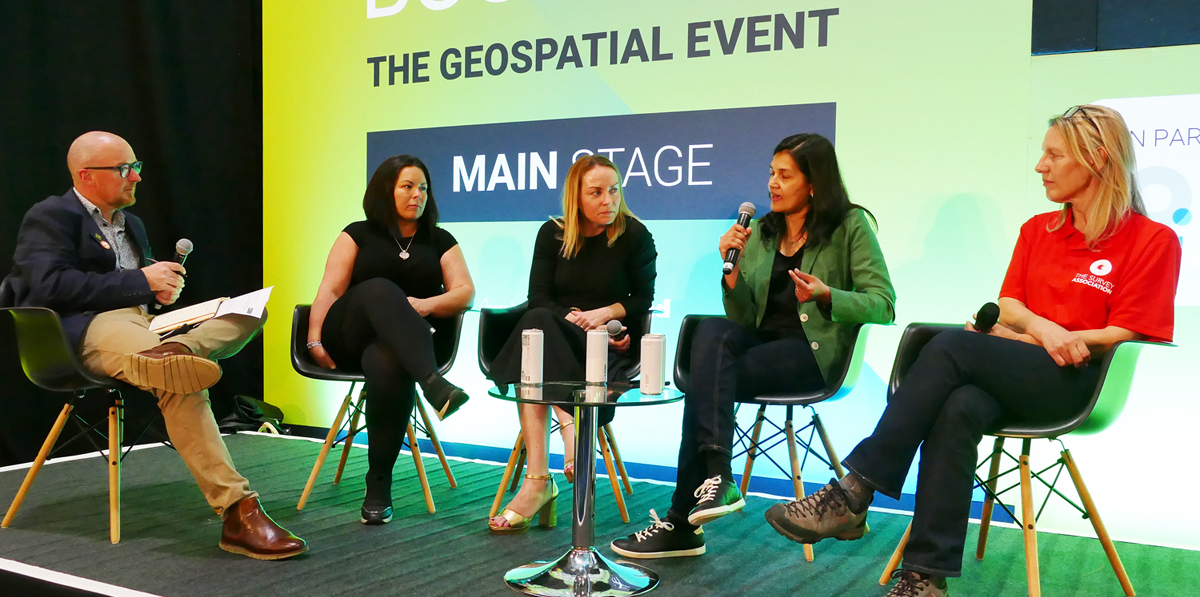 In line with many industry-leading events, both GEO Business and DCW featured presentations and workshops on equality, diversity and inclusion. This Main Stage discussion, chaired by Simon Navin, Geospatial Services Lead at Jacobs, explored the opportunities and challenges for change in the geospatial workplace. The panel included (from left to right) Genna Rourke (United Living Group), Hazel Hendley (Ordnance Survey), Dr. Pooja Manapatra (Fugro), and Alison Watson MBE (CEO, Class of Your Own). The event also provided the opportunity to announce the Chartered ICES Women's Network, an initiative to promote gender equality across the geospatial and surveying communities and beyond. More on this initiative from [email protected]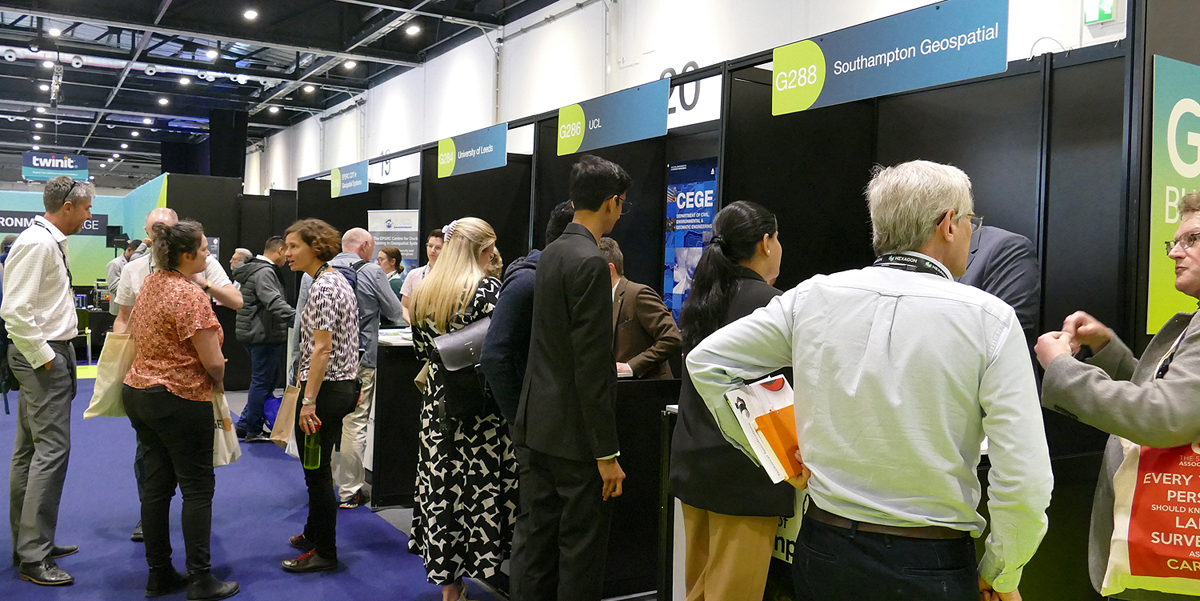 Educational and career opportunities were being promoted in the GEO Business Education Zone, with Newcastle University, UCL, Southampton Geospatial, Leeds University, the Engineering & Physical Sciences Research Council, the AGI Early Careers Network and Get Kids Into Survey all attracting keen interest from visitors.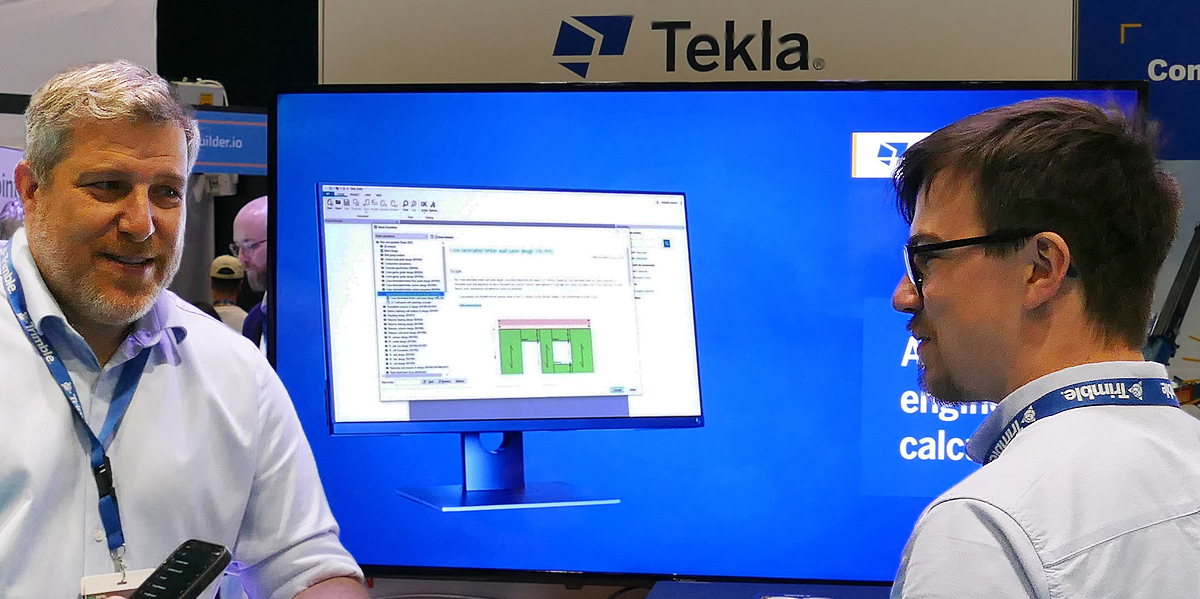 Trimble showcased the latest versions of its Tekla® software. Tekla Structures 2023, Tekla Structural Designer 2023, Tekla Tedds 2023 and Tekla PowerFab 2023 include significant performance enhancements, enabling smoother information delivery on projects that are typically growing in both size and intricacy, and can help provide a basis for green construction strategies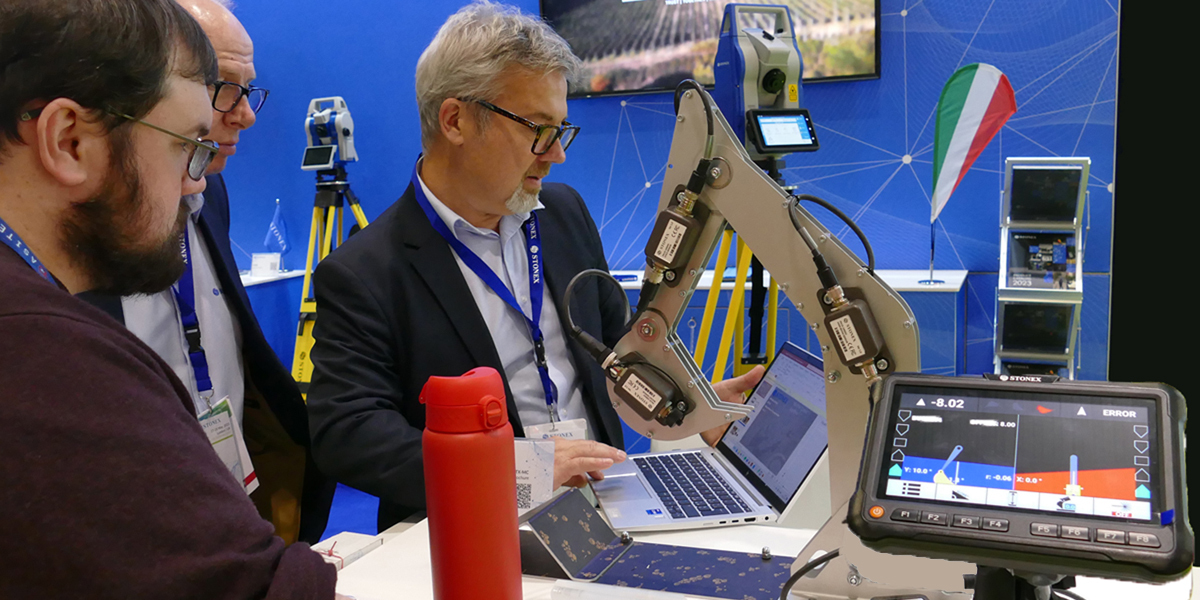 A new Machine Control System for excavators, the STX-DIG, was demonstrated by Stonex of Milan, Italy. The Android-based software helps manage all phases of excavation and machine movement, is scalable as needed, and can be installed as a 1D/2D solution and then easily transformed into 3D

Making its debut for airborne mapping applications was the VQX-1 wing pod from RIEGL. The compact, rugged, and aerodynamically-shaped pod is designed for user-friendly installation and can accommodate one VQ or VUX series Laser Scanner as well as up to three high-resolution cameras and an appropriate high-end IMU/GNSS system.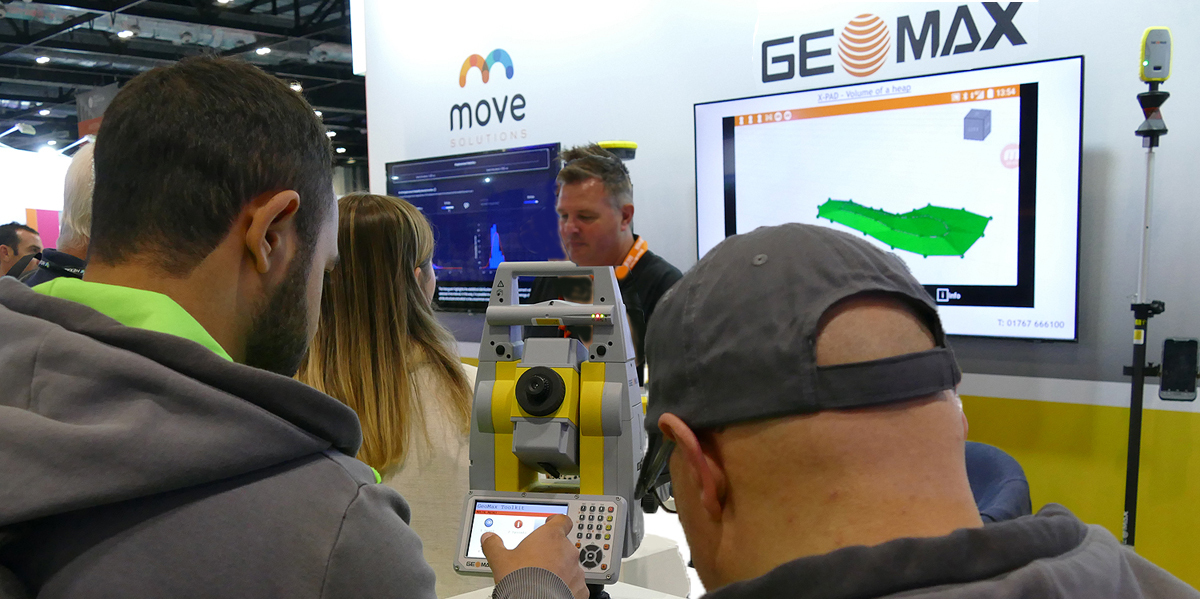 Visitors get hands-on with the X-PAD field software for the affordable Zoom 75 Series Robotic Total Station from Hexagon group company, GeoMax UK & Ireland.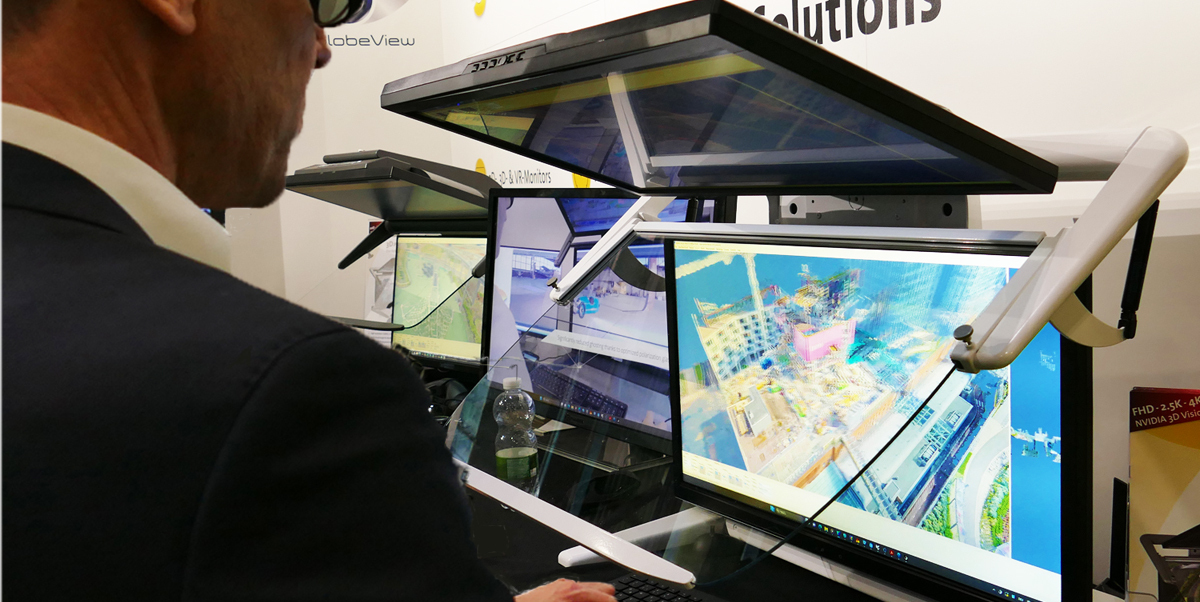 The 3D PluraView passive 3D stereo desktop monitor from Schneider Digital was demonstrated live in action with leading geospaital software applications. Also showcased by the business, headquartered in Miesbach, Germany, was its 84" GlobeView 4K passive 3D stereo monitor, designed specifically for high resolution professional applications and mission-critical environments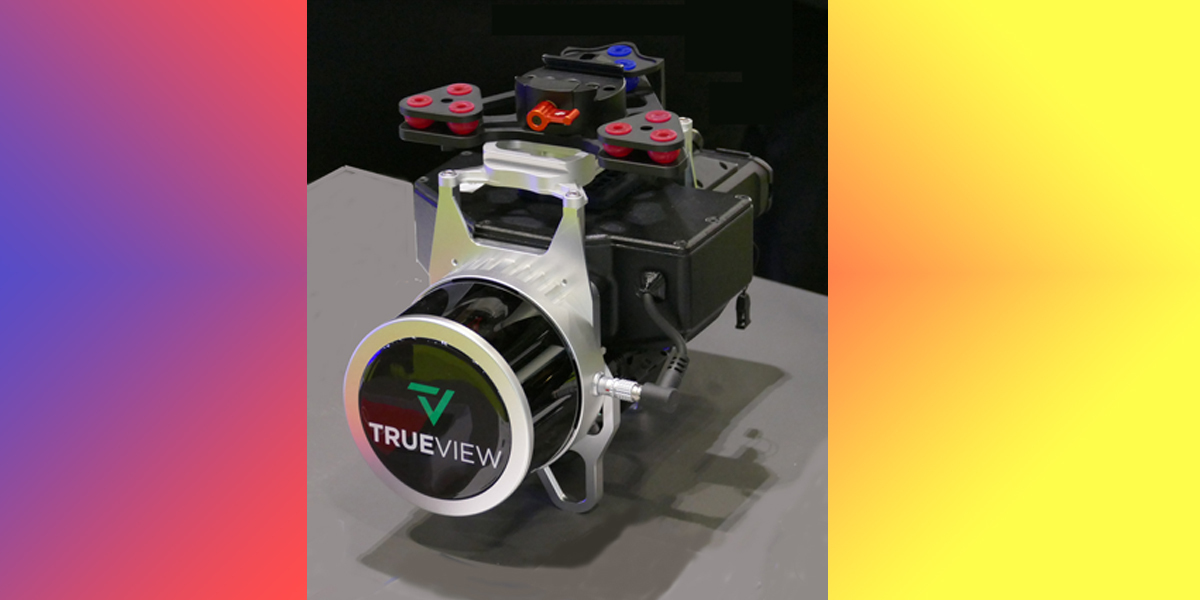 GeoCue, the US-based provider of drone LIDAR and photogrammetry mapping solutions was exhibiting its TrueView 3DIS LiDAR imaging system on the showstand of its UK reseller AlphaGeo. Together with GeoCue's LP360 software solutions, users can easily process and analyse data collected by drones, making it easy to create highly accurate deliverables that can be used for a wide range of applications, including surveying, construction, mining, and more.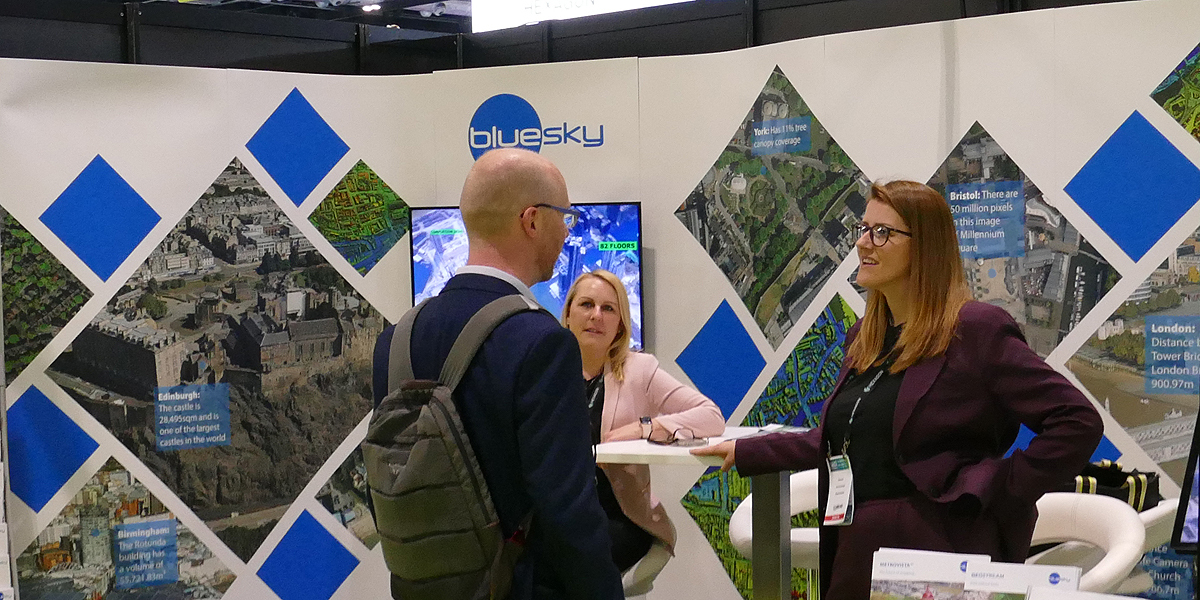 Aerial survey and mapping company Bluesky took the opportunity of the show to launch GeoStream, a new geospatial data subscription service. To ensure customers can access the data they need, when they need it, and without limits, the service will be accessible either via an intuitive browser-based application or via Bluesky's existing hosted Web Services facility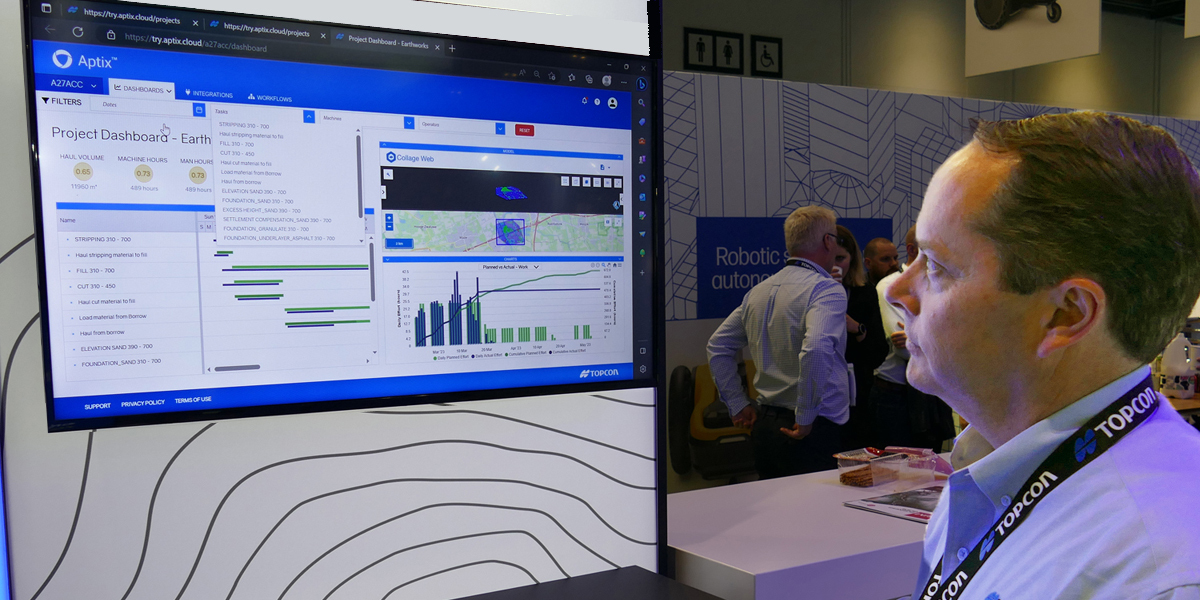 Following its acquisition of Digital Construction Works earlier this year, Topcon showed off the Beta version of a dashboard that uses the Aptix Cloud Integration Platform and advanced analytics to monitor construction activity, enable data-driven decisions and optimise best practices.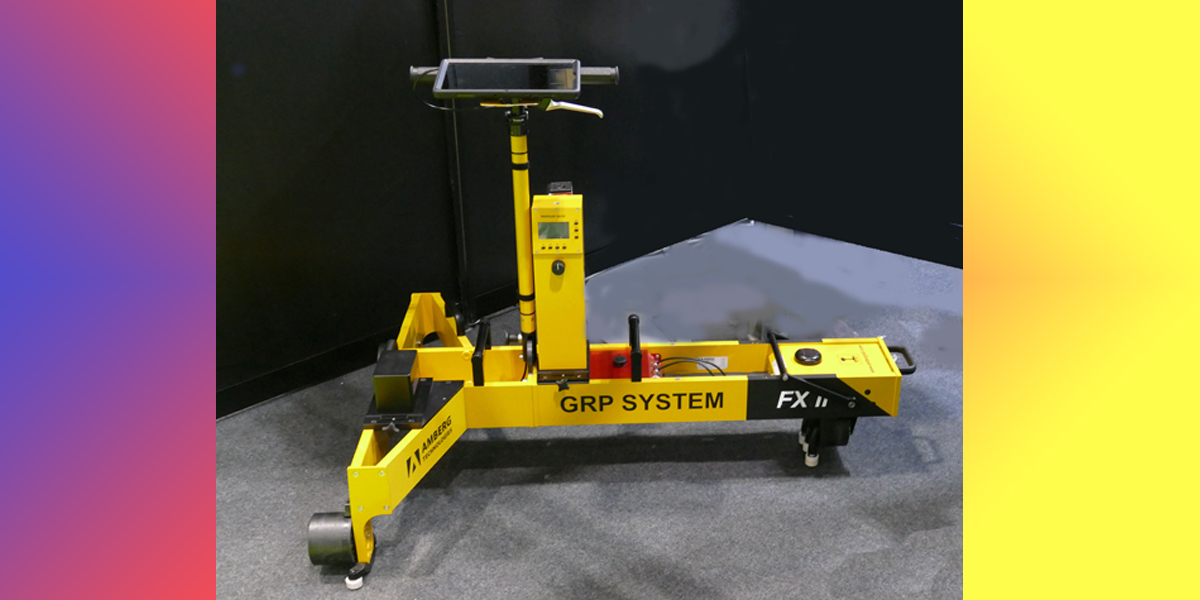 Amberg Technologies from Switzerland exhibited its long-chord railway track survey system, the trolley of which is equipped here with the company's 120 FX Profiler. Designed for demanding track works, the system combines survey of track and lateral distance offsets in one run to an absolute accuracy 3mm and is said to achieve cost savings of 70% and more compared to manual/optical chord methods.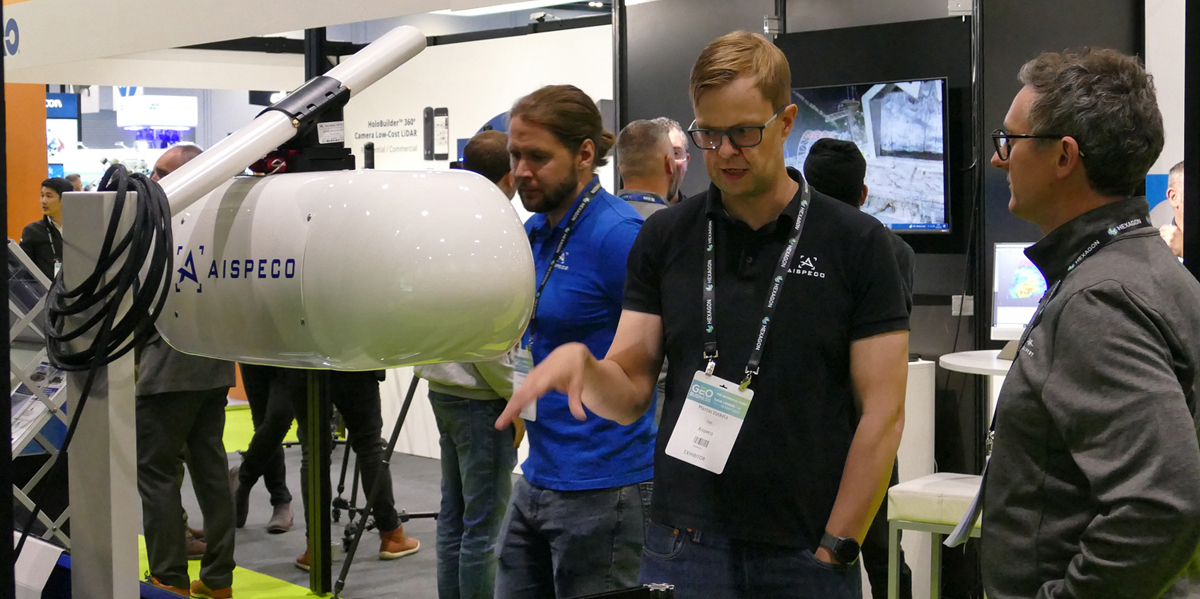 A new GEO Business Start-Up Zone played host to up-and-coming names in geospatial including Basetime, EOLAS Insight, Geospatial Ventures, UAV Pilot Pal, and AISPECO from Vilnius in Lithuania. Here, AISPECO CEO, Mantas Vaskela, explains how the company's multi-sensor payloads that combine LiDAR, optical and other imaging capabilities can be deployed on airborne, mobile, and stationary platforms. The DCW showfloor also featured a start-up village with demo booths populated by 10 early stage businesses intent on shaping the future of the built environment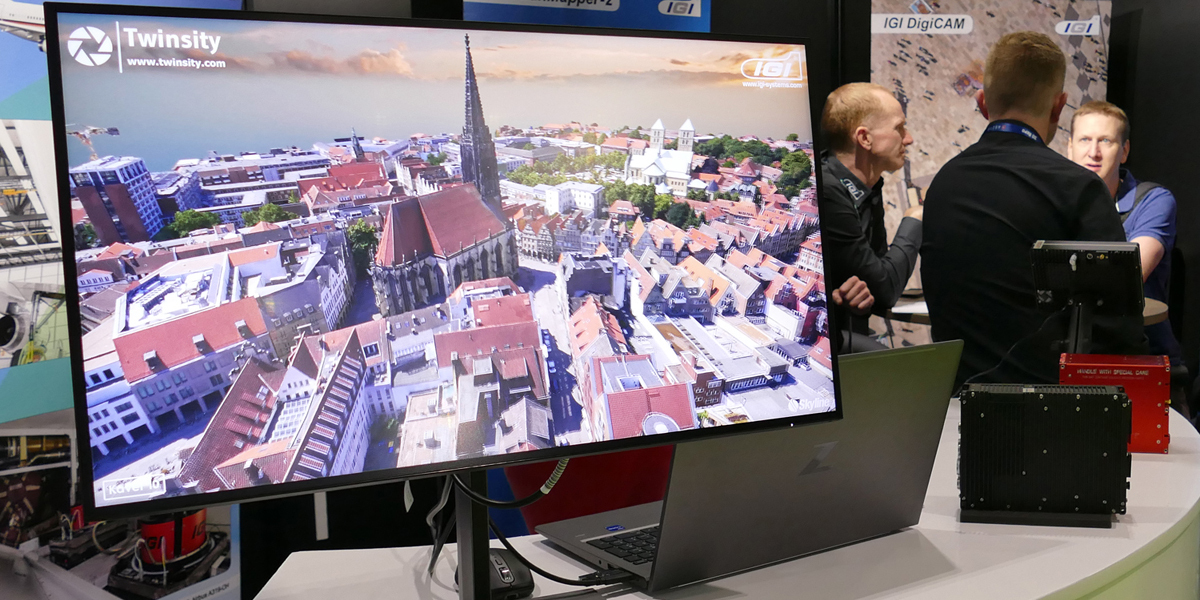 IGI from Kreuztal in Germany was displaying this 3D city model of Münster. Captured by the company's UrbanMapper-2 camera, it has been combined with Twinsity's digital inspection platform. The result means that users are not only able to visualise full-resolution digital twins in an interactive 3D environment, but also gives them the ability to inspect and measure issues such as small structural deformations directly within the 3D model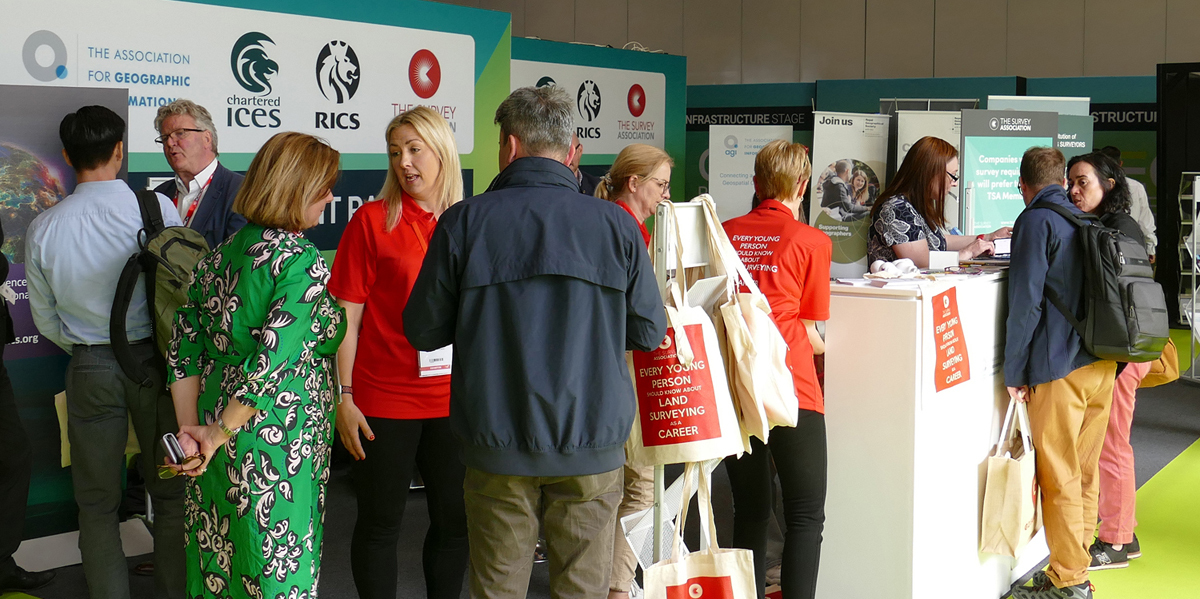 A single point of access to key industry associations was on offer at this year's show. The Association for Geographic Information, the Chartered Institution of Engineering Surveyors, the Royal Institution of Chartered Surveyors and The Survey Association were all on hand to explain how their organisations support the profession. A similar collaboration with the exhibition organisers saw the British Geological Survey, the Coal Authority, the Geospatial Commission and the UK Hydrographic Office promoting their work in single government bodies pavilion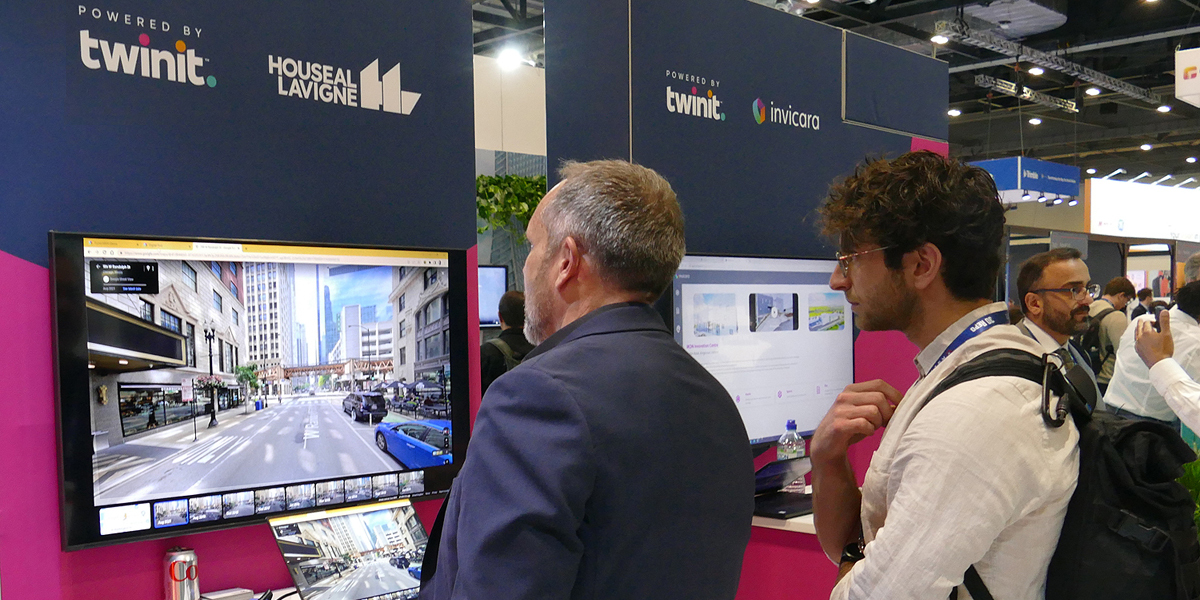 Making its debut at the show was Twinit, a 'composable' digital twin software platform from Dublin-based Invicarra. This is now available to enterprises, global systems integrators, and application developers to address use cases in planning, construction and Facilities Management. The launch was accompanied by news that Tonomus of Saudi Arabia will use the platform to contribute to and accelerate the development of its own world-changing cognitive technologies.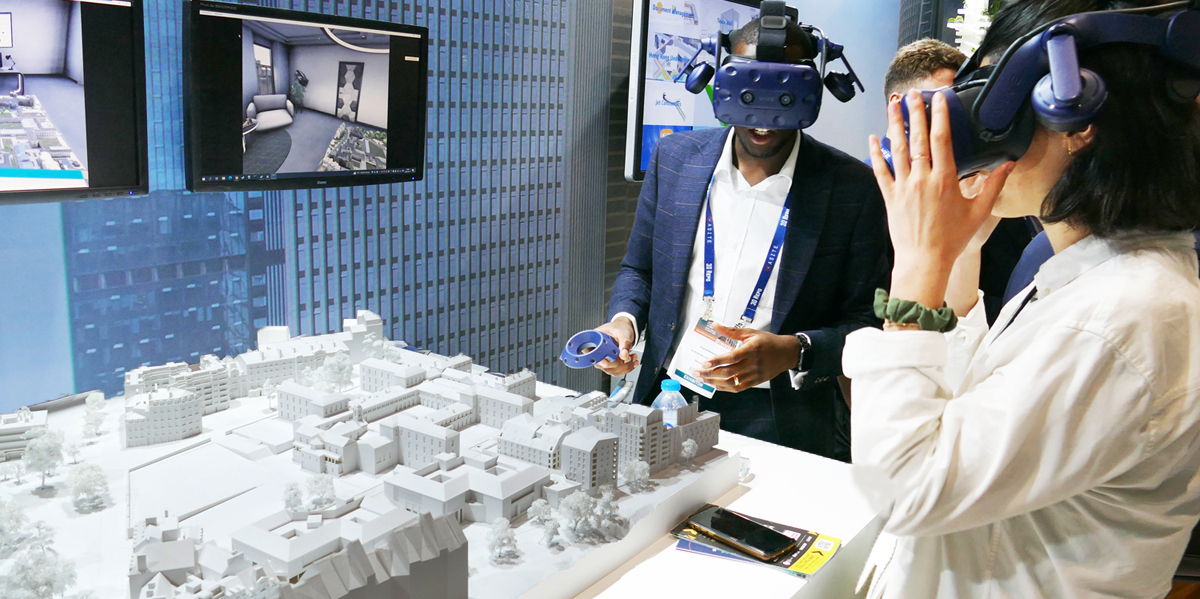 Visitors sample the 3DEXPERIENCE platform from CAD pioneer, Dassault Systemes. By creating virtual twin experiences of the real world, users can redefine the creation, production and lifecycle management processes of their projects. Concurrently with the event, the company announced that the platform has been selected by the UK Atomic Energy Authority as part of its programme to deliver a prototype fusion energy plant, capable of putting electricity on the national grid.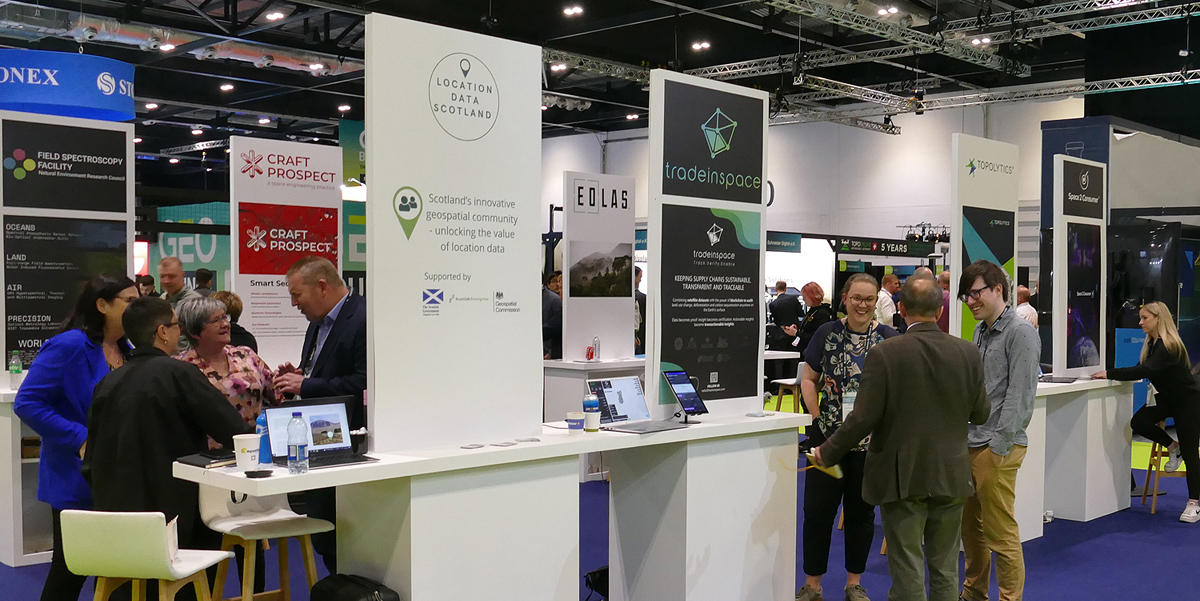 Another addition to this year's show was a Scottish Innovation Village that highlighted the innovation and entrepreneurship being generated in Scotland, and the pivotal role it plays in the wider UK geospatial ecosystem. Hosted by Location Data Scotland, the Village featured products and services from Geovation Scotland, Eolas, Trade in Space, Topolytics, Spelfie, and the NERC Field Spectroscopy Facility.

Organised by Diversified Communications UK, the GEO Business Show and Digital Construction Week will return to London's ExCeL Centre from 5-6 June 2024. More information on these events can be found at https://www.geobusinessshow.co... and https://www.digitalconstructio...
Subscribe to our newsletter
Stay updated on the latest technology, innovation product arrivals and exciting offers to your inbox.
Newsletter