Hosted by Reed Exhibitions at London's ExCeLCentre, the biennial ocean technology event attracted more than 10,000 visitors over three days in mid-March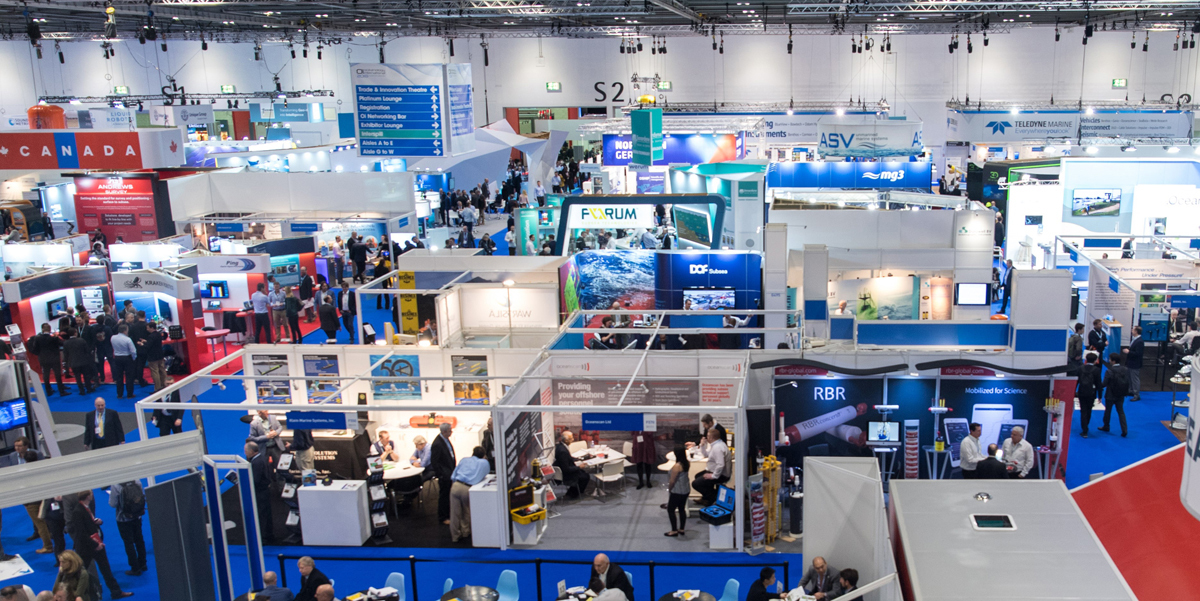 With some 447 organisations from 70 countries showcasing a comprehensive range of Ocean Science-related technologies, GeoConnexion sought out new developments of interest to readers, a number of which are featured below (all photos © GeoConnexion except where otherwise stated).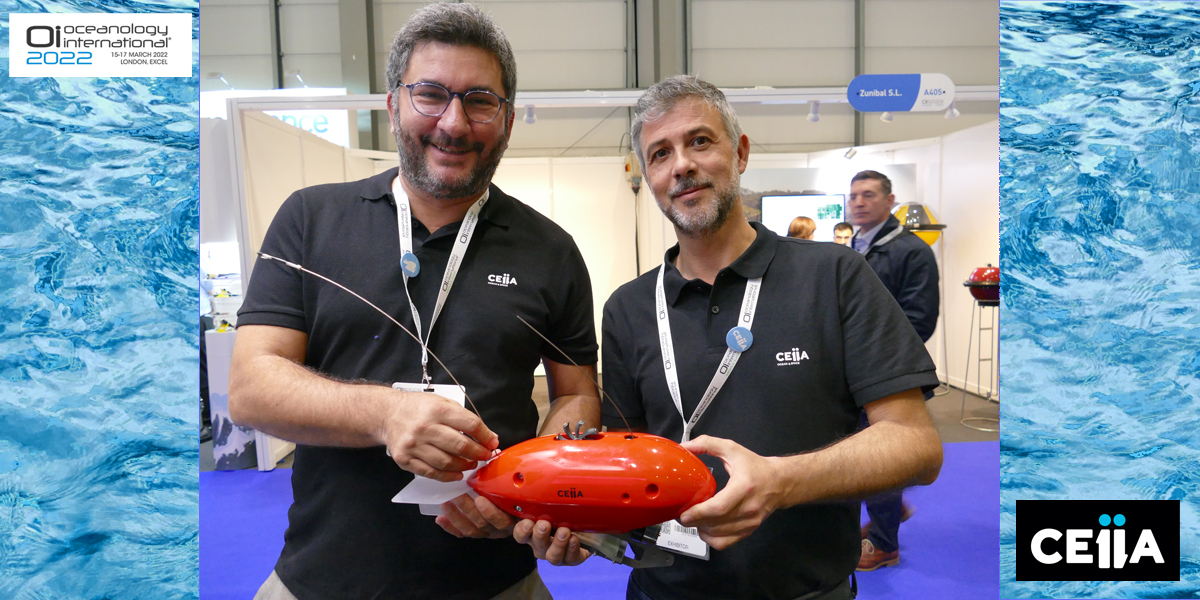 CEiiA, a Portugal-based technological solutions provider in aeronautics, mobility, naval/offshore and automotive, was promoting MAANTA, a non-invasive, non-intrusive durable and recoverable marking, mapping and monitoring system for marine animals. The towed device is available in four variants to record parameters such as temperature. depth, ambient light, motion, acoustics and imagery, and has been deployed in the Atlantic, Pacific and Indian Oceans by research teams for the study of a variety of shark species and manta rays. The MAANTA is pictured here with CEiiA's BDM, Nuno Lourenco (left) and Head of Development & Engineering, Rui Magalhães (right),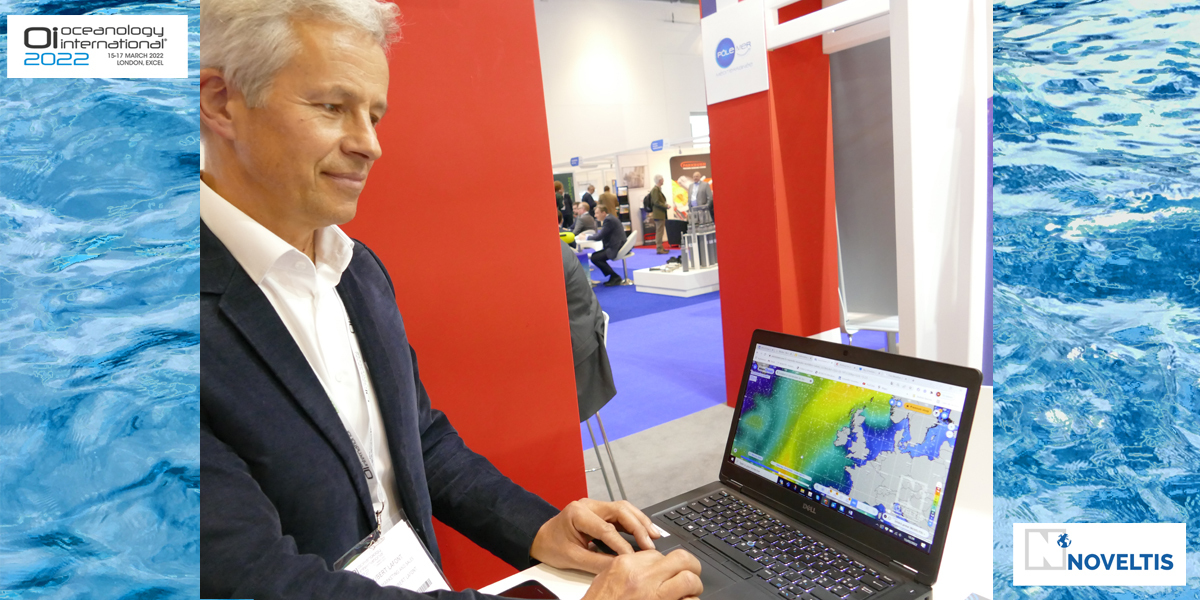 Noveltis from France took the opportunity to launch an online service that allows easy access to some 30 years of historical global data for winds, sea states, ocean parameters, bathymetry, weather conditions, currents and sea ice via its www.enovOcean.com web platform. Demonstrated here by Hubert Lafont, the company's Head of Sales and Marketing, the platform provides a professional tool for marine weather forecasting, with a premium subscription adding rogue waves, steep sea model comparisons, weather forecasts and alerts and more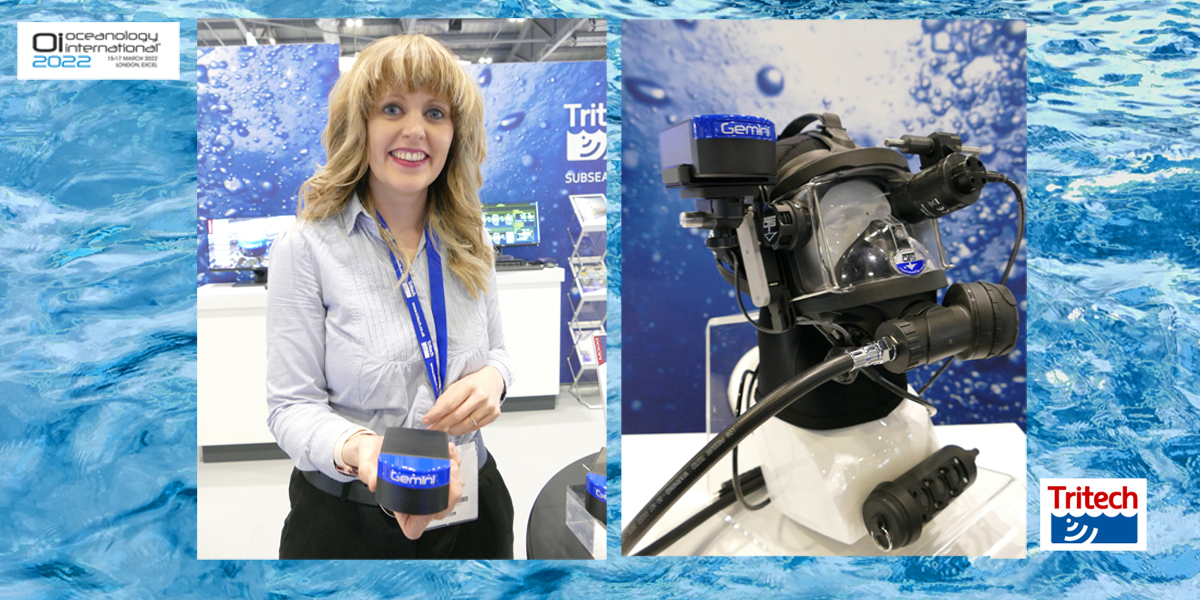 Tritech International from Scotland showcased the latest addition to its Micron Gemini family of multibeam sonars. Claimed to be the smallest such unit on the market, the Gemini 720im offers an extremely powerful real time imaging sonar, with greatly improved image quality, a 90-degree horizontal field of view, 50 m range, built in pressure, temperature and depth sensors, and optional AHRS (Attitude Heading and Reference System). The newcomer, shown here by the company's Marketing Manager, Rachel McAlpine, is said to offer cost-effective obstacle avoidance and navigation for small ROVs and AUVs, as well as utilisation with Tritech's Diver Mounted Display system (DMD) pictured here on the right.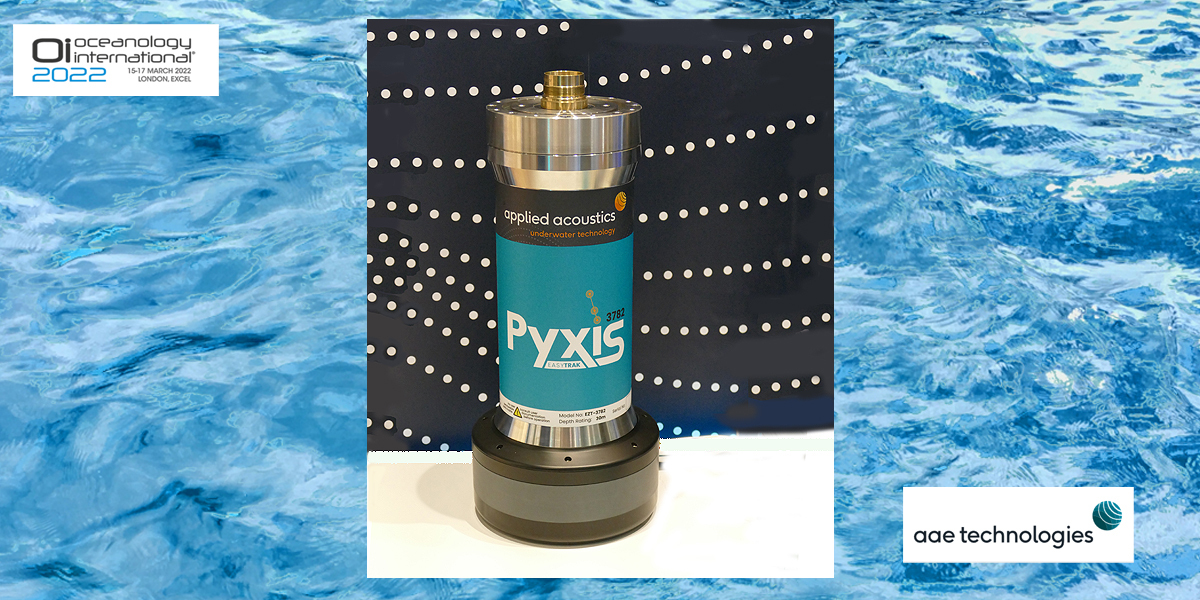 The Applied Acoustics arm of AAE Technologies based in Great Yarmouth, Norfolk, presented its state-of-the-art Easytrak Pyxis INS + USBL subsea acoustic tracking system. The unit (pictured) combines a highly advanced Inertial Navigation System (INS) from SBG Systems with an inertially-aided Ultra Short Baseline system from Applied Acoustics to deliver accurate, long-range subsea tracking with survey-grade performance. As a tightly coupled, factory-fitted package, Pyxis is a calibration free system, ready to operate from any vessel as soon as the work site has been reached.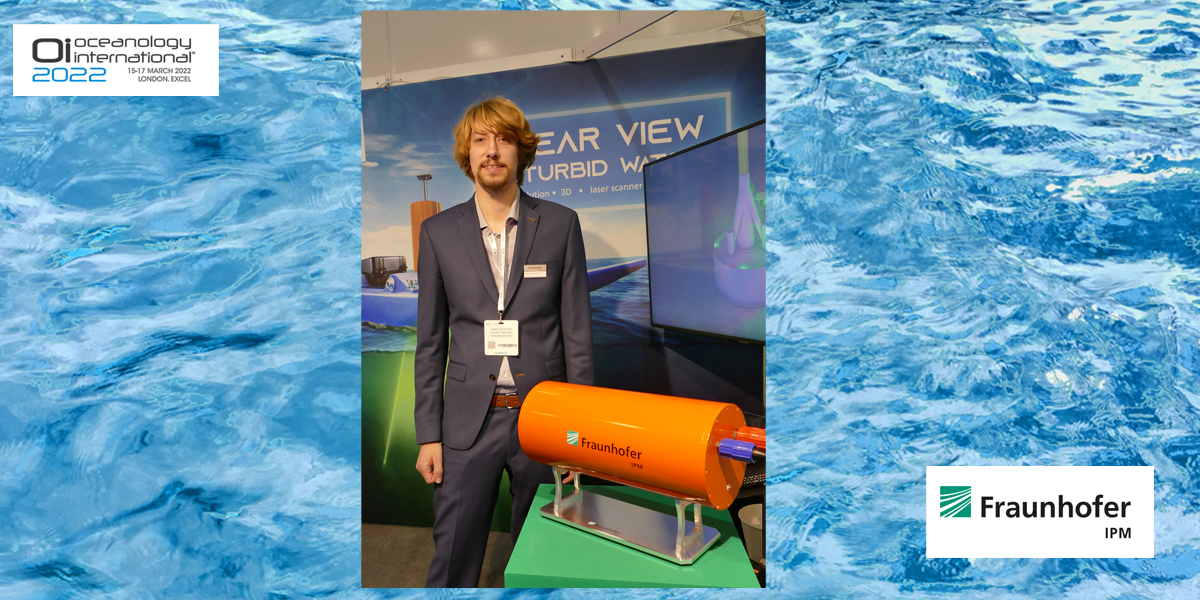 Jannis Gangelhoff, a Project Manager with the Fraunhofer Institute for Physical Measurement Techniques IPM in Freiburg, Germany, is seen here with the Institute's latest development in underwater LiDAR (ULi) systems. Utilising the pulsed time-of-flight technique and a rotating double wedge prism, the system is intended for use in turbid waters for the inspection and capture of 3D structures to millimeter precision over distances of up to several tens of meters. Its range in turbid water is claimed to be up to three times those of other optical systems and to outperform conventional sonar systems by a factor of ten. In addition to the measurement technology, the scanning system includes algorithms for data processing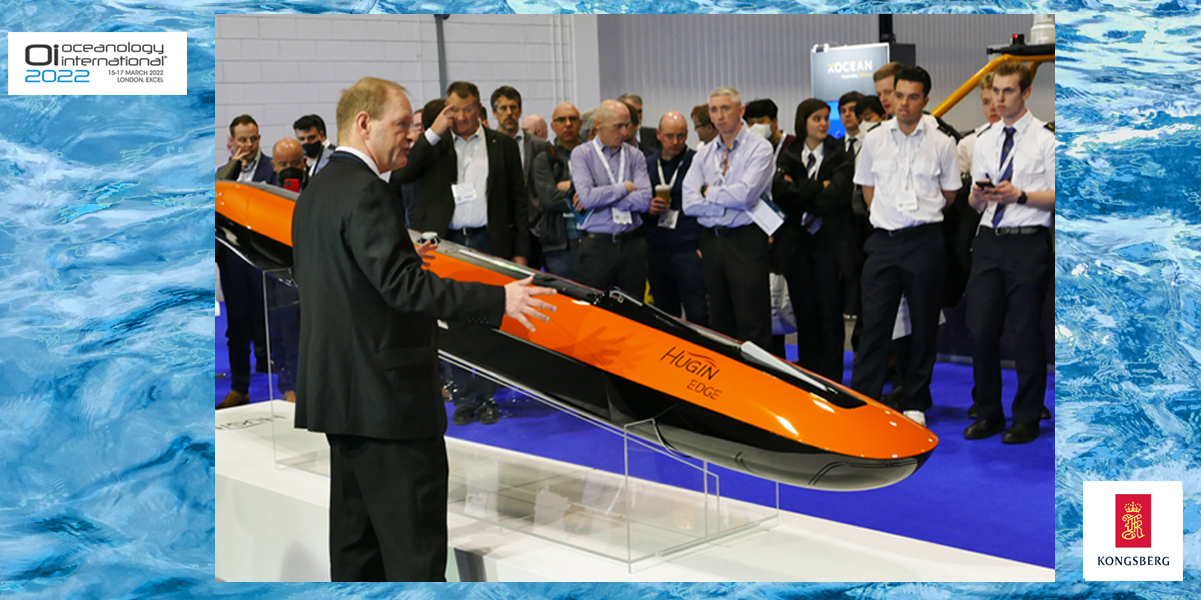 The latest addition to the HUGIN family of AUVs from Kongsberg Maritime made its debut at the show. Introduced here by Richard Mills, the company's Vice President, Marine Robotics Sales, the HUGIN Edge adds some significant new features and capabilities. These include the next generation of Kongsberg's Synthetic Aperture Sonar, providing 3D sensing capabilities for improved trajectory planning, as well as directional collision avoidance coupled to traditional forward scanning methodology. With a length of under four metres and weighing approximately 300kg, the HUGIN Edge employs the latest battery technology to offer more than 24 hours operation at depths up to 1000 metres. The arrangement also includes a high frequency multibeam echosounder and a swappable camera or sub-bottom profiler. Its configuration lends itself to most geo- physical surveys, as well as mine counter-measures, environmental assessment, search and recovery, and CNI surveys.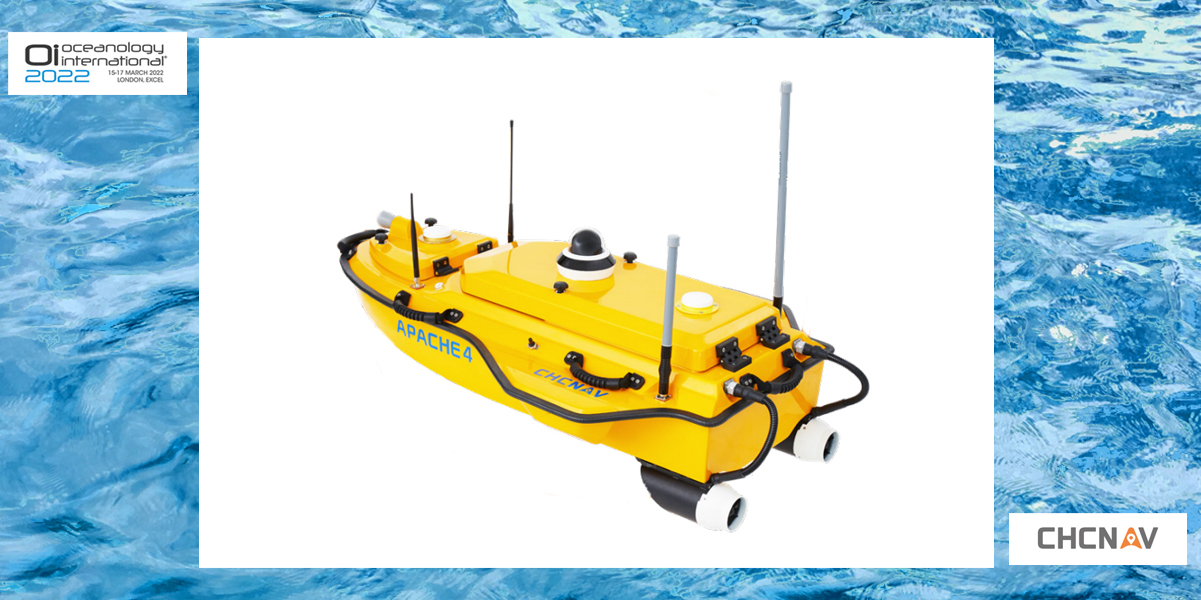 Another newcomer at the show was the shallow-draft APACHE 4 Unmanned Surface Vehicle from CHC Navigation of Shanghai, China. In supporting a wide variety of Acoustic Doppler Current Profiler (ADCP) systems available on the market, the APACHE 4, with its built-in single beam echo sounder, is claimed to deliver high navigational accuracy and stable hovering for hydrographic, bathymetric, and hydrological surveys. Even when GNSS positioning might be degraded by obstructed environments, the internal GNSS+IMU module continues to provide reliable position and heading for the ADCP and autopilot controller. Image: CHC Navigation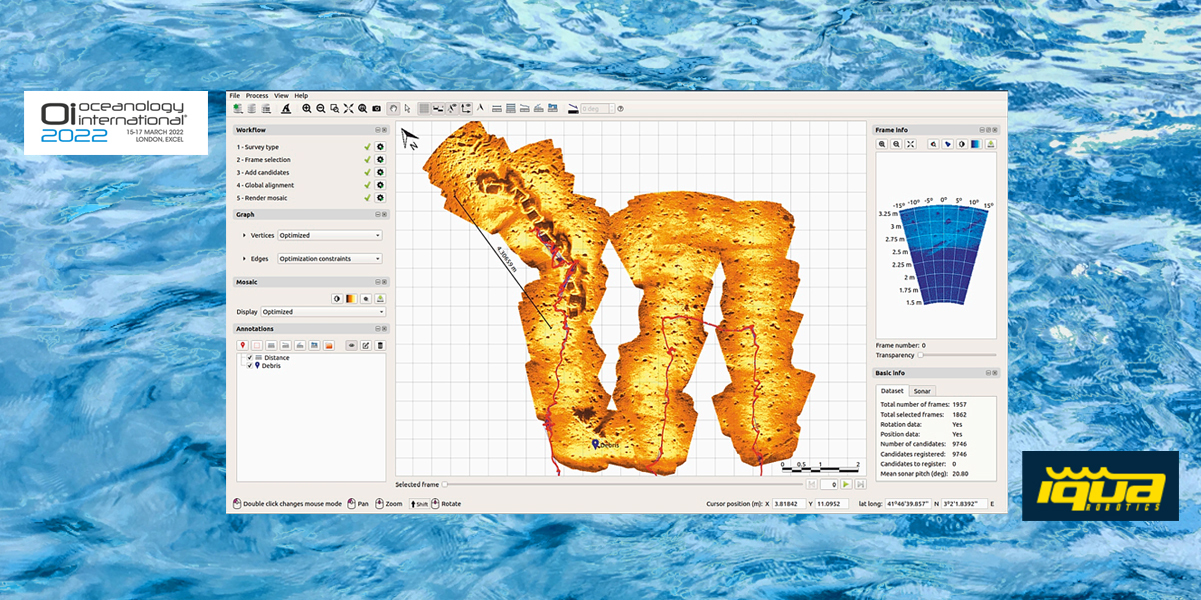 Aqua Robotics from Girona in Spain demonstrated the latest version of its SoundTiles software for rapidly converting forward-looking sonar files into informative maps. The application is compatible with multiple sonar file formats and generates an overview mosaic of the surveyed area, allowing the identification of spatial relationships and offering a map of increased resolution and improved signal-to-noise ratio with respect to the individual sonar images. Tools for annotating and measuring are included, as are multiple export options and georeferencing facilities. Image: Aqua Robotics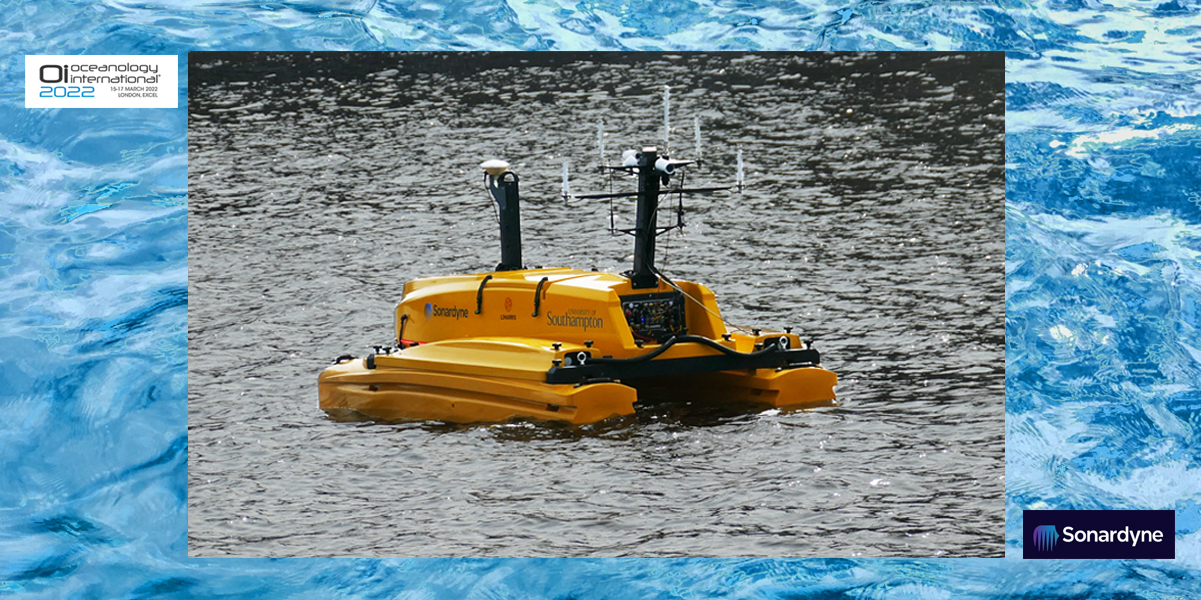 UK-based Sonardyne was among exhibitors mounting dockside demonstrations during the course of the show. Here, a C-Cat 3 USV on loan from the University of Southampton was used to demonstrate the company's industry-leading SPRINT-Nav Mini hybrid navigator ... one that packs INS, DVL, AHRS and depth instruments into one compact sensor for subsea and surface platforms. This was shown working alongside Sonardyne's Mini-Ranger 2 USBL system in real-time to output commercially useful navigation and positioning data, including high elevation tracking. This is said to be particularly useful where GNSS signal loss is encountered when operating in built-up inland waterways and/or near large offshore structures such as wind turbines.

Oceanology International London once again secured its place as a must-visit event in the technology calendar and will be back again in San Diego and Abu Dhabi in 2023 before returning to London in 2024 for another look into the future of Ocean Science from around the world. More at https://www.oceanologyinternat... .
Subscribe to our newsletter
Stay updated on the latest technology, innovation product arrivals and exciting offers to your inbox.
Newsletter