A roundup of some of the latest technology developments on show at this year's Ocean Business Exhibition and Conference, Southampton, UK, 18-20 April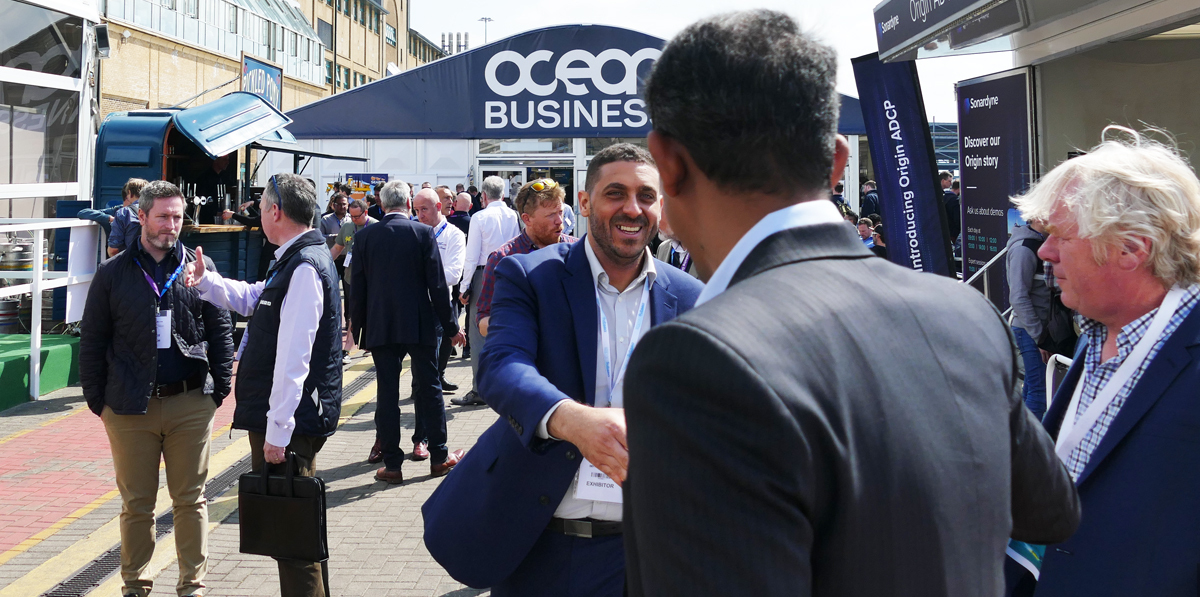 Bright sunshine on the opening day greeted a reccrd 5,000 visitors from 80 countries to the National Oceanography Centre to what the organisers billed as the 'Hands-On Ocean Exhibition and Training Forum'. The tented exhibition area featured some 300 suppliers of marine technology and services, many of whom presented their latest wares, just a sample of which we present here.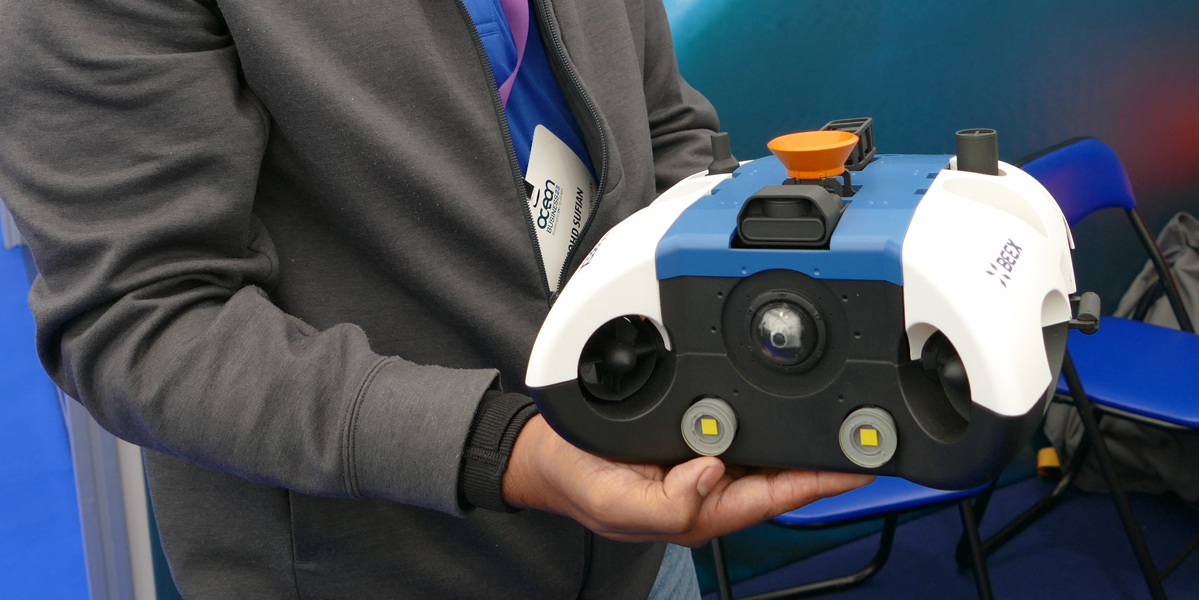 Autonomous robotics specialist BeeX from Singapore showcased A.IKANBILIS, its next-generation Hovering Autonomous Underwater Vehicle (HAUV). Piloted by Artificial Intelligence to automate underwater inspection tasks and deliver repeatable results, the platform is being enhanced with new features including enhanced endurance and improved sensor payload – all based on experience gained from last year's work on the Nordsee One windfarm.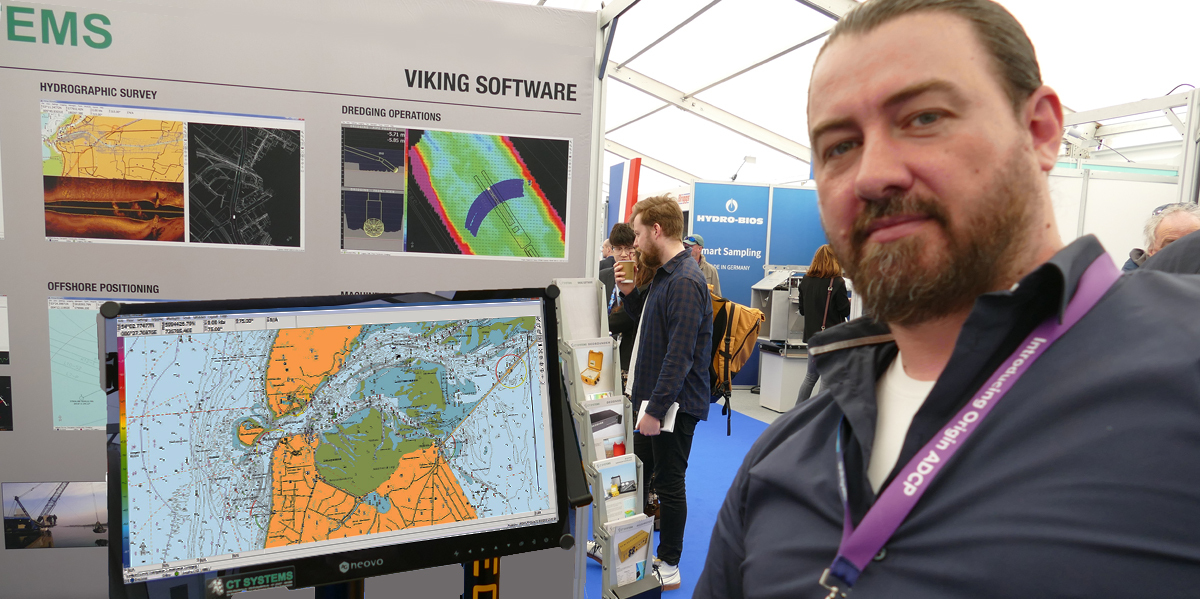 Netherlands-based CT Systems presented the latest version of its flagship Viking software line, pictured here with Managing Director, Julian van der Vaart. The Viking portfolio includes specialised packages for navigation and positioning, offshore operations such as anchor planning, wind farm navigation, ROV & diving operations, etc., plus Viking Dredge with added functionality such as 3D DTM dredging area support and suction pipe/dredging tool interfacing.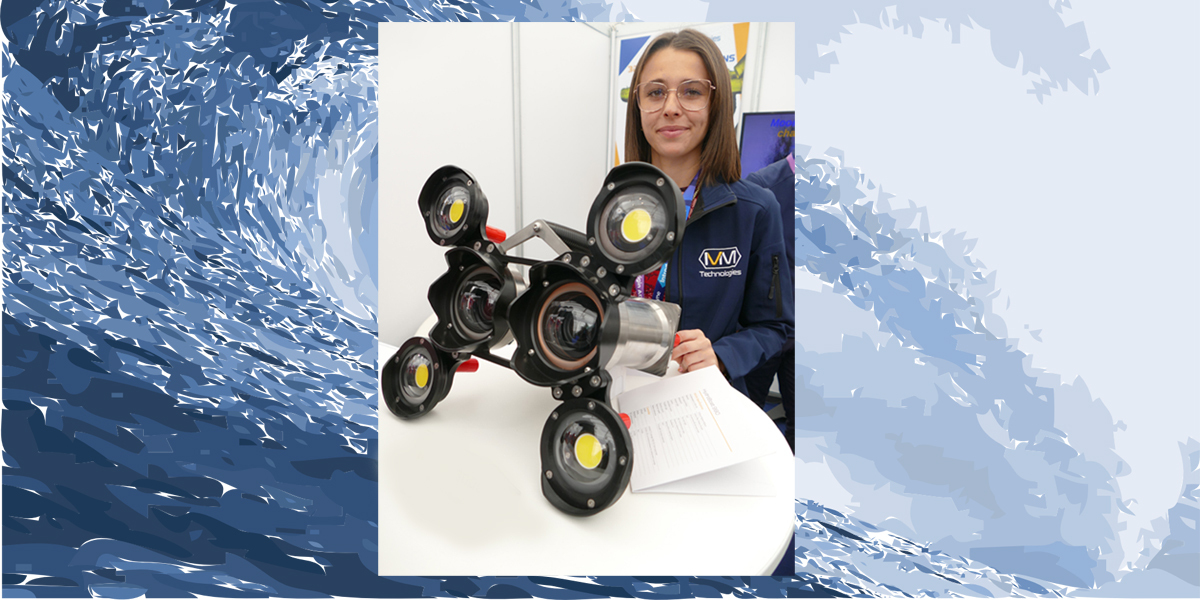 The Hydro 300 3D inspection solution for shallow water observation and inspection class ROVs was being promoted by IVM Technologies of Marseilles, France. Pictured here with Communications Officer, Alicia Moustier, the Hydro 300 is a light, compact and cost-effective solution for 3D reconstruction inspections, is pre-calibrated, and works independently of any navigation aid.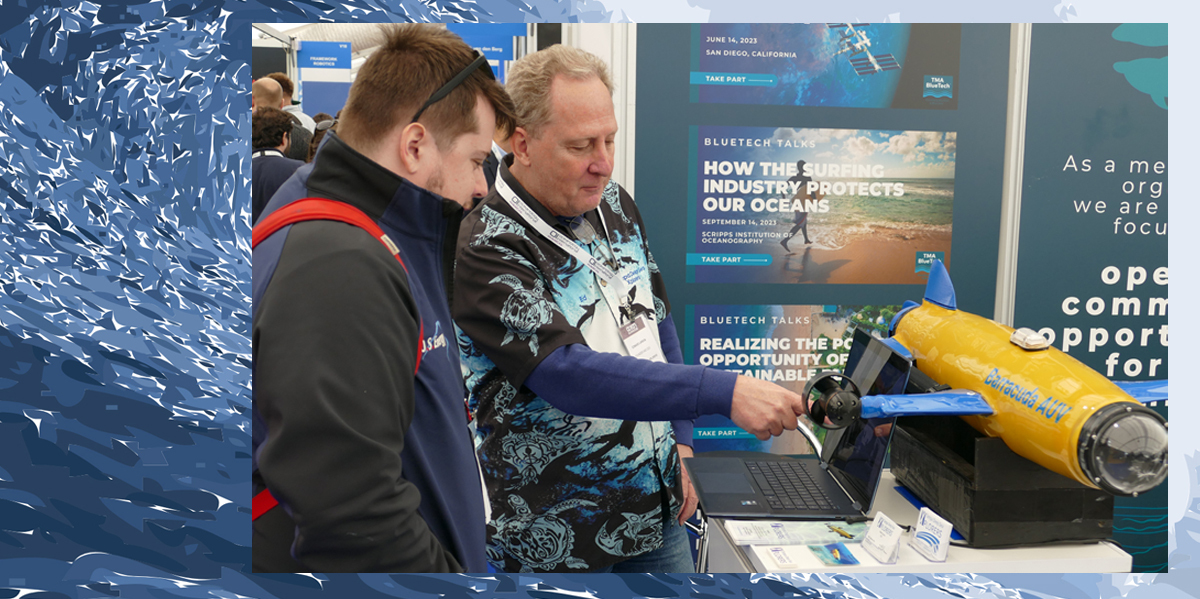 Edward Larson, founder and CEO of Tampa Deep Sea Xplorers of Tampa Florida shows off the company's 1.2 meter-long Barracuda Autonomous Underwater Vehicle. Weighing just 16 Kg (35 lbs), the AUV is easily launchable by hand from a small vessel; is strong enough to withstand high pressures encountered at depths of up to 500 meters, and is said to be capable of collecting several times more data per day of operation than has hitherto been possible from small low-powered AUVs.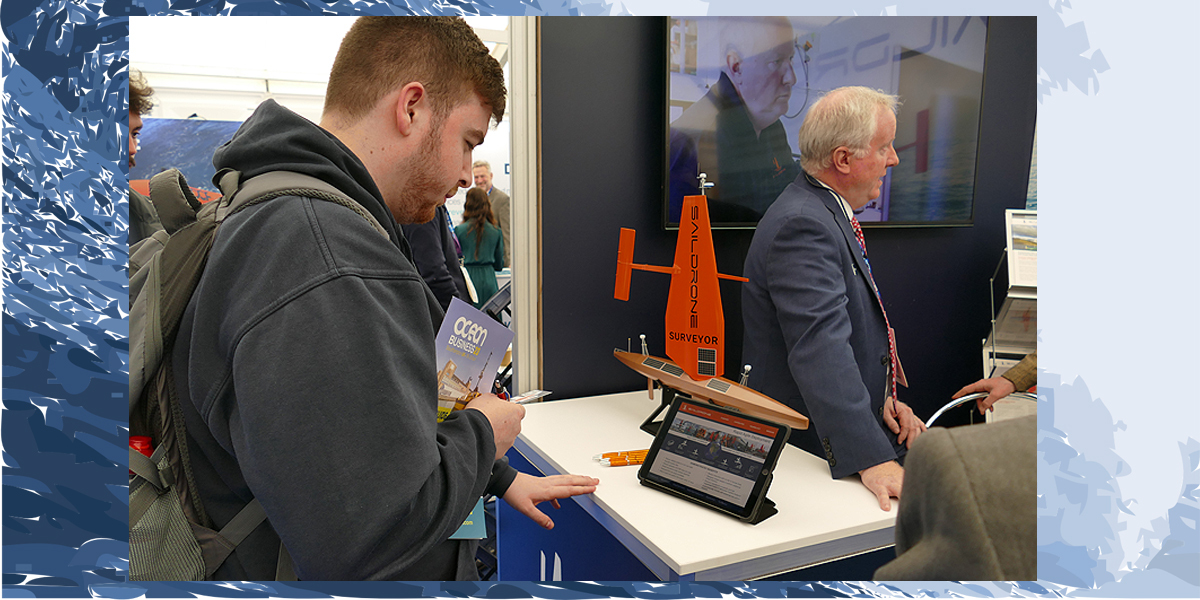 A visitor studies a model of a new, mid-size Uncrewed Surface Vehicle (USV) from Saildrone of Alamadea, California, USA. The 33-foot (10 m) Voyager is specifically designed for near-shore ocean and lakebed mapping with as mapping sensor suite that includes multibeam sonar equipment capable of seafloor mapping of depths to 900 feet (300 m); an ISR sensor suite that includes a smart camera array, digital radar, and sub-surface passive acoustics. Primarily powered by wind and solar, the Voyager also features an electric propulsion alternative, useful for low-wind and near-shore operations.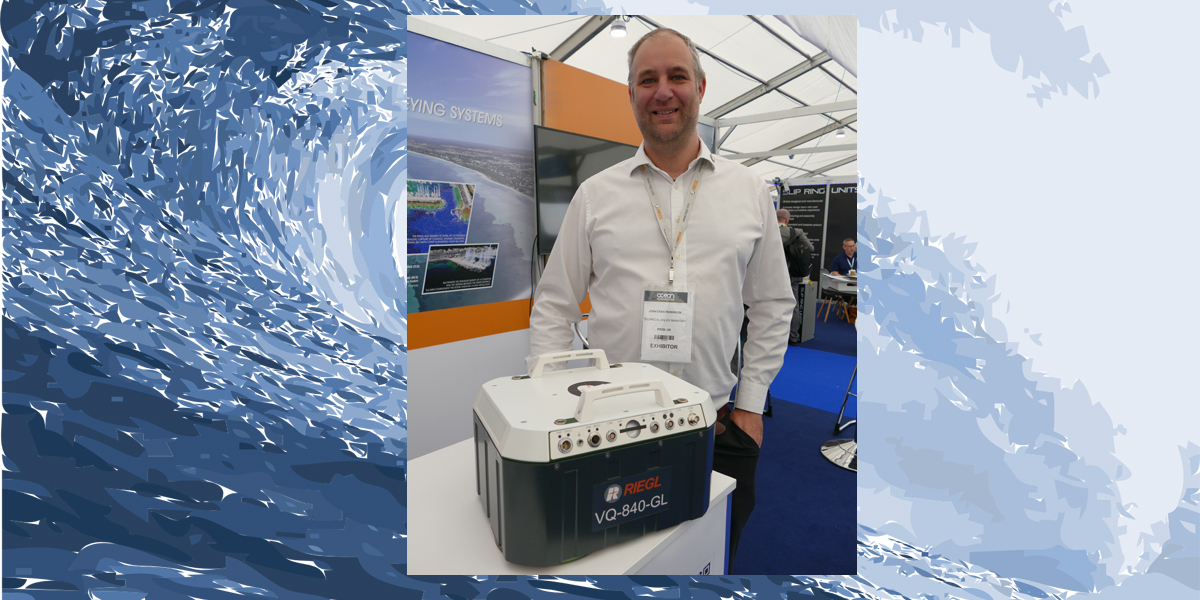 Jonathan Robinson, Technical Sales Manager for RIEGL UK, pictured with the company's VQ-840-GL compact airborne laser scanner for combined topographic and bathymetric surveying. Launched at last year's INTERGEO in Essen, Germany, the fully-integrated LiDAR system utilises a new design that, while, maintaining the proven form factor, uses very lightweight material to achieve a reduced weight of less than 10 kg (22 lbs), thereby making the scanner even more suitable for UAV integration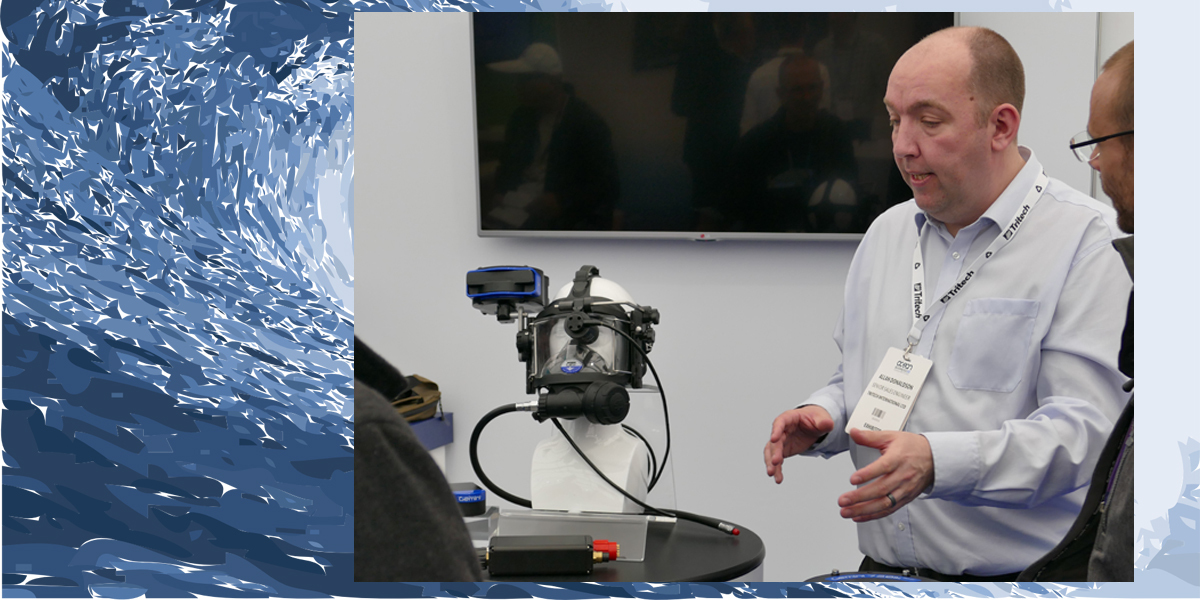 Tritech International of Westhill, Aberdeenshire, demonstrated a Diver Mounted Display employing its Gemini multibeam imaging sonar. The untethered version (DMD-U), pictured here with Senior Sales Engineer, Allan Donaldson, allows the diver to operate totally independent of a surface connection, with the diver themself taking control of the sonar operation. This is of particular benefit where a diver wishes to operate in a covert fashion or where there may have hazards that the tether could be snagged.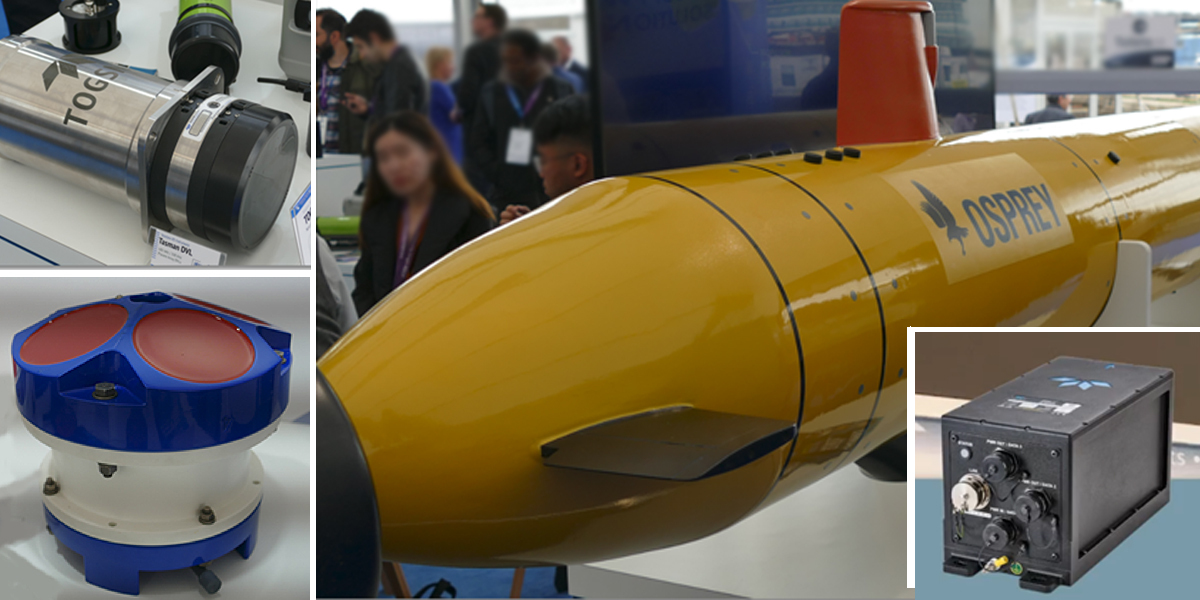 Among new products on show from Teledyne were the TOGSNAV Gen3 next-generation subsea navigator for ROVs and large AUVs (top left); the Workhorse II Acoustic Doppler Current Profiler (lower left), an improved version of the world's best-selling ADCP with new features and better performance across more applications and demanding environments; the Osprey (centre), Teledyne's new medium-sized (324 mm diameter hull) AUV for deep water survey inspection and defense applications. Designed for 24 hour-plus endurance missions at depths of up to 2,000 m, the Osprey joins the Teledyne family of AUVs including the 200 mm diameter Gavia and the 630 mm Sea Raptor; and the Saturn OSINS, a higher-specification version of Teledyne's Inertial Navigation System range that is fully compliant with MIL standards for shock and EMC (lower right).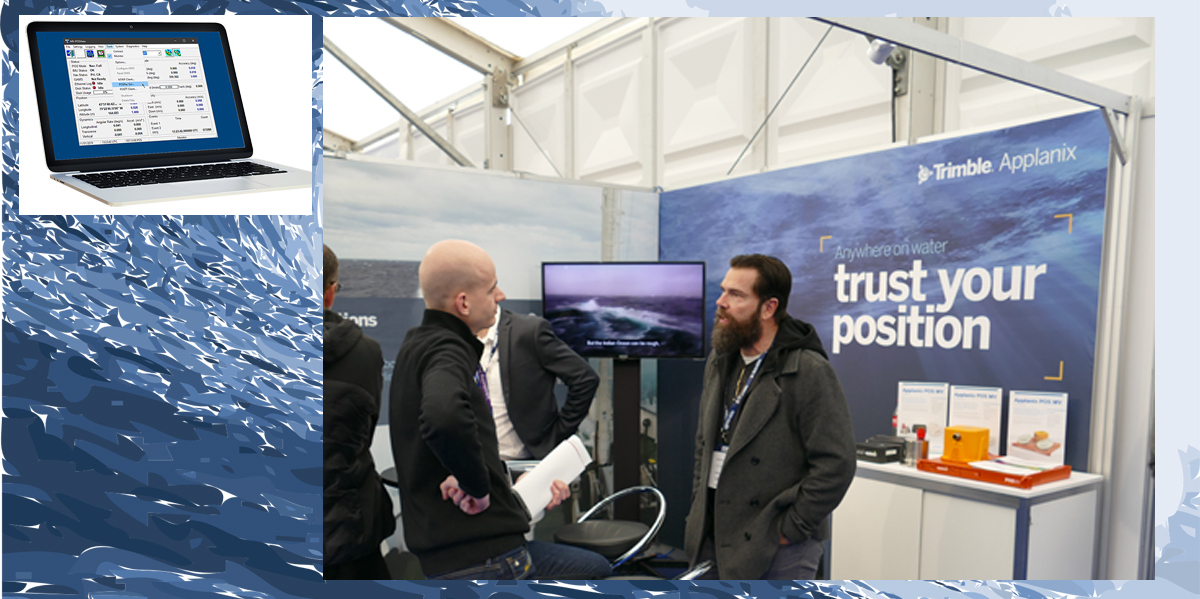 Trimble Applanix showcased POSPac Go! pictured top left) a new addition to its POSPac GNSS-aided INS Mobile Mapping Suite for hydrographic surveys. The newcomer offers one-button push access to POSPac post-processing software, thereby eliminating the need for additional training or significant additional overhead in processing time. Available on six or 12-month subscription terms, POSPac Go! is available in either SingleBase mode, or in conjunction with Applanix PP-RTX® to deliver centimeter-level accuracy with Direct Georeferencing available anywhere.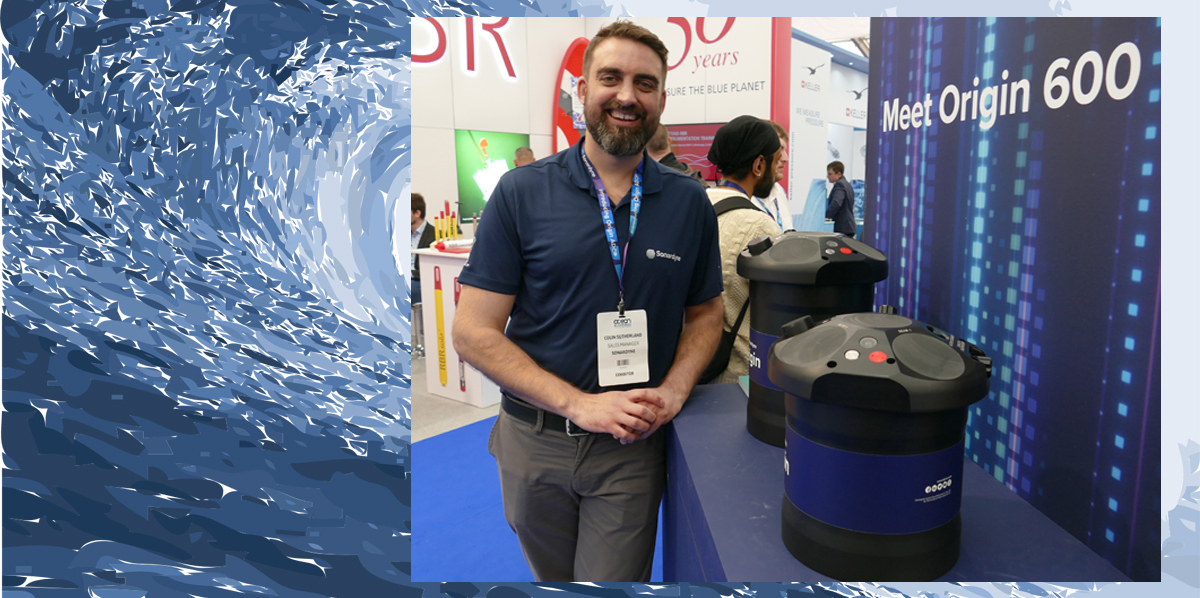 The Origin 600 and Origin 65 Acoustic Doppler Current Profilers (ADCPs) from Sonardyne made their debut at Ocean Business. Pictured here with Colin Sutherland, Sales Manager for the Hampshire, UK-based business, these latest ADCPs feature several innovations including an integrated modem for communications and positioning, new Edge processing capability and ecosystem where users can write their own apps for projects. As well as the industry standard PD0, Sonardyne's new and exclusive A-gram and B-gram proprietary data formats offer up to 10 times greater spatial resolution, producing astonishing data sets.

The next iteration of Ocean Business will, again, take place at the National Oceanography Centre in Southampton, UK, 8-10 April 2025. More details available from the organisers, Diversified Communications UK Ltd., at https://www.oceanbusiness.com/
Subscribe to our newsletter
Stay updated on the latest technology, innovation product arrivals and exciting offers to your inbox.
Newsletter