Despite a chronic and ongoing shortage of surveyors, productivity in the sector continues to soar. Derek Shanks sheds light on this apparent contradiction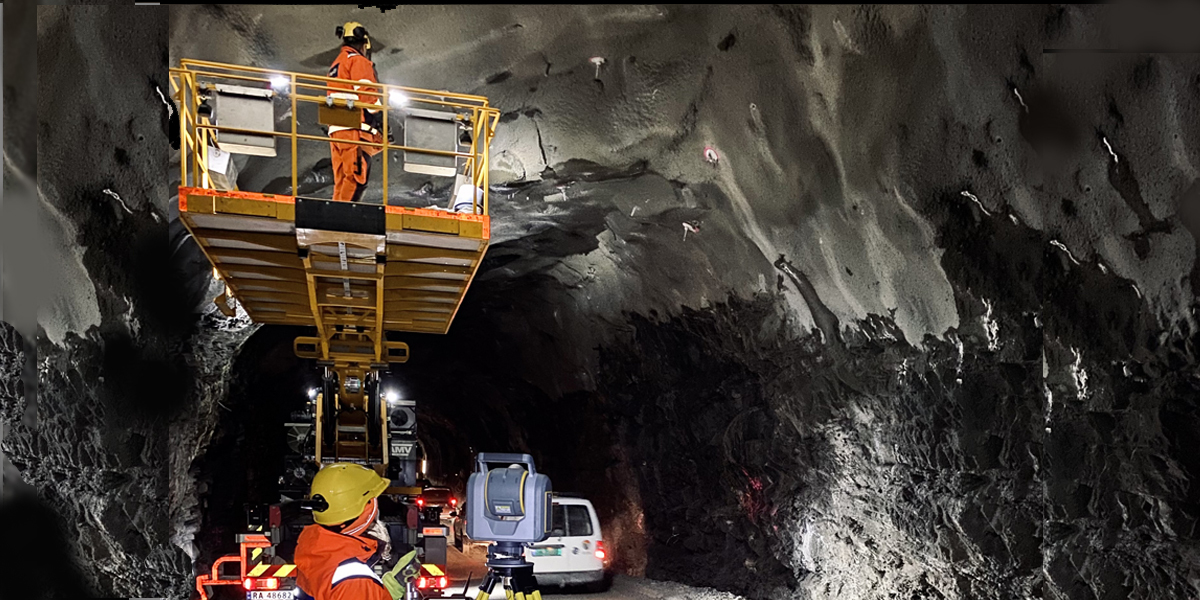 A rail tunnel surveyor seamlessly switches between surveying and scanning with just one instrument, cutting by 60 percent the time needed for checking the tunnel face and collecting data. A one-woman survey crew manages two challenging tunnel environments at six times the speed of multi-person crews. And a survey company helps adjust the sag in power lines in a mountainous area in real time, shortening the project from several days down to one.

These projects all have something in common—productivity and flexibility gains from new surveying technology. The ability to do more and more diverse tasks with smaller crews or one individual is easy to take for granted in our current environment. But when you step back and consider that the surveying profession is retiring more surveyors than it's adding (and with demand growing in many regions), productivity through technology is not only intriguing, it's necessary.
In the UK, while noting strong activity in the construction market, labour shortages and lack of access to the right skills continue to constrain the sector, according to the Royal Institution of Chartered Surveyors' (RICS) Global Construction Monitor for Q1 2022, with almost three-quarters of respondents continuing to highlight the issue .
Meeting demand for human resources
There is no doubt the hardware and software available today make survey work faster and more accurate than ever before; however, the human component is still necessary. According to calculations from industry experts, the number of anticipated new professionals will not replace the number of surveyors expected to retire over the next ten years. A two-pronged approach is being pursued to prevent the predicted shortage of qualified surveyors from slowing growth in areas that rely on surveying services, particularly new building and infrastructure construction.
One part of the effort focuses on attracting a younger generation of workers while maintaining high standards and quality. This is a primary goal of leaders in the survey community through professional organisations such as the National Society of Professional Surveyors (NSPS) in the US, the RICS in the UK, and Comité de Liaison des Géomètres Européens (CLGE) in Europe.
Proactive initiatives include raising awareness about surveying as a future career through education programs in schools and promoting inclusion for women and minority groups who are underrepresented in the field. CLGE created a permanent department dedicated to Diversity, Equity and Inclusion in 2021, while NSPS maintains separate committees focused on Diversity, Education and the Future of Surveying. RICS promotes internships for on-the-job learning and outreach to schools and holds a prominent role in setting international standards. In the US, education requirements for licensing are under review, and certification programs are being developed to provide more attractive career paths for technicians not pursuing licensure.
Modernization of the survey profession through all-digital workflows and expedited data capture presents many opportunities to attract the next generation of surveyors. The required skill set will leverage database design, cloud technology, and augmented reality. Responsibilities for managing data and communicating survey results in a user-friendly way will go far beyond delivering a file or map to the customer and incorporate visualisation services. Fortunately, these requirements align well with the interests and aptitude of young people entering the workforce today.
Educational institutions are adapting their curriculum to meet the evolving needs of the community while appealing to the interests of students who view advanced digital technology as part of everyday life. Trimble is doing its part by establishing Trimble Technology Labs at select academic institutions around the world. These labs provide students access to the latest Trimble technology solutions used in modern engineering and surveying practices.
Productivity leaps ahead
The second part of the two-pronged approach involves boosting productivity. While there is concern about declining numbers of surveyors, it's important to note that improved efficiency in workflows and increased productivity in data capture reduces the number of people needed to get the job done. Activities in the field that used to take weeks are now accomplished in days or hours, thanks to technology like Global Navigation Satellite Systems (GNSS), laser scanners, 3D modelling software, machine control, advanced optical instrumentation, and inertial navigation.
These advances provide engineers, machine operators and surveyors significant productivity advantages compared to traditional techniques. Tools such as these help to deliver a project on time and on budget, and their adoption is increasingly expected by project owners.
Combining multiple capabilities into one piece of advanced equipment is a further way to streamline field workflows. The Trimble® SX12 scanning total station (pictured above) is a high-accuracy robotic total station and a high-speed 3D laser scanner in one device, providing flexibility and efficiency for a variety of activities. Three integrated and calibrated cameras in the telescope, combined with a green laser pointer, allow a single operator to perform certain tasks alone, such as concrete stakeout, freeing other personnel to complete different assignments.
For example, a project may include a surface analysis to check the drainage or floor flatness after new concrete is poured. With the SX12, a surveyor can scan the area, compare it to a plane using Trimble Access™ field software, and then use the total station's laser pointer to mark the high/low spots. Performing tasks in the field that normally would require a trip to the office reduces travel time and helps everyone stay on schedule.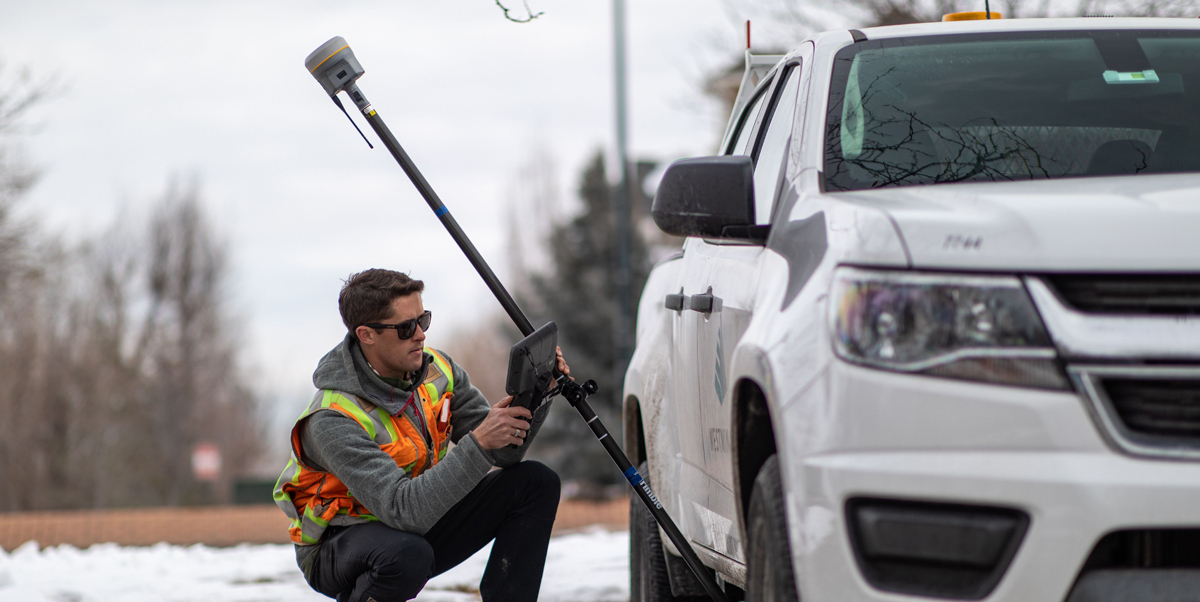 Other technology combinations such as the Trimble R12i GNSS receiver's ProPoint™ GNSS and TIP™ tilt compensation technologies (pictured above), lead to further productivity gains. Trimble ProPoint processes all available constellations and signals in an innovative mix-and-match, providing roughly a 30% gain in performance over previous models in challenging sky-view environments. Trimble TIP uses inertial measurement technology to produce a full-attitude solution (position & orientation), enabling the surveyor to collect measurements without having to plumb the system.

A survey in England involving thick vegetation on both sides of a road was estimated to take seven days but was completed in just two days thanks to the combination of tilt compensation capability and improved productivity in challenging environments using ProPoint. By simplifying the workflows, improving accuracies, and increasing customer productivity, the R12i solution saves time, especially when operating in challenging GNSS situations.
Doing more with less
Surveying professionals are used to solving problems—it's just part of the job. To address the declining number of surveyors, industry organisations around the world are encouraging the younger generation to pursue surveying as a career. By adapting education and experience requirements to better fit current conditions, it is hoped that this technically proficient pool of candidates will embrace the ongoing shift to all-digital workflows and recognize surveying as a great opportunity.
In addition, new automated technology requiring fewer human operators should reduce staffing pressure, while delivering results that are more accurate and faster than conventional methods. The higher productivity achieved with the latest hardware and software makes "doing more with less" a reality.
Derek Shanks is Director, Product Management, Geospatial Optical for Trimble (https://www.trimble.com/en/)
Subscribe to our newsletter
Stay updated on the latest technology, innovation product arrivals and exciting offers to your inbox.
Newsletter