This year's INTERGEO Expo and Conference returns in October as a 'live' event for the geospatial community. To be staged in Essen, this leading networking event will host 500 international companies and feature a highly topical conference with its theme "Inspiration for a smarter World"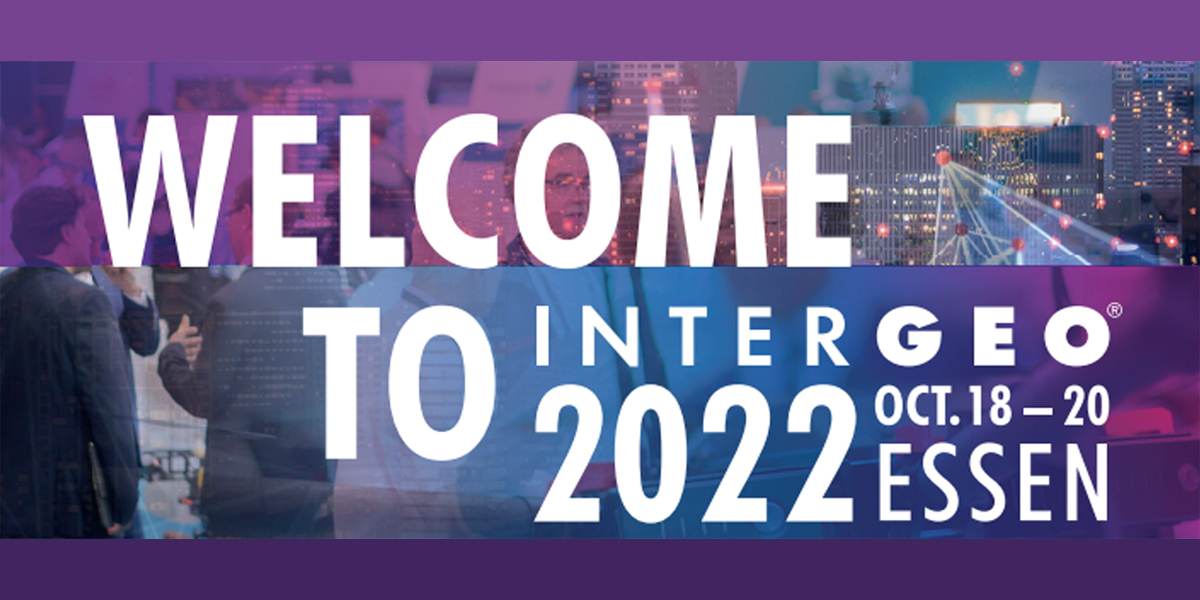 INTERGEO is back and building up a full head of steam to deliver a pre-Covid experience for visitors, exhibitors and conference delegates alike.

For Prof. Dr-Ing. Hansjörg Kutterer, President of the conference organiser DVW e.V. the reunion is long overdue. "All the key players in the global Geo-IT industry will be there. There is no doubt about it - they all want to get back to their customers, to visitors, to a 'live' atmosphere, and the power of face-to-face."
Daniel Katzer of exhibition organisers, Hinte Expo and Conference, agrees. "We are confident that INTERGEO will return to its popular pre-Covid-19 format and have been working hard to achieve this. Ticket sales already promise that the gathering in Essen will be the largest meeting of the international geocommunity and a reunion to celebrate."
Ministerial patronage
As in previous years, the German Federal Ministry of the Interior and Community will be patron for the event. Federal Minister Nancy Faeser is following in the footsteps of her predecessors who have supported INTERGEO since 2010. "This was and is an important and forward-looking signal for the industry and for geoinformation as a whole," says Prof. Kutterer.
Geo-IT: delivering solutions
Geo-IT has positioned itself as a solutions provider, not least in areas such as mobility, the environment and sustainability, climate protection and urbanisation. According to Kutterer, problem-solving in these areas would be inconceivable without geo-IT. The focus of the EXPO and CONFERENCE will be on innovative solutions for current issues such as security, disaster prevention and protection, construction and housing, mobility, sustainability, and climate change. Other top topics include Open Data, Digital Twins, and their use in Building Information Modeling (BIM) and engineering applications with UAV, laser scanning and monitoring.
Conference: meeting societal needs

INTERGEO CONFERENCE 2022 will address a variety of topical issues: Digital Twins and their value * 4D geodata and Geospatial-IoT * the potential of remote sensing * BIM 4.0 * industrial surveying, measurement systems and robotics * Smart Cities and mobility in the context of climate change and sustainability * mobile mapping * web services and Geo-IT in disaster relief * spatial reference and positioning * Earth Observation and Satellite Navigation and Positioning.
Digital Twins in the spotlight: Their use in Building Information Modeling, smart planning and construction, and mobility, will be firmly under the spotlight. Digital Twins go hand-in-hand with the further development of urban data platforms and applications in the context of smart cities, as well as the use of smart city solutions for sustainability and disaster planning, With the INTERGEO CONFERENCE, DVW e.V. is fully committed to encouraging solutions that meet societal needs.
Hexagon keynote
In his keynote address at the opening of INTERGEO 2022, Dr. Jürgen Dold, Executive Vice President of Hexagon, will talk about technological advances in the creation and updating of digital mirror worlds.
These mirror twins are an integral element of Germany's Digital Twin, launched in 2021 with a pilot in the Hamburg metropolitan region. Germany's digital twin is considered the backbone for the sustainable development of smart cities and smart nations. It is to become the central tool for a wide range of organisations, administrative units and authorities responsible for a wide range of activities: spatial planning, public safety, crisis and disaster management, precision agriculture, forest and water management and environmental protection. The Digital Twin is, thus, an excellent basis for a future-oriented digital transformation of Germany.
EXPO: bigger and better than ever
With around 500 companies, EXPO is once again one of the largest events in the geospatial industry world-wide. In addition to innovative start-ups, key international players such as Autodesk, Esri Inc, Hexagon, Trimble, Topcon and many more are already registered. "This year, we will again have 'live' programmes on dedicated STAGES, passing on practical knowledge," says Daniel Katzer. INTERAERIAL SOULUTIONS is once again integrated into INTERGEO to showcase the latest developments in drones and UAV applications in surveying, agriculture, construction and security.
Program highlights at a glance:
Tuesday, 18 October 2022:
0930. Opening and Keynotes:
"When the Digital Twin becomes the Smart Twin". Welcome and presentation of the DVW Future Award Prof. Dr. Hansjörg Kutterer, President DVW.
"Mirror worlds. Germany's digital twin is growing." Dr. Jürgen Dold, Executive Vice President Hexagon.
"Digital twins, a concept, an idea, or the thing of the future?", Thomas Eichhorn, Managing Director Landesbetrieb Geoinformation und Vermessung Hamburg.
1130 - 1500. Presentations on "Technology trends - what does the future hold?"
Wednesday, 19 October 2022
0930. Keynote address "Sustainable urban development in the field of tension between housing policy and climate change".
From 1100. Lecture session on "Climate adaptation master plan - does it exist for rural areas?"
Thursday, 20 October 2022
0930. Presentations and panel discussion on "Real Estate Cadastre 2030," Dr. Jens Riecken, DVW e.V. and Michael Zurhorst, BDVI.
1100 - 1430 Lectures on: "Environmental Monitoring, Climate and Remote Sensing".
Tickets and Info
INTERGEO EXPO and CONFERENCE will take place October 18-20 in Essen, Germany. And for those who do not have the opportunity to come to Essen, there is still the opportunity to participate remotely. All important information on the program and tickets can be found at www.intergeo.de. With the code IG22-GEOCONNEXION readers and followers receive free admission to INTERGEO Expo!
Subscribe to our newsletter
Stay updated on the latest technology, innovation product arrivals and exciting offers to your inbox.
Newsletter