In a recent webinar, the Geospatial Commission set out the UK's Geospatial Strategy going forward and repeated its invitation for organisations, businesses and individuals to submit evidence that will help build on a vision that sees a coherent national location data framework in place by 2025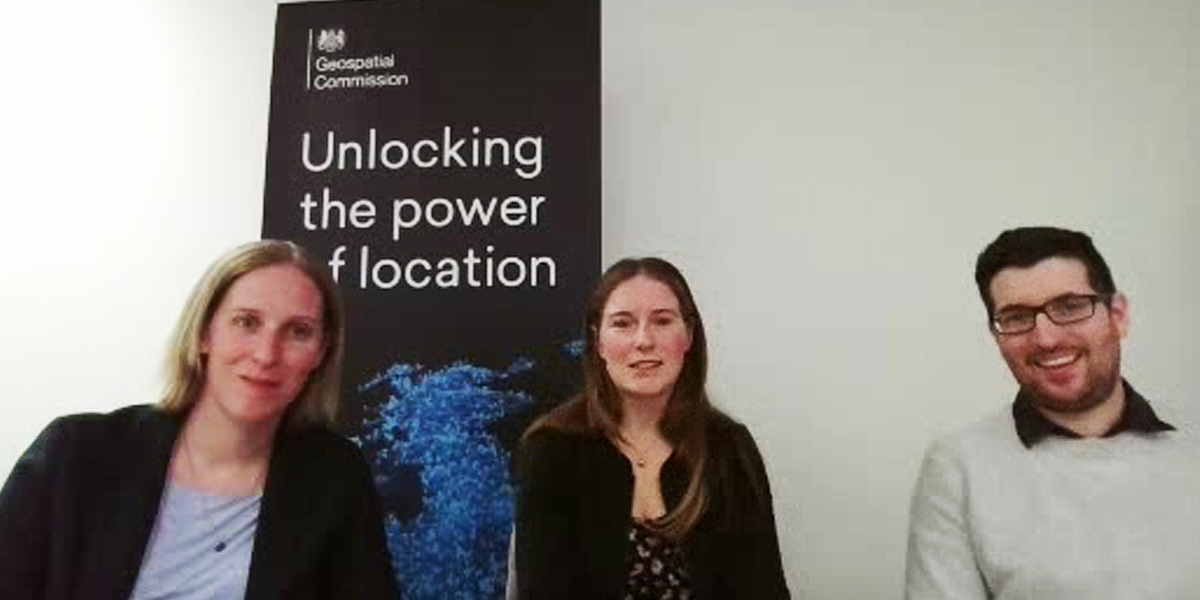 Rosalind Goodfellow, Deputy Director, Strategy, at the Geospatial Commission (GC), opened proceedings by described the work of the expert committee since its founding 2018. Ruth Cookman, GC's Head of Policy, then outlined three areas where further input would be welcomed. The first seeks evidence on changing trends and contexts in which location data is or can be applied; the second asks how innovation might be unlocked across the geospatial value chain, while the third solicits thoughts on how the adoption of geospatial across all areas of the economy and society might be encouraged to support growth and sustainability.

Those wishing to respond will find full details of these topics here. Importantly, the deadline for responses is 11:45pm on Monday 12 December. The Call for Evidence will be followed by a series of roundtables with stakeholders and publication of the responses in full as well as a strategy refresh document.
Questions from the online audience came thick and fast, with one attendee asking how the Geospatial Strategy aligned with other national strategies. Rosalind Goodfellow responded by saying that it was closely aligned thanks to the Commission's role within the Cabinet Office and its ability to interact and collaborate with colleagues framing other government data strategies. The Commission also enjoyed strong links with the Department for Digital, Culture, Media & Sport (DCMS) which has overall responsibility for the National Data Strategy.
Another questioner asked how the GC squares its role as the coordinator of public sector geospatial activity in a world where the greatest volume of location data is generated in the commercial sector. Rosalind Goodfellow responded by stressing that the Commission's remit spans the whole geo ecosystem - public and private - and pointed to its recent transport sector competition to spark commercial innovation and support the future of mobility. Of the 200 submissions, 28 received £5m of funding to pursue solutions aimed at reducing environmental impacts and travel times.

The issue of bias when evaluating responses to the Call for Evidence was raised in another question. Here, Ronan Corrigan, GC's Senior Policy Officer, accepted that some bias was inevitable, purely because some stakeholders were more likely to respond than others. That said, the Commission had set out to invite the widest possible response, not least from representative groups such as the Association for Geographic Information. Ruth Cookman added that a techUK roundtable, then scheduled for late November, would help spread the word to a more diverse and inclusive audience. Other groups, such as the Younger Members network of the Royal Geographical Society, had also been involved to give a voice to those who might otherwise have remained silent.
With Britain's world-leading capability in satellite remote sensing and the use of Earth Observation imagery across a swathe of location-based services, one questioner wondered why it was such a small part of GC's strategic thinking. In response, Rosalind Goodfellow cited a 'live' Commission project that was looking into the better coordination of Earth Observation data across the public sector. Even so, more views and perspectives on how satellite imagery could be more widely exploited would be welcomed.
Other questions related to the problem of broken links in websites offering open geospatial data; the better representation of academia in the Commission's deliberations; why the need for separate strategies for public sector data; will the refreshed Geospatial Strategy better reflect the interests and needs of the devolved governments; and plans for archiving historical geospatial data. To air your views on these and related topics, head over to the questionnaire here
Subscribe to our newsletter
Stay updated on the latest technology, innovation product arrivals and exciting offers to your inbox.
Newsletter