95West upgrades equipment to provide innovative solutions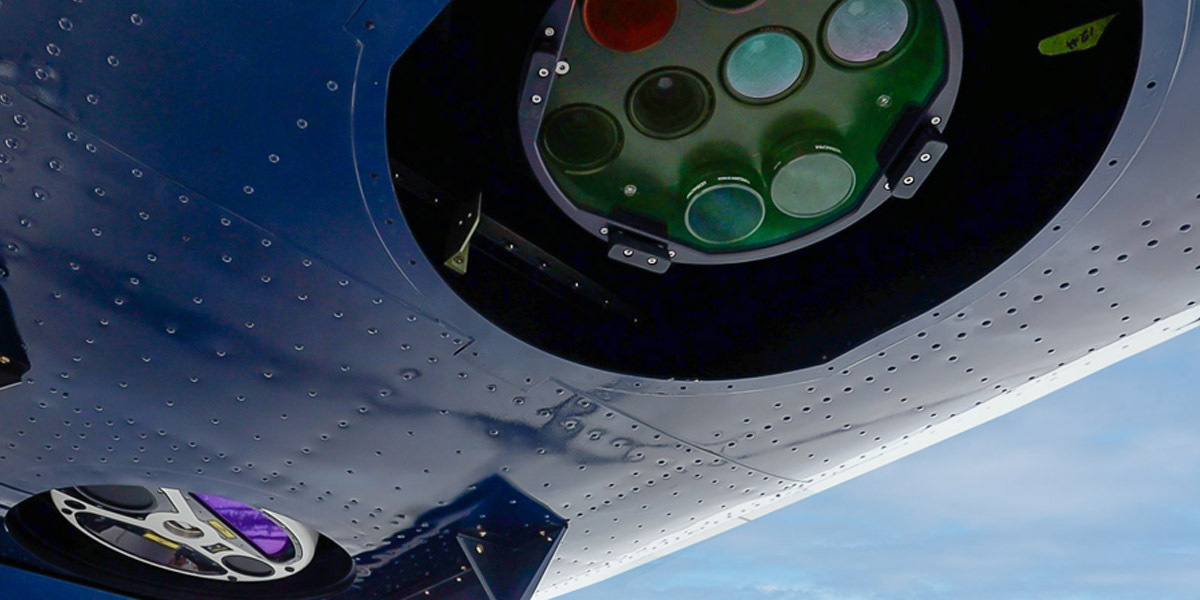 There is increasing interest in acquiring aerial imagery and LiDAR simultaneously to incorporate the strengths of each technology into one superior product. Each data type provides different qualities that are suitable for certain applications, depending on required specifications such as accuracy, resolution and colour.

LiDAR data provides more accurate elevation measurements and better object detection in poorly lit areas, while imagery's higher resolution and four-band data offer more visual details for feature extraction and vegetation analysis. Integrating the two systems is the best of both worlds.
A technology-driven approach
95West Aerial Mapping is an aerial acquisition and geospatial services company based in North Dakota in the United States that operates throughout the north and central Mid-West. The firm's core markets include transport, mining, utilities, energy, and state and local governments.
Since its foundation in 1952, 95West has continuously adopted new technology to maintain a competitive edge and deliver the best possible service. In 2021, to pursue larger projects and partnerships and better meet the needs of its existing client base, 95West decided it was time to upgrade its technology and equipment once again.
"Our clients were transitioning from using conventional stereo compilation to LiDAR, so we wanted to upgrade our LiDAR and camera equipment to produce the highest quality data at maximum efficiency," says Miles Strain, aerial services manager and vice president at 95West. "We saw value in offering a hybrid solution – a large-format aerial camera for high-volume collection in the least amount of time and a powerful LiDAR scanner to produce high-density point clouds."
Unique integration
After evaluating the available cameras and sensors, 95West purchased an UltraCam Eagle Mark 3 aerial camera system and a Riegl VQ-1560 II-S dual channel airborne laser scanner that produces high point densities.
"The UltraCam Eagle has better data resolution and clarity than other cameras we considered – we'd worked with UltraCam data before and were impressed," says Strain. "A major part of our decision to go with Vexcel was the opportunity to form strategic partnerships with other mapping firms. Vexcel's reputation for high quality and reliability is a key selling point for us."
The UltraCam Eagle Mark 3 camera provides a 450 megapixel footprint and achieves 10cm resolution at a 5,000m altitude. Combined with an excellent minimum capture interval of one frame per 1.5 seconds and an unmatched signal-to-noise ratio, the UltraCam Eagle collects large areas efficiently and produces superior data even in challenging conditions.
"The 80mm focal length gives us a field of view and flying altitude that closely matches the LiDAR footprint," says Andrew Werle, chief pilot at 95West. "The Eagle's footprint is slightly larger than the Riegl which gives us industry standard side-lap for both the imagery and LiDAR. Simultaneous collection results in coincident data sets and cuts mobilisation costs in half, which saves our customers thousands of dollars."
To create a seamless workflow, TopoFlight Systems flight management software was selected to integrate the camera operations with the LiDAR. The integration of hardware and software was completed with the help of Vexcel, Riegl, Applanix and TopoFlight. In the office, leading software products, such as the Terrasolid Suite, TopoDOT and LP360, support the team's commitment to meeting clients' needs and industry standards.
"We evaluated several flight management systems, but TopoFlight was by far the most user-friendly and made it possible to communicate with both systems seamlessly," says Werle. "During the mission, one computer tracks LiDAR, a tablet monitors the Eagle's activity, and another tablet runs the flight management system and navigation."
To complete the package, 95West purchased a fixed-wing Cessna 208B Grand Caravan – the largest single-engine airplane ever produced by Cessna. After custom modifications to add two camera ports, the aircraft accommodated both sensor and camera for simultaneous operations. The combined system was ready to fly by September.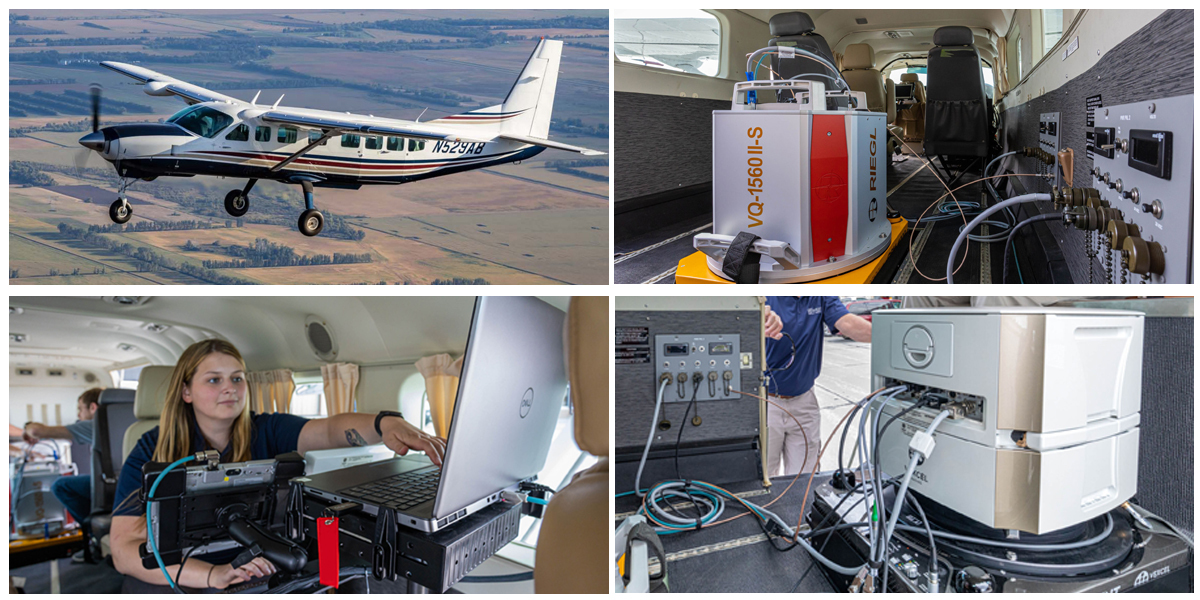 Maximum efficiency with simultaneous collection

The benefits of simultaneous collection ripple through the entire workflow. Flight times are cut in half compared to separate missions, which is extremely valuable when there are limited flight windows due to seasonal or weather-related restrictions. The four-band imagery and LiDAR point cloud are in sync and the footprints are sized to produce the industry standard side-lap. Processing is faster because the large-format camera produces fewer individual images, thus fewer seam lines.
The combined imagery and LiDAR data form the foundation for multiple deliverables, which allows the firm to tailor its products to the needs of the client and deliver custom solutions whenever necessary. Since the start of operations, county highway corridor projects from 8km to 32km long have been mapped, as well as several mining projects that used the combined data sets for long-term planning, volume calculations and government reporting.
The team has also collected multiple powerline corridors, providing clients with orthophotography, bare earth terrain and classification of above-ground features.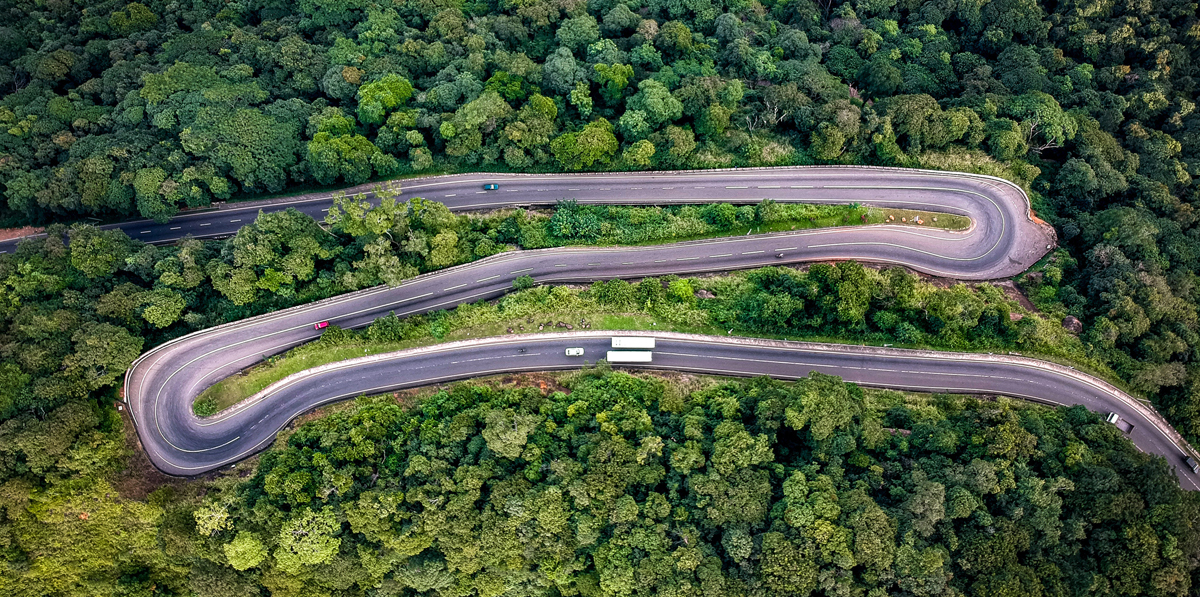 The reliability and excellent performance of the UltraCam Eagle camera and the Riegl scanner is recognised throughout the industry. 95West is well positioned to develop strategic partnerships with other aerial firms and to collaborate with surveyors, engineers and other mapping companies on a wide range of projects.

"The integration is working out even better than we anticipated," said Strain. "We have successfully completed a variety of projects, from large areas to dense corridors, some of which we wouldn't have attempted with our old equipment. We get better quality data from the Eagle and denser point clouds from the Riegl in half the acquisition time."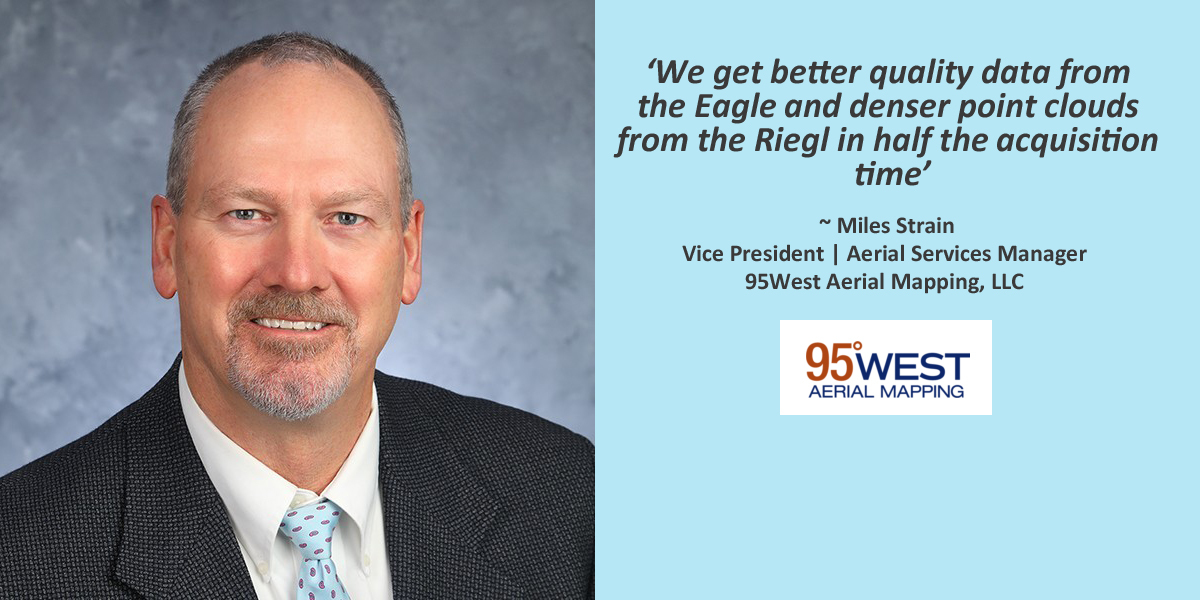 Subscribe to our newsletter
Stay updated on the latest technology, innovation product arrivals and exciting offers to your inbox.
Newsletter