Building on a vision to cultivate a highly-trained workforce that will drive the innovative solutions of tomorrow, Trimble and the University of Applied Sciences and Arts Northwestern Switzerland FHNW have collaborated to establish a state-of-the-art Trimble Technology Lab at FHNW's School of Architecture, Civil Engineering and Geomatics program in Muttenz, Switzerland.
The Trimble Technology Lab builds upon FHNW's leadership and excellence in training and research in engineering, construction and the sustainable built environment. The lab brings a range of professionals, including future experts in virtual design and construction, geomatics and architecture, direct access to state-of-the-art technologies for the entire construction process. Switzerland's universities of applied sciences combine their academic programs with a strong practical orientation and a close collaboration with industry. The technology lab also offers a broad range of continuing education courses for experienced professionals who wish to acquire additional skills. Professionals trained at FHNW are empowered to take on key roles in their companies and to implement digital technologies on a broad basis.
"With the Trimble Technology Lab, FHNW can provide its future architects and engineers in the construction domain with the necessary digital tools for today and the future," said Stephan Nebiker, FHNW professor and project leader. "We are convinced that the Trimble Technology Lab will provide a strong contribution to our high-quality university education in geomatics and civil engineering, virtual design and construction (VDC), sustainable construction and architecture."
The Trimble Technology Lab was made possible with the support from the MEB Group, Trimble's Swiss dealers SITECH Switzerland AG, BuildingPoint Switzerland AG and ALLNAV AG. The lab at FHNW is part of a national initiative led by the MEB Group to make investments of Trimble technology equipment and training in construction education programs across Switzerland. This initiative was launched with the Trimble Technology Lab at Campus Sursee that was established in 2022.
"The Trimble Technology Lab at FHNW brings state-of-the-art technology into the hands of their students and researchers," said Amy Northcutt, director of Education and Outreach at Trimble. "With our partners at the MEB Group, Trimble is excited to support this national initiative to bring innovation to construction industry education across Switzerland at institutions like FHNW."
"FHNW students and researchers will gain direct access to a comprehensive portfolio of state-of-the-art surveying and Building Information Modeling (BIM) equipment and software," said Markus Brun, CEO of MEB Group. "MEB Group will support FHNW in the use of the technology lab with experts from ALLNAV, BuildingPoint and SITECH. Trimble, MEB Group and FHNW are making an important contribution to the successful digitalization of the Swiss surveying and construction industry."
The lab will include a broad range of Trimble's industry-leading technologies such as the Trimble XR10 with HoloLens 2; GNSS receivers, controllers and tablets; robotic, universal and scanning total stations as well as laser scanners. Advanced software solutions include RealWorks scanning software, Trimble FieldLink Office, Trimble Business Center, Tekla Structures, Tekla Structural Design Suite, Trimble Connect and Trimble Quadri collaboration platforms, Trimble Siteworks, Trimble WorksOS and the company's popular 3D modeling software, SketchUp Pro.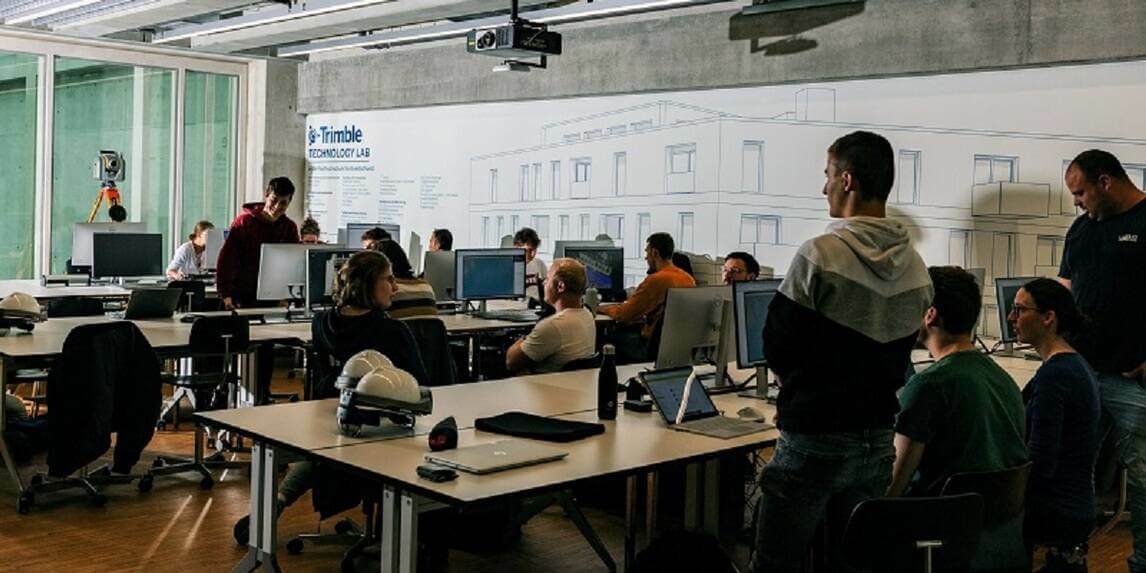 Subscribe to our newsletter
Stay updated on the latest technology, innovation product arrivals and exciting offers to your inbox.
Newsletter