Bridging the Gap Between Manned Aircraft and UAV Geospatial Acquisition
SurvTech Solutions recently added the RIEGL VPX-1 Helicopter Pod with integrated RIEGL VUX-16023 into their portfolio of geospatial acquisition tools. SurvTech started as a land surveying firm in 2004 and they have grown into a full-service geospatial company, providing every type of geospatial service.
With the addition of the RIEGL VPX-1 pod, SurvTech has completed their portfolio of acquisition platforms. They now have a fully equipped fleet of Airplanes, UAVs, automobiles, boats, ATVs, backpacks (shoulder mounted), push carts, and helicopters. While they are already capitalizing on the unique advantages of both manned aircraft and UAV geospatial collection, these platforms have some limitations. With the addition of the Helicopter mounted VPX-1, an enhanced solution for corridor mapping can now be offered as they aim to bridge the gap between manned aircraft and UAVs. All while providing agile and efficient data collection capabilities for a wide range of geospatial applications.
"We are extremely pleased that SurvTech has chosen our VPX-1 helipod to fulfill their comprehensive platform approach for providing high-resolution and high-precision 3D data to the utility, transportation and survey communities," said Michael Sitar, Airborne Division Manager at RIEGL USA. "We look forward to supporting SurvTech and their future missions with the VPX-1 helipod and its hybrid LiDAR and imagery payload."
The RIEGL VPX-1 Helicopter Pod was the obvious choice for SurvTech Solutions because of its capabilities. Within the world of smaller LiDAR sensors, both in airborne and UAV-based, the manufacturing quality and performance of RIEGL is reaching new heights. The design of this pod paired with the imagery and LiDAR requirements needed for SurvTech projects made this an ideal fit. An added bonus was the fact that the VPX-1 is a turn-key solution, and there isn't a need to patch together cameras and LiDAR systems. This is so vitally important because when flying LiDAR from a helicopter, seconds equates to dollars, and maintenance and integration costs could be extensive.
Future Market Outlook for SurvTech Solutions
With the decades of experience using LiDAR and imagery represented in the SurvTech team, they have the opportunity to excel in the newest technology that is available and strive towards providing their clients with the best of the best. As SurvTech looks to the future they will require continuing collaboration with RIEGL to provide the hardware and software needed to keep pushing the envelope of geospatial acquisition.

"With the purchase of the RIEGL VPX-1 Helicopter Pod, SurvTech has filled our last aerial geospatial gap. We now can collect aerial data from our airplane, UASs, and helicopter." said David O'Brien, SurvTech Solutions President. "We can offer the aerial geospatial solution that best fits our client's needs and wants."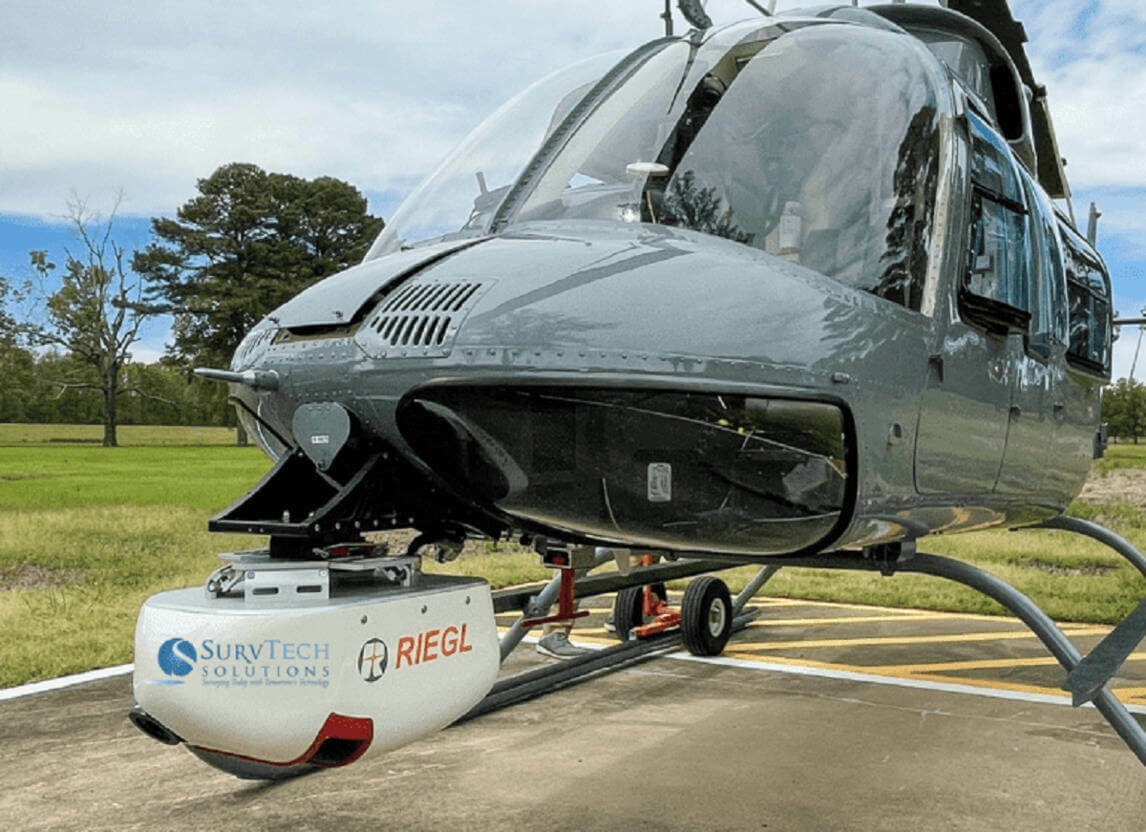 Subscribe to our newsletter
Stay updated on the latest technology, innovation product arrivals and exciting offers to your inbox.
Newsletter