We are continuing with our series of FREE Ultimate LiDAR webinars during the month of August 2020 and we have some fantastic content lined up for you this month.
In addition, some of our RIEGL LiDAR experts will be presenting at other exciting industry related events you don't want to miss out on.
Register below for our August webinars to learn more from the RIEGL LiDAR experts from the comfort of your home or office.
Terrestrial LiDAR for Surveying
Thursday, August 13: 11:00-11:30 EDT
Join Jillian Kreider, TLS Sales Specialist
This webinar will highlight:
Terrestrial hardware and software developments for surveying
Why use LiDAR for surveying?
Real world examples
UAV mounted LiDAR Camera Options and Point Cloud Colorization
Wednesdasy, August 19, 2020: 2:00 - 2:30 PM EDT
Join Stephen Macion, ULS Technial Sales and Integrations
This webinar will highlight:
Camera options
Data Stitching in RiPROCESS
Camera configurations to include VP-1 Pod camera configurations
Big Things do Come in Small Packages! Up Close and Personal with Riegl's Mid-Area VQ-480/580 II Airborne Scanners
Thursday, August 20, 2020: 2:00 PM - 2:20 PM EDT
Join Michael Sitar, Executive Management Consultant
This webinar will highlight:
Features/Benefits
Sensor Performance
Configuration Options
LiDAR no Brasil: Aplicacoes e Casos de Sucesso
(LiDAR in Brazil: Applications and Success Case Study)
Thursday August 27, 2020: 11:00 AM - 12:00 PM EDT
Join Claudio Avello, South America Partner Development
This webinar will highlight:

Other Industry Related Events

RIEGL will be presenting at the below events, to learn feel free to click the links below.

Presenting at TRB: Geospatial Data Acquisition Technologies in Design and Construction Summer Committee Meeting

VMX and Mobile Scanning Evolution Over the Years
Wednesday, August 5, 2020: 2:55 - 3:55 PM EST
Join Joshua France, Mobile Segment Manager

Join us at this virtual event and learn more about how the RIEGL VMX has evolved over the years, and the progression of Mobile Scanning from a RIEGL MLS LiDAR expert.

GEOWEEK and ILMF Virtual Conference
3D Bathymetric Models and MAPPS Panel
Wednesday, August 13, 2020: 1:00 PM -2:00 PM EST
Join James van Rens, Senior Vice President
Join this virtual panel and learn more about how bathymetric maps are an increasingly important tool for public and private sectors. A panel of experts will be discussing how these tools and innovations are making a difference for stakeholders of all sizes.

We look forward to having you join us for our August webinars and other industry related events.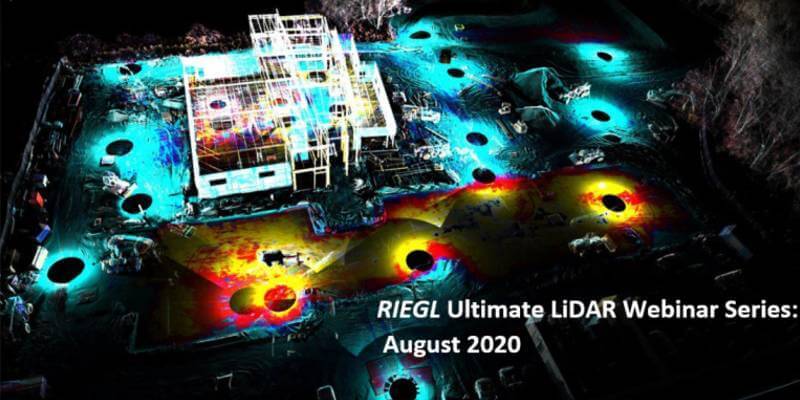 Subscribe to our newsletter
Stay updated on the latest technology, innovation product arrivals and exciting offers to your inbox.
Newsletter