RIEGL USA was awarded the People's Choice Award for their North American Headquarters during the American Institute of Architects (AIA) Orlando Design Awards Gala that took place at the beginning of May 2023, at the Dr. Phillips Center for the Performing Arts.
AIA Orlando's Annual Design Awards Gala is one of Florida's most prestigious and inclusive design honors; bringing together architects, designers, and allied professionals in a celebration of exemplary design for both theoretical and built projects. The People's Choice Award is given based on projects receiving the highest vote and this year contained 84 project/building entries. RIEGL USA is proud to be recognized by individuals in the industry as well as by supportive customers, partners, staff, and friends in receiving this award and for being selected from a pool of prestigious nominees, such as: the Edyth Bush Charitable Foundation, Embry-Riddle Eagle Fitness Complex, Advent Health Innovation Center, and Steinmetz Hall at the Orlando Performing Arts Center just to name a few.
RIEGL USA's North American Headquarters in Winter Garden, Florida is located on a 19-acre prime area off Highway 50, with an 18,500-sq.-ft. facility including service areas for equipment testing, a customer support center, distribution hub, modern training rooms, sales and administration offices, collaboration areas, a gym and outdoor space. The RIEGL USA team moved into this new campus in December of 2020. The main inspiration for this facility was continuing innovation and a sleek, modern, and functional space to collaborate in. This open plan design encourages the team to work and brainstorm ideas freely in an environment that promotes creativity.
The building design was by Toby Walker of Walker Design and in partnership with general contractor DPR Construction and stands out as a unique piece of architecture in Winter Garden. The building is made up of three different areas that each have their own distinct geometry, the center of the building boasting a 25-foot-tall high bay open office area featuring a second-floor mezzanine. The building's exterior consists of a combination of color schemes incorporating warm orange and yellow tones that reflect some of RIEGL's products and Brand Identity, inviting customers and employees to work and meet in a light flooded, modern environment.

RIEGL Ultimate LiDARTM technology was used on the construction of the facilities and supported quality assurance and quality control, resulting in more accurate and time-saving deliverables. The entire construction life cycle, including foundations, footings, bolt locations, utility infrastructure and tilt-wall panels was captured via a RIEGL miniVUX-1UAV Unmanned Sensor and a RIEGL VZ-400i Terrestrial Laser Scanner. The RIEGL team also had the chance to get involved in the scanning and groundbreaking of the project, which really encouraged team spirit and increased the feeling of investment into the new facility.

RIEGL USA has proven that Innovation in 3D even extends to the creation and construction of their own facilities and has put a visual masterpiece in the footprint of West Orange County that represents the economic impact and industry excellence it provides.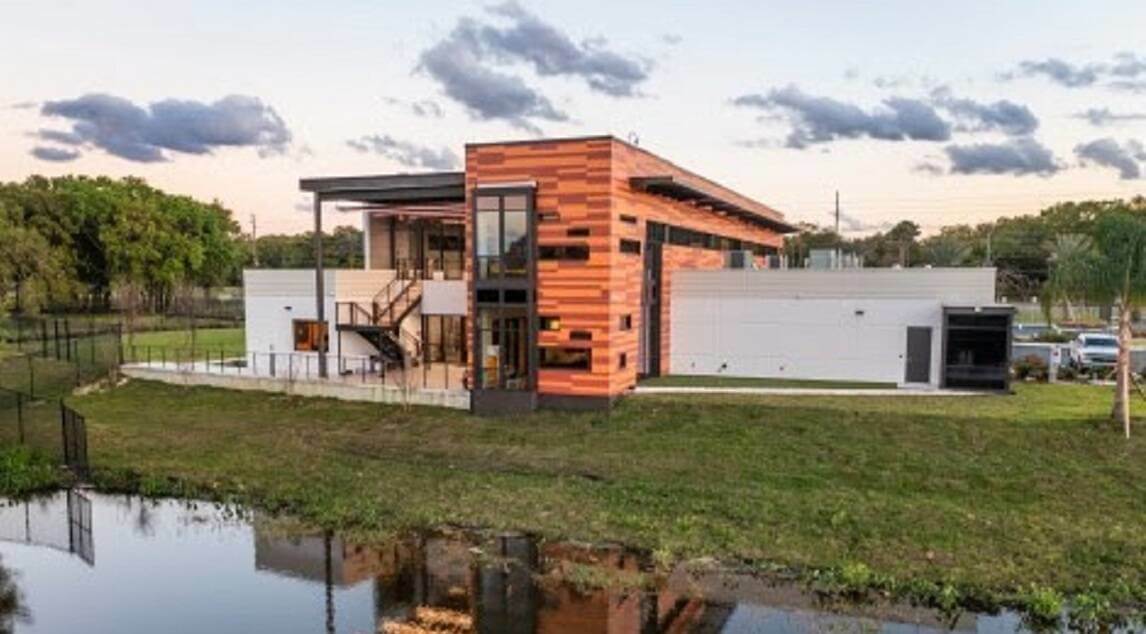 Subscribe to our newsletter
Stay updated on the latest technology, innovation product arrivals and exciting offers to your inbox.
Newsletter