Ocean science and technology experts from around the world descended on Southampton last week for the biggest ever Ocean Business exhibition and conference.
Record crowds of more than 5,000 gathered at the National Oceanography Centre (NOC) for three days of ground-breaking innovation, exciting product launches and quayside demonstrations as Ocean Business 2023 welcomed visitors from more than 80 countries to the Solent.
Returning to its spring slot post-Covid, Ocean Business – last staged in autumn 2021 – saw 300 exhibitors, nearly 150 hours of live demonstrations, and a thought-provoking conference programme, reuniting an international roll-call of technology pioneers, game-changing manufacturers and innovative service providers.
Show organiser Cheri Arvonio said this year's event had exceeded all expectations and the feedback from participants had been fantastic.
'The stars were aligned for this year's show and it was wonderful to see so many friends, Ocean Business regulars and, since we last got together, an emerging generation of innovators.
'Exhibitors reported brisk business, renewing old acquaintances and forging new friendships, and many of the classroom sessions and dockside demonstrations were packed out. People were evidently enjoying meeting up, inside and outside the main exhibition spaces. Even the sun shone for most of the week!'
Ever more sophisticated robotics were on display in the water, with all-day ROV demonstrations highlighting the rapid pace of development in the industry.
Robosys Automation demonstrated its AI solutions for future shipping; Chelsea Technologies presented LabSTAF, its instrumentation measuring phytoplankton primary productivity, on board Callista, NOC's purpose-built research vessel; and Maritime Robotics staged separate demos of its Otter Pro USV with Kongsberg, Teledyne and Norbit multibeam systems.
Kongsberg's Richard Mills said collaboration in the sector was key: 'We have to work together because there is no one company that can do everything.'
On the first day of the show, Kongsberg unveiled its new business, Kongsberg Discovery, dedicated to delivering advanced ocean robotics and sensor technology.
Mills, head of sales and marketing for the Americas, said there had been 'a really positive response' to the new venture and its branding, the result of an in-house competition.
'We wanted a name that says what we do but doesn't limit us. It's all about exploration and finding out new ways of doing things, new technologies, new information.'
As always, Ocean Business provided a platform for product launches, among them Valeport's SWiFT profiler, which can measure depths of 6,000m; Blue Robotics' BlueBoat USV, described as 'the planet's most affordable robotic surface vessel'; and Sonardyne's next stage Acoustic Doppler Current Profilers (ADCPs), with integrated modem for communications and positioning.
Sonardyne's Tom Bennetts said the new ADCPs were a significant advance in ocean current profiling technology, analysing data in real time: 'Now we can talk to the ADCP when it's on the seabed and check it's collecting the right data.'
New partnerships formed at Ocean Business 2023 included Saildrone, a leading provider of USVs, and Nippon backed Seabed 2030, which signed an MOU to collaborate on the effort to map the entire ocean floor.
Steve Hall of Seabed 2030 said, with 23.4% of the ocean mapped by last year, Saildrone's long-range uncrewed ocean mapping operations would help fill the gaps in global knowledge.
'There's a marriage of robotic technology with traditional methods. Saildrone vessels let the wind do the propulsion so they don't waste battery power, and therefore can go for weeks at a time.'
Over at the Canada pavilion, Nova Scotia based Dartmouth Ocean Technologies (DOT), a manufacturer of oceanographic instruments, announced a new partnership with NatureMetrics, a nature intelligence and environmental DNA company.
Cathy Williams, at the Atlantic Canada Opportunities Agency, said 16 Canadian companies were represented on the stand: 'We're thrilled to be back here again, the traffic has been amazing and our companies are elated with the quality of the attendance.'
Facilitating future business relationships, Innovate UK Edge hosted the popular B2B matchmaking event, the biggest to date, said organiser Tim Benzie.
'It's a different way of networking, like speed dating, with plenty of CEOs and MDs participating. It gives busy people a chance to sit down together away from the exhibition floor.'
Alongside the exhibition and demonstrations, speakers and expert panels drawn from across the sector shared ideas to help shape the future of ocean technology.
PopEye Labs' team of five from the University of Pennsylvania flew in on the Red Eye to present their breakthrough technology, the first step towards autonomous anchoring for large commercial vessels. Afterwards, they said they were approached by 'a variety of industry experts' expressing an interest, making the trip well worth the effort.
And the Society for Underwater Technology, which hosted a 'Routes for Innovation in the Defence Market' session, said: 'It was inspiring to see such a diverse group of professionals coming together to explore and discuss the latest trends and opportunities in the subsea defence industry.'
Helping make Ocean Business a success was the Society of Marine Industries (SMI), whose team and members had 'a highly productive week', according to SMI's Emma Johnson.
'SMI is proud to support such a brilliant marine science and technology show, it was great to be able to catch up with members and meet many potential new members too. The quality of the visitors was great and the buzz is certainly back – bring on 2025!'
Phil Bishop, head of commercial development at NOC, said it had been a pleasure to welcome the thousands of visitors to the National Oceanography Centre.
'As well as discovering the latest developments in the ocean technology field, Ocean Business is one of the most vibrant industry networking opportunities of the year. We were particularly pleased this year to host our NOC Innovations conference, giving us the opportunity to present the cutting-edge insights and technology being developed by researchers and engineers here at NOC, and their ongoing impact in the real world.
'There has been an incredible amount of excitement and activity throughout all three days of the event and we are already looking forward to Ocean Business returning to NOC in 2025.'
And Tim Minshull, chairing MARELEC 2023, the international conference on marine electromagnetics, held in conjunction with Ocean Business for the first time, said they had seen a wide range of 'excellent presentations'.
'It brought together a diverse group of researchers and technologists from across the UK, Europe, the US and elsewhere who are unlikely to meet each other in any other venue.'
Ocean Business 2025 will take place at the National Oceanography Centre, Southampton, from April 8-10. Visit https://www.oceanbusiness.com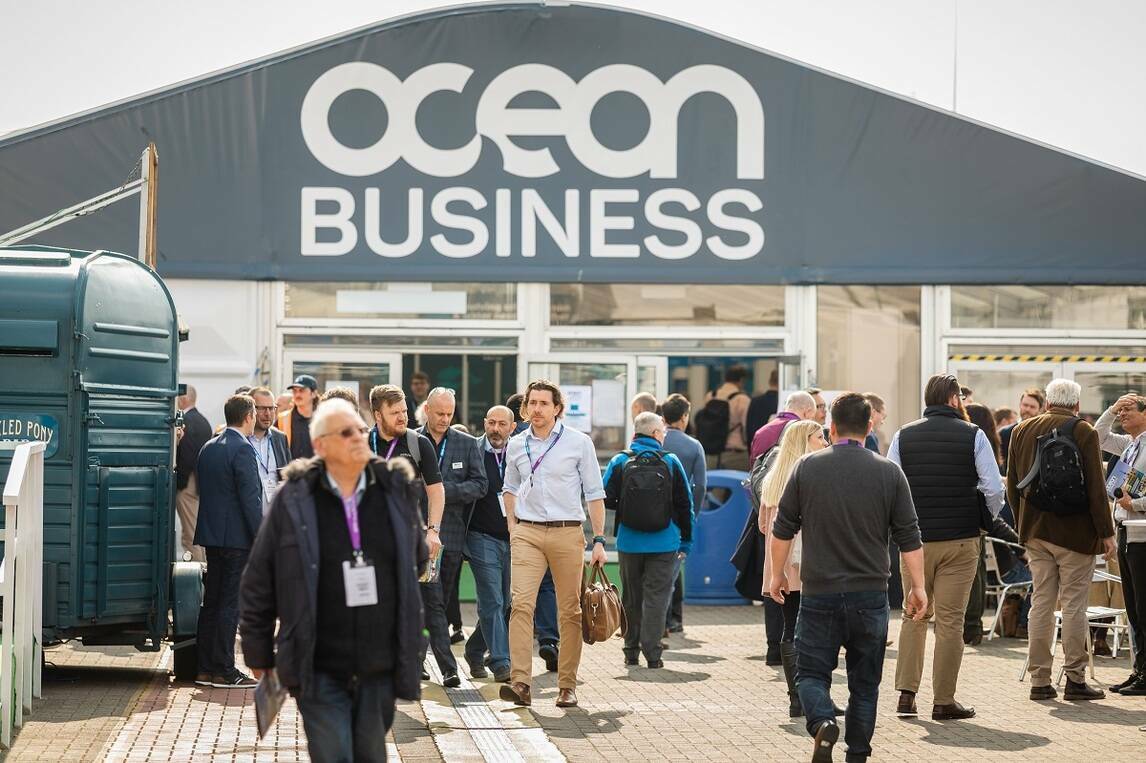 Subscribe to our newsletter
Stay updated on the latest technology, innovation product arrivals and exciting offers to your inbox.
Newsletter