Recently, the BBC published an article by Victoria Gill, science correspondent for BBC News, as well as a TV report concluding that the UK's forests, and by extension all other forests worldwide, are storing more carbon than expected.
The article is based on an international project that uses 3D laser scanning for data acquisition. The relevant results of the study were published in December 2022 in the paper "Laser scanning reveals potential underestimation of biomass carbon in temperate forest".
The research team, including Kim Calders, Hans Verbeeck, Andrew Burt, Niall Origo, Joanne Nightingale, Yadvinder Malhi, Phil Wilkes, Pasi Raumonen, Robert G. H. Bunce, and Mathias Disney created a 3D data cloud during the study that shows that the current biomass over the ground stores 1.77 times more CO2 than the current model estimates.
For data acquisition a RIEGL VZ-400 3D Terrestrial Laser Scanner was used. Terrestrial laser scan data were collected in leaf-off conditions throughout late November 2015, December 2015 and January 2016.
The paper was published in the Ecological Solutions and Evidence Volume 3, Issue 4 and can be found here.

The BBC TV report on the study was posted on LinkedIn by co-author Joanne Nightingale – you can find it here.
About the RIEGL VZ-400 3D Terrestrial Laser Scanner
The instrument – the predecessor of the RIEGL VZ-400i Terrestrial Laser Scanner – has a beam divergence of 0.3 mrad and operates in the infrared (wavelength 1550 nm). It provides a range up to 600 m, pulse repetition rates up to 300 kHz and a minimum range of 1.5 m (see also datasheet RIEGL VZ-400, 14 June, 2017).

For data acquisition during the study, the instrument provided a beam divergence of 0.35 mrad and operates with a range up to 350 m. The pulse repetition rate for each scan was 300 kHz, the minimum range was 0.5 m and the angular sampling resolution was 0.04°. This resulted in 22,500,000 outgoing pulses for a single scan, resulting in a beam diameter of 2.45 cm and beam spacing of 3.5 cm at 50 m (for instance). The azimuth angle range was 0°–360°, and the zenith angle range was 30°–130°. Therefore, an additional scan was acquired at each scan location with the scanner tilted at 90° from the vertical to complete sampling of the full hemisphere at each location. Scans were done in a larger 6 ha area using an approximate 20 m × 20 m grid to ensure the best possible data quality within our 1.4 ha study area. Trees which had at least more than half of their stem at tree diameter 1.3 m inside the boundaries of the study area were included.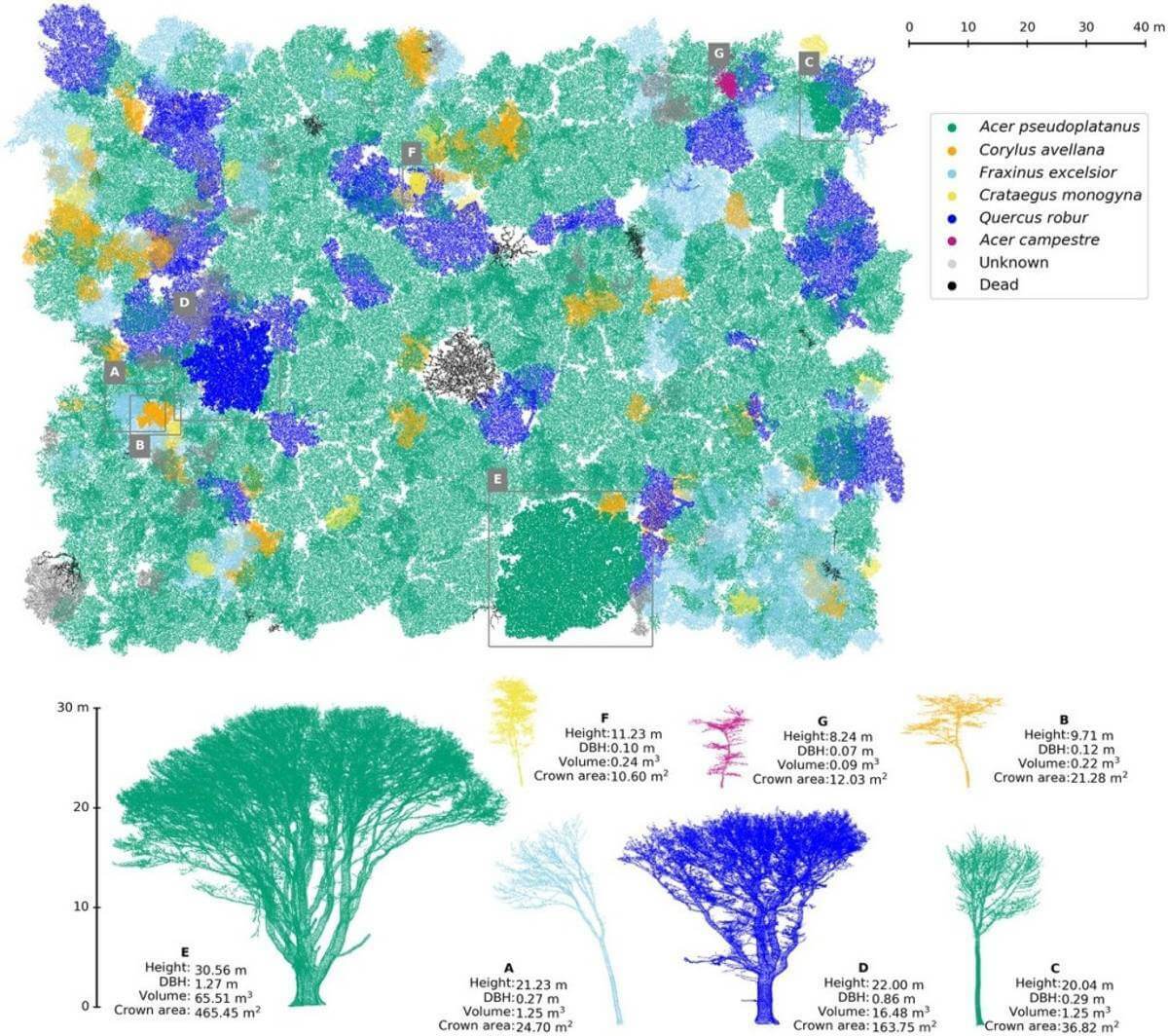 Subscribe to our newsletter
Stay updated on the latest technology, innovation product arrivals and exciting offers to your inbox.
Newsletter