3rd International Congress and Exhibition Mining Peru 22 brings together 300+ decision makers from national and international companies, technology and service providers, international and local investors to discuss the main trends of mining industry, find new partners and create business connections.
The accompanying exhibition is perfect place to meet target audience and make new contacts.
Date: 6-7 April 2022
Place: Lima, Peru
Organizer: Vostock Capital
Website
Congress Highlights:
• Mining Peru is a strategic platform for the leaders of the mining industry, bringing together more than 200+ decision making executives from national and international companies, as well as government officials, regulatory bodies, academia, project owners, technology and services providers, and international and local investors
• 40+ investment projects on construction, expansion, and modernisation of Mines with the development timeframe 2022-2028 from Peru
• Ask your burning questions, ask for advice and share your experience during and after the sessions!
• Strategic opening session: Mining Prospects for the Next Decade in Peru and Latam. With focus on the government's strategy to maintain mining as the driving industry for economic growth in Peru and the region
• New Technologies to Produce Metallic and Non-Metallic Products: Innovations for Mining - successful case studies
• Round tables:
- Strategic Management of the Mine to Optimize its Productivity and Efficiency
- Keys to Bring Conventional Mining into the Digital Age
• Planning, Modernization and Construction of Prominent Mining projects in Peru and Latin America
Get to know the updates of the flagship projects in the region
• Attracting Investments in LatAm Mining Industry, Mechanisms to support projects, attract investors and projects finance
• ESG for a Responsible Mining and Safe and Effective Mining Operations analysis
• Dedicated exhibition of cutting-edge equipment and technologies for renewable energies industry delivered by local and global leaders
• Hybrid format: Connect with industry leaders while working from home through a secure Platform!
• Unprecedented networking opportunities!
1-2-1 online and face-to-face business meetings, networking round tables, cocktail reception, interactive discussions. Take this opportunity to exchange business cards with ALL conference participants!

Request the info here

Among the regular participants: ABB, BHP, Codelco, Cámara Minera de Chile, Fasser Southern Copper Corporation, Apumining SAC, Gold Fields, Marcobre, EY Mexico, Georg Fischer, AIME, Plateau Energy Metals, Capstone, TDM Group, ECTRICOL, ABCdust, Musco Lighting, IBwave and many others.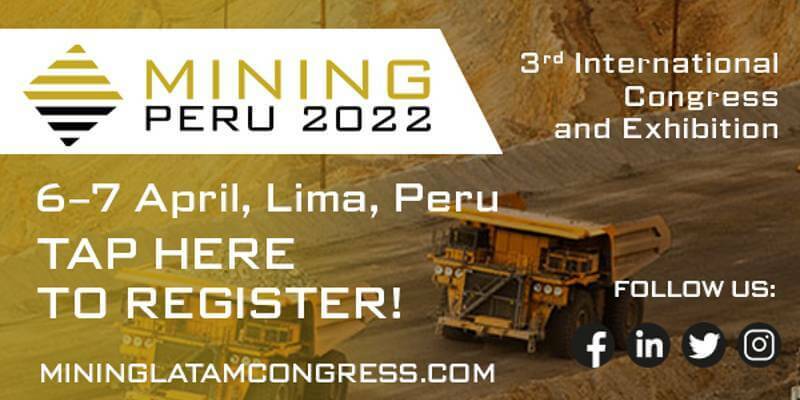 Subscribe to our newsletter
Stay updated on the latest technology, innovation product arrivals and exciting offers to your inbox.
Newsletter