In collaboration with UK emergency services, Geographic Information System (GIS) software and services company, Cadcorp, has launched Cadcorp Cover Modeller.
The product release was announced at today's Cadcorp Emergency Services Conference where delegates were given an application demonstration, including a range of resourcing scenarios. Cover Modeller is the latest in a family of Cadcorp emergency services applications, following the previously released Cadcorp Workload Modeller and Cadcorp Risk Modeller.

Cover Modeller is designed for control room personnel to test the impact of potential resource relocation and make informed decisions on cover moves. The application overlays real-time vehicle availability onto other GIS overlays such as demographic profiles, to help control room officers maintain appropriate cover across the service area.

Cover Modeller offers both a 'Live View' and a 'Scenario View'. Live View will typically be used in a control room and provides a display of live vehicle locations. The live display shows the vehicles' drivetime footprints taking into account additional reaction or mobilisation times.

The Live View can incorporate a coverage or risk layer drawn from the organisation's risk profile. This includes variables such as demographic profiling and historical incident data within defined areas such as grid squares or Census Lower Layer Super Output areas. A simple traffic light system displays overall risk based on a combination of the risk layer and drivetime footprint of available vehicles. For example, an area shown in green may be considered low risk because it is either within the drivetime footprint of an available vehicle, or has a low risk profile.

Scenario View allows control room personnel to simulate cover moves and evaluate their impact on overall risk and response cover. Cover Modeller will calculate new drivetime footprints for cover move scenarios, and update the overall risk, allowing the control room to make the most efficient use of their available resources.

Cadcorp supplies related specialist modelling applications that are widely used by UK emergency services. Workload Modeller is used for strategic planning, allowing emergency services to analyse the impact of demand or resource changes on operational performance. Risk Modeller provides analytical functionality to aggregate a range of risk factors to generate a combined risk map.

Gary Randle, sales director at Cadcorp commented "Cover Modeller is a significant addition to the Cadcorp range of applications and services used by emergency services. It allows our customers to transition their risk maps and resource models into an operational environment to support evidence-based decision making."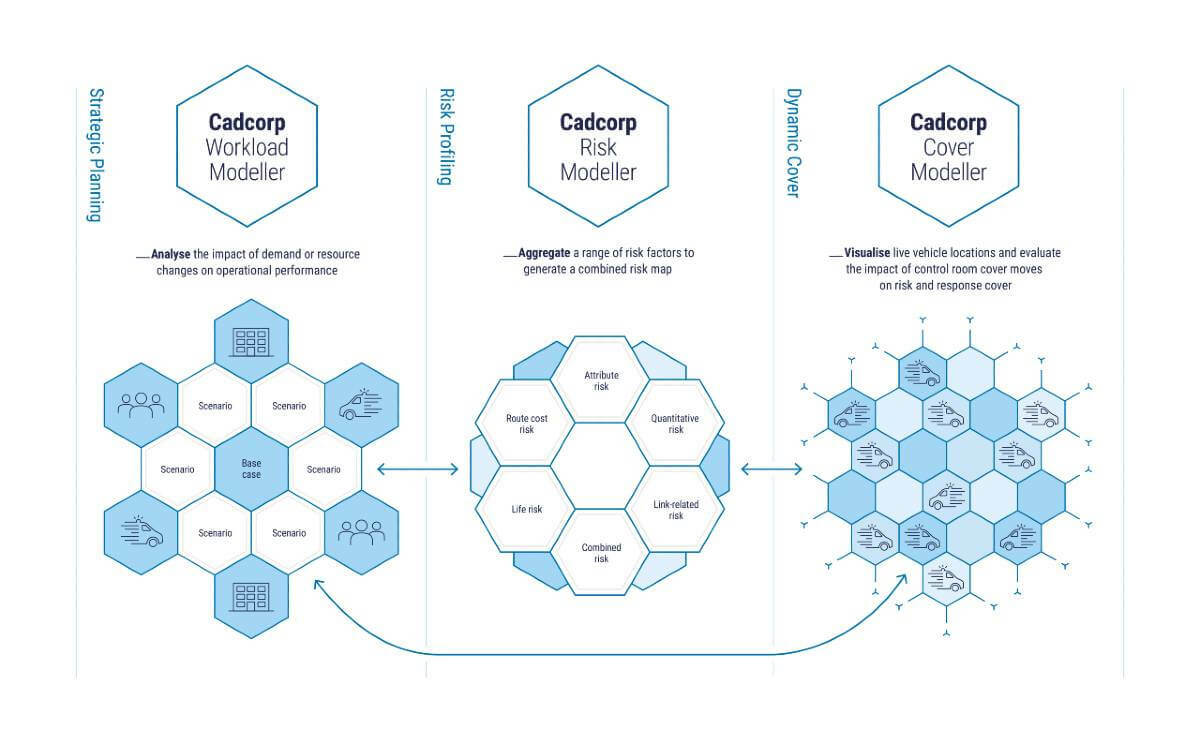 Subscribe to our newsletter
Stay updated on the latest technology, innovation product arrivals and exciting offers to your inbox.
Newsletter