Aerial photography and 3D height models from Bluesky are informing a new art installation in Ireland.
Part of the Galway International Arts Festival, the Mirror Pavilion, Leaf Work (Derrigimlagh) 2020 by John Gerrard opened at Derrigimlagh Bog, Connemara on the 28 August 2021. One of the largest outdoor art installations ever seen in Ireland, the structure is a response to escalating climate crisis, pushing the boundaries of digital art using simulation. The Bluesky aerial photography and Digital Terrain and Surface Model (DTM / DSM) data were used to help create a virtual landscape.
"It's really exciting to be part of such a prestigious event and to have the opportunity to contribute to such a visually stunning and thought-provoking project," commented Rachel Tidmarsh, Managing Director of Bluesky International. "We know that aerial photography has its own artistic value as well as geographic accuracy so to see it being used to create this innovative virtual world is quite breath taking."

The second part of artist John Gerrard's Mirror Pavilion, Leaf Work (Derrigimlagh) 2020 reflects and responds to landscape at the spectacular 4,000-year-old Derrigimlagh Bog which was the site of the first transatlantic radio signal from the Marconi station in 1907 and the landing place for Alcock and Brown's first transatlantic plane crossing in 1919.

Mirror Pavilion is a striking 7x7x7 metre structure with 3 sides and the roof clad in a highly reflective mirror. The fourth wall is a high-resolution LED screen. By using real world aerial photography and height information created and donated by Bluesky the artwork appears and yet at the same time disappears into the landscape while a digitally created character perform choreographed movements on the LED wall.

The character featured in Leaf Work performs a lament for the effects of accelerating human technologies upon non-human worlds. She walks a slow simple circle within a choreography based on the position of the sun and her sorrow is antitheses of the dynamism and confidence of the partner installation Corn Work which was on show at the Claddagh Quay in Galway in September 2020.

The Mirror Pavillion Corn Work and Leaf Work were commissioned by Galway International Arts Festival for Galway 2020, European Capital of Culture and were postponed, due to the COVID-19 pandemic, from July 2020. Bluesky donated the aerial data in order for John Gerrard, the producer of the artwork Werner Poetzelberger and the Festival team to successfully create the digital landscape.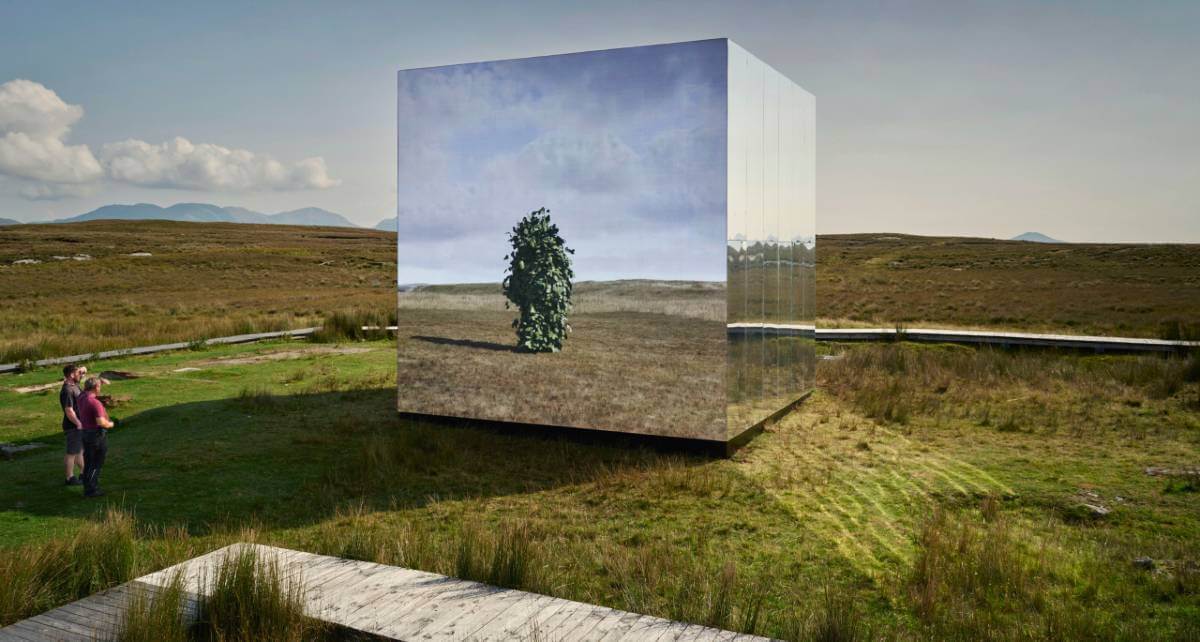 Subscribe to our newsletter
Stay updated on the latest technology, innovation product arrivals and exciting offers to your inbox.
Newsletter