Architects Kirkland Fraser Moor (KFM) are pioneering the use of Virtual Reality (VR) to bring to life design processes and stakeholder consultations.
Using VR based on a 3D building model created by aerial mapping company Bluesky, the Hertfordshire practice successfully secured planning permission for a new housing development on green belt. The KFM VR experience placed the design in its real-world context giving viewers the opportunity to interact with the development and understand how the property would be perceived by neighbouring dwellings. Viewed by Council planning officers the KFM VR 'tour' was a critical part of the successful application.
"Due to the location the onus was on us to come up with something that was outstanding in its design, innovative in its use of material and sympathetic to its surroundings," commented David Kirkland, Founding Principal of Kirkland Fraser Moor. "The second challenge was to communicate this in order engage with stakeholders and secure permission."
Created from the latest aerial photography the Bluesky model provided a geographically accurate and up to date 3D representation of both the surrounding terrain and neighbouring properties. Using CAD software KFM was able to place its design for the earth sheltered houses with integrated courtyards into the exact position it would occupy if the project were granted permission. The use of the Bluesky models then allowed for visual impact studies and line of sight assessments from existing structures and sensitive natural viewpoints.
"This is not the first time we have used Bluesky 3D Models to inform and communicate design," continued Kirkland. "However, it is the first time we have produced a VR presentation for planning officers giving them the chance to really get inside the context and experience it in its true location. Until this was undertaken the local council's response was to reject the application because of the perceived sensitivity of the greenbelt location."
Following the VR presentation at KFM's Design Studio, permission was granted by Dacorum Borough Council for the demolition of the existing dwelling and outbuildings to be replaced by two 5-bedroom earth sheltered courtyard dwellings including a bat roost.
KFM regularly uses this technology as part of its processes when working in highly sensitive rural locations designing houses allowed under Paragraph 79 of the National Planning Policy Framework that permits new, isolated homes to be built in the countryside where they are of exceptional and innovative design.
Photogrammetrically derived from stereoscopic aerial photography, the Bluesky models are fully rendered and are provided as either wireframe or block models in a format suitable for use in both CAD and GIS software. All Bluesky 3D models are supplied complete with a Digital Terrain Model (DTM) depicting the topography of the underlying surface.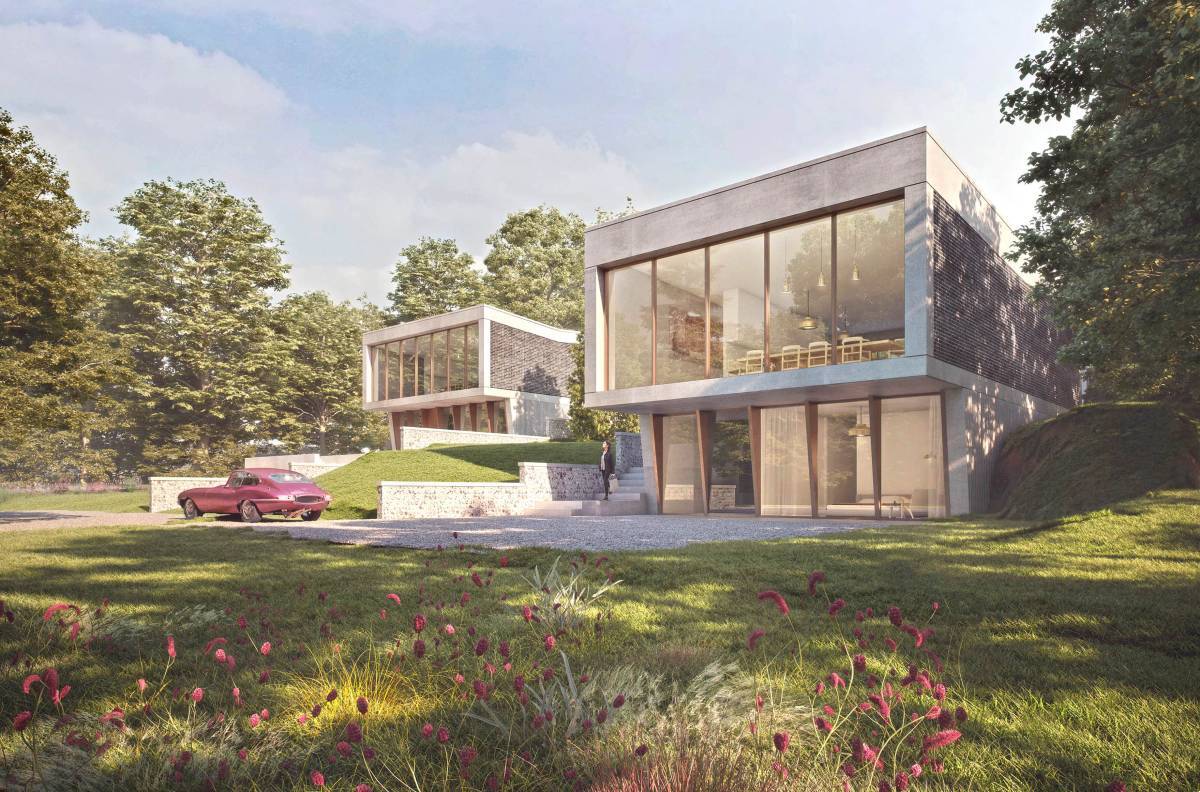 Subscribe to our newsletter
Stay updated on the latest technology, innovation product arrivals and exciting offers to your inbox.
Newsletter