The innovative, passive Stereo Monitor Product Family from Schneider Digital has been extended – a 3D PluraView Display with compact housing, 22″ screen and full HD resolution is now also available.
Two different screen sizes – Full-HD, with either 2.5K or 4K resolution
The 3D PluraView family of monitors is a passive 3D stereo system with the highest user acceptance of any 3D stereo monitors currently on the market. The Plug & Play beam splitter technology has been established on the market for 13 years and achieved recognition in the 4K 10-bit (UHD) version as a 3D stereo reference.
To satisfy different requirements, the 3D PluraView product family now offers three models with the following areas of application: GIS / mapping, photogrammetry, laser scanning, computer tomography, simulation, molecular research and design / CAD stereo software applications. As an entry level model for workplaces whose software applications have lower resolution requirements, the new PluraView Full HD Compact 22″ with 1920 x 1080 resolution is available. Its compact housing and narrow overall depth takes up very little desk space and is ideally suited to open-plan offices accommodating a lot of workstations in a small area. The 3D PluraView Compact with automatic mirror lock is delivered fully assembled as a Play & Plug system ready for immediate use. For 3D stereo operation with a laptop, only two digital monitor outputs are required. The 3D PluraView 22″ Compact requires two of the following digital connections on the laptop: DVI / HDMI / DisplayPort / mini DisplayPort / Thunderbolt / USB-C. The 3D PluraView 27/28″ requires the following combination of digital connections on the laptop: 2x Thunderbolt™ 3 or 2x DisplayPort / mini DisplayPort.
The 3D PluraView 2.5K with 27″ screen and 2560 x 1440 resolution offers an extremely high brightness of 350 cd / m². As the top model in the monitor series, the 3D PluraView 4K displays on a 28″ screen with 3840 x 2160 resolution and 10-bit (UHD) colour. Both models are equipped with a DisplayPort 1.2 mirror card integrated into the premium housing.
Features of the 3D PluraView product family:
• Two screen designs: 22″ or 27 / 28″
• High resolution up to 4K / 10-Bit (UHD)
• Absolutely flicker-free operation for relaxed 3D-STEREO
• Suitable for seating near windows, one monitor being available for each eye
• Wide viewing angle – suitable for meetings of groups of up to 5 people
• Certified by AGISOFT, ESRI, HEXAGON, TRIMBLE, etc.
• Plug & Play Technology established for 13 years
• Elegant design & highest quality – made in Germany
• Suitable for direct laptop connection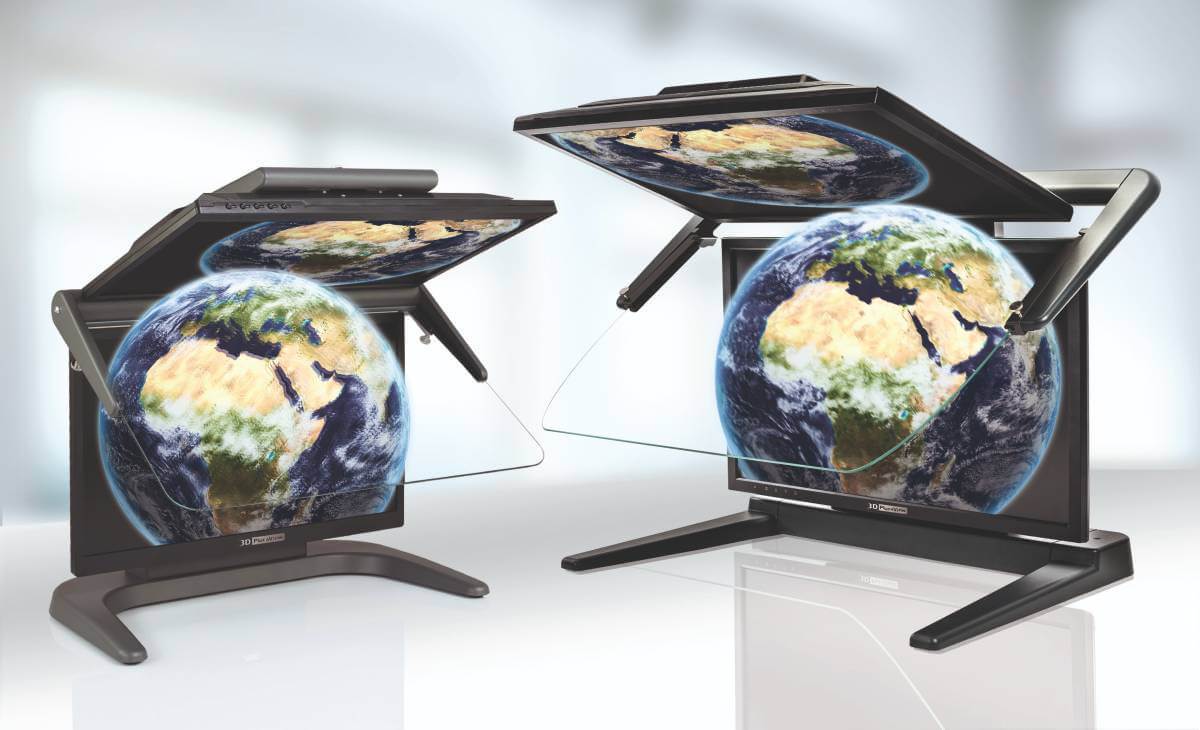 Subscribe to our newsletter
Stay updated on the latest technology, innovation product arrivals and exciting offers to your inbox.
Newsletter