1Spatial, the global provider of geospatial software and solutions for improved data governance, announced their collaboration with Hunter Water, which provides water and wastewater services to a population of almost 600,000 people in New South Wales, Australia.
1Spatial is assisting Hunter Water in their ArcGIS Utility Network (UN) Migration as part of their GIS Transformation Project. This project will allow Hunter Water to leverage the latest digital geospatial technologies to visualise and analyse their networks and assets. Validation of the data being loaded into the new GIS platforms will be completed using 1Spatial's Platform, developed using 1Integrate and 1Data Gateway, 1Spatial's flagship data validation and management tools.
Under this partnership, Hunter Water is leveraging 1Spatial's expertise and technology in the cloud to streamline its data migration process, ensuring the efficient transfer of critical information for its operations. This strategic move aligns with Hunter Water's commitment to delivering the highest quality water and wastewater services to its customers across the Lower Hunter region.
Hunter Water's GIS Lead, Sam De Lore, said the partnership has delivered better-than-expected results. "Through our partnership with 1Spatial, we have seen a major improvement to our data quality, migration & validation processes. Prior to the implementation of the 1Spatial tools, we were limited to reactively fixing errors identified by the data migration after it was complete. Initially, this was yielding high error counts impacting testing & the development of critical integrations. We are now able to assess our source data before, during and after the migration process with the tools designed and configured by the 1Spatial team. Our error count has come down to 0.01%, resulting in the successful build of subnetworks across our service area for the first time,"
1Integrate is renowned for its robust data validation capabilities, enabling organisations to maintain data quality and accuracy while facilitating data migration, integration, and validation tasks. When coupled with 1Data Gateway, and technical ArcGIS expertise this technology empowers Hunter Water with precise data management capabilities, ensuring the integrity of its information assets.
Andrej Mocicka, Country Manager 1Spatial Australia commented "We are proud to be collaborating with Hunter Water on this important project," said Andrej Mocicka (Country Manager) at 1Spatial. "Our UN Migration Consulting services and 1Spatial Platform are designed to address the unique challenges faced by utilities and ensure data quality and accuracy are maintained for organisations like Hunter Water."
Charley Glynn, Senior Product Manager, 1Spatial UK added "It has been a pleasure working with the fabulous team at Hunter Water. We were able to quickly establish their challenge and provide a solution using our tried and tested data management products. Esri Utility Network is built on a foundation of data quality rules which make it a great match for 1Integrate, our no-code rules engine. 1Data Gateway provided the intuitive user interface for the Hunter Water team to efficiently assess and fix their source data and prepare for a successful migration. It has highlighted the importance of getting your data quality right before setting off a migration project of this size."
This collaboration between 1Spatial and Hunter Water represents a significant step forward in leveraging cutting-edge location data solutions to enhance utility services in the Hunter region. It underscores 1Spatial's commitment to empowering organisations with the tools and expertise needed to maximise the value of their data.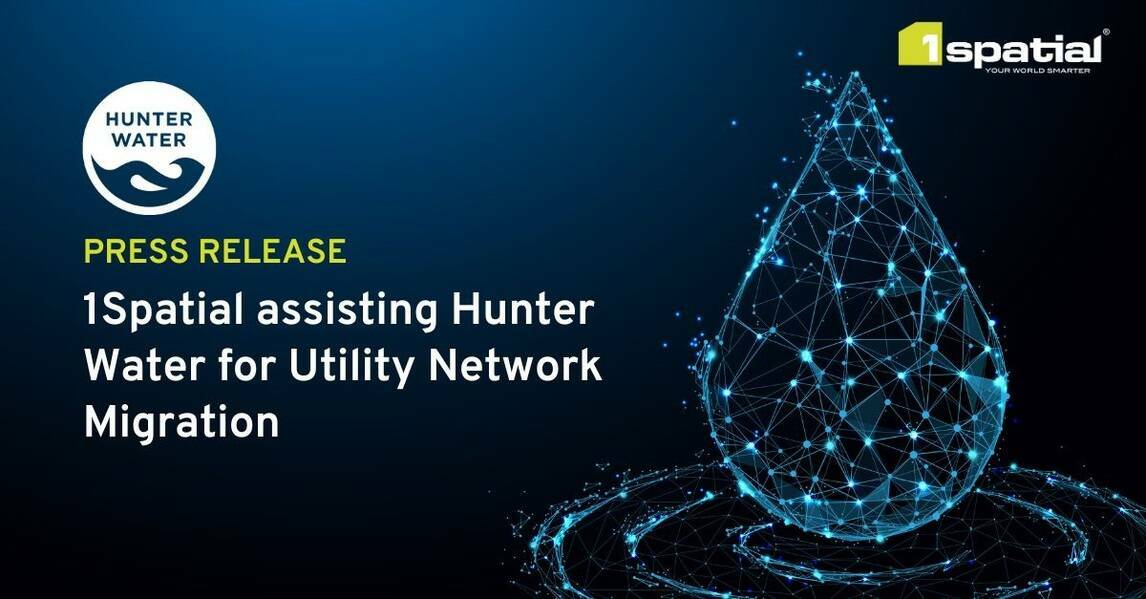 Subscribe to our newsletter
Stay updated on the latest technology, innovation product arrivals and exciting offers to your inbox.
Newsletter