Tom Stabb explores how Britain's Ordnance Survey is helping towards a Gigabit-connected Britain.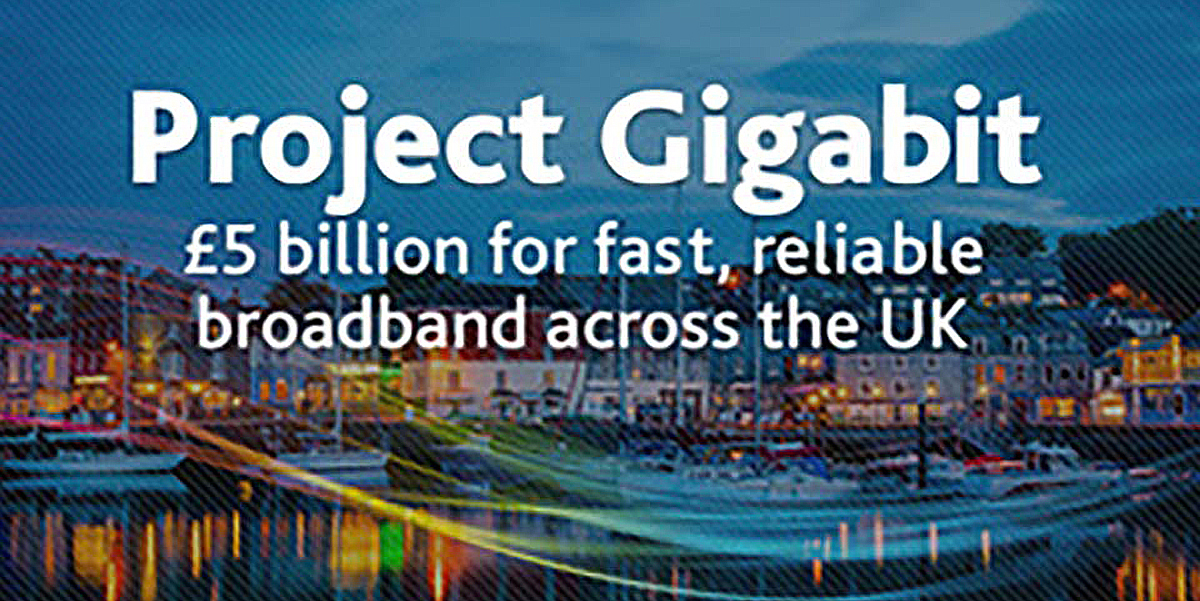 According to Ofcom's annual Connected Nations report for 2022, 42 per cent of households, or 12.4 million people, now have access to full fibre broadband — an increase of 4.3 million households over the previous twelve-month period.

Since this report was published, these figures have increased again, and full fibre broadband is now expected to be available to between 50 and 55 per cent of households. With more people working from home, accessing streaming services in high resolution and investing in smart devices, the need to futureproof the UK's internet network is greater than ever.

UK adults are now spending more than a quarter of their waking day online — the highest on record. With this in mind, it's understandable that hybrid and full copper networks, which would previously suffice, are no longer providing the speed and reliable connection required by the majority of homes. The world is becoming more and more digital and one of the core benefits of full fibre broadband is future proofing the UK's internet demand.

Over the past several years, incumbent and alternative network providers have collectively been rolling out fibre networks and by 2025, it is expected that 85% of the population will have access to Fibre to the Premises (FTTP). However, many of the households and businesses across the UK that do not currently have access to FTTP, and are at risk of needing to wait longer, are in rural or hard to reach areas. Installing Fibre networks is an expensive and operationally challenging task, and this is especially the case in these rural landscapes.
Enter, Project Gigabit — a government programme worth £5 billion that aims to enable hard-to-reach communities to access gigabit-capable broadband. The project targets homes and businesses that are not included in broadband suppliers' existing expansion plans, helping rural and remote communities across the UK, as well as tackling pockets of poor connectivity in urban areas.
As part of the programme, the UK Government has awarded incumbent or alternative network providers with large contracts for rolling out FTTP broadband in several rural areas across the UK, including some located in Cornwall, Cumbria and New Forest. Following the milestone of delivering 1000Mbps download speeds to at least 85 per cent of UK premises by the end of 2025, the project is then aiming to achieve nationwide coverage of 99 per cent by 2030.
However, , there are significant challenges to overcome. Firstly, fibre providers need to identify the properties that require better connectivity, with address-level accuracy.. OS's AddressBase has been helping with this challenge, as it provides a source for all addressing and street data in the UK matching 46 million postal addresses to unique property reference numbers (UPRNs). OS Mastermap Topography is also a heavily relied upon tool as it allows providers to access accurate mapping data and uncover hidden challenges which could ultimately cause costly delays if left unchecked.
In fact, OS is already heavily involved with Project Gigabit, having partnered with the government agency running the project, Building Digital UK (BDUK). When faced with the dilemma of improving connectivity in rural areas, OS's GIS team , were brought in for six months to work alongside BDUK. The team introduced OS roads and path network data to combine with OS datasets on addressing, routes and buildings. Then, using Geographic Information System (GIS) mapping techniques, a much richer, visual picture of the country was created.
On top of the work already completed, OS can also support with various subsequent challenges of rolling out FTTP in these locations. For example, a challenge which relates to property boundaries in rural areas, which are usually not as well-defined as urban areas. Before any work can be completed on privately owned land, whether underground or above it, legal agreements between the landowner/occupier and service provider must be put in place.
To ensure that this runs smoothly, it's important that service providers have access to accurate and up-to-date data providing crucial planning insight by presenting a clear view of the proposed asset location vs private or public land. Cue the National Geographic Database (OS NGD). The OS NGD is a transformational new service which unites Ordnance Survey's authoritative data sources into a single store of all of its data for GB, with a new user friendly download service. The OS NGD is updated daily, meaning that service providers can be confident they are working with the most current data. . This is also particularly useful in recognising new premises or address changes, which can then in turn be used to identify new potential customers.
Project Gigabit and the privatised fibre rollout in the UK is moving quickly. However, quality data like that supplied by Ordnance Survey can support telcos, long into the future.
For service providers and operators that are looking to improve visibility, of their network, both internally and externally, OS data and geospatial insights can be used as the building blocks for solutions such as coverage maps, a real-time asset view, customer connections analysis and more.
Furthermore, location data can also be used to predict how local weather events might impact infrastructure . In the wireless space, OS is already working with local councils and the Met Office to build digital twins of cities. These will help establish what kind of mapping data is needed to deploy 5G connectivity and simulate the way that obstacles, such as rainfall to trees, would interfere with high-frequency 5G signals.
Using OS data, incumbent and alternative network providers can focus on delivering an improved and efficient service that will also result in improved customer satisfaction, operational efficiencies and support in delivering that all important revenue for future investment and business growth opportunities.
OS has been constructing innovative ways to utilise and access location data so we can get to a gigabit connected Britain promptly, and in a sustainable way. Whether it's asset management, accurately understanding property classifications such as multi-dwelling units (MDUs) and complex sites or monetising a service providers own data, OS geospatial data solutions will provide continuous support in our rapidly evolving digital world.
Tom Stabb is Strategic Account Manager with Ordnance Survey, headquartered in Southampton, Hampshire

Subscribe to our newsletter
Stay updated on the latest technology, innovation product arrivals and exciting offers to your inbox.
Newsletter